A whole lot is happening in the galaxy far, far away. Even through a dozen or so films and a handful of TV series, we've still barely scratched the surface of all there is to explore in the iconic space opera's storytelling landscape. For over 40years, Star Wars' bread and butter was in films—albeit through mostly episodic storytelling. And while there are some exciting films in the pipeline, the current focus is television projects, each airing on Disney+. An in-depth Vanity Fair story, Lucasfilm took us inside Star Wars' current television roster and teases some exciting things down the pipeline. And Star Wars Celebration only elaborated further.
Here are all the Star Wars live-action projects currently in the works.
The Star Wars Television Projects for Disney+
Obi-Wan Kenobi
First up is, of course, Obi-Wan Kenobi. The series picks up 10 years after the events of Revenge of the Sith. The titular character, played by Ewan McGregor, is on the run from the Inquisitors looking to hunt him down. He's hiding in Tatooine, keeping a watchful eye on an adolescent Luke Skywalker. While a decade has passed since their showdown on Mustafar, the Jedi Master is still haunted by his best friend and protege's betrayal. That former best friend, meanwhile, has fully shed his Anakin Skywalker persona and is in his early days as Darth Vader.
It's an exciting on-screen reunion for Ewan McGregor and Hayden Christensen, each reprising their characters from the prequel films. However, while the series always hinged on McGregor returning, Christensen wasn't initially slated to appear. Early drafts didn't involve Darth Vader. However, director Deborah Chow revealed to Vanity Fair that the relationship between Vader/Anakin and Kenobi was vital to continuing the story. So, we'll see how this broken brotherhood continues to haunt the titular character when Obi-Wan Kenobi debuts on May 27.
Andor
Diego Luna is also making a grand return to Star Wars, but after just a few years away. The actor, who starred in Rogue One will reprise his character Cassian Andor in a series set before the rebel leader met Jyn Erso. Tony Gilroy, who co-wrote Rogue One and worked extensively on the film's reshoots, is shepherding the series for Lucasfilm. The series dives into the character's backstory, tracking how the cynical survivor turned into a rebellion leader. And our first Andor teaser indicates as much.
Set during the height of the Empire, the series also features another familiar figure: Mon Mothma. The Rebel leader has appeared throughout the franchise since the original trilogy, always remaining a bit of an enigmatic figure. In Andor, Mon Mothma (played by Genevieve O'Reilly) plays a pivotal role, per Gilroy. However, it doesn't look like we'll see Andor and Mon Mothma on-screen together—at least not at first. Describing a "Dickensian ensemble," Gilroy said the series will feature these two narratives beside one another, presumably eventually folding together as Andor eventually joins in with the rebel cause. We won't have to wait too long for the series as Andor debuts on August 31, 2022.
The Mandalorian Season 3
This isn't exactly new information, but Din Djarin and Grogu will return once more. While we, fortunately, caught up with the iconic duo during The Book of Boba Fett's stronger episodes, the pair will return in full force relatively soon. During Star Wars Celebration we learned that The Mandalorian season three will debut in February 2023.
Ahsoka
After appearing in live-action form in The Mandalorian and The Book of Boba Fett, Ahsoka Tano's headlining venture is finally on the way. Rosario Dawson plays the Force-sensitive Togruta. She's continuing her mission to find Grand Admiral Thrawn. Ahsoka has mentioned this throughout her live-action appearances. Plus, this mission picks up on a thread from Star Wars Rebels.
Speaking of Ahsoka's story, Dave Filoni, who is taking charge on the series, told Vanity Fair a bit about what to expect. He said, "It is definitely driving toward a goal, in my mind, as opposed to being little singular adventures. That's what I want the character to be doing, and I think that's what fans want now. They have such a relationship with her. I've only recently started to understand that all those kids that watched Clone Wars are now a lot older—they're very excited about all the things they grew up with, as they should be."
While McGregor confirmed to Vanity Fair the reported casting of his wife, Mary Elizabeth Winstead, in Ahsoka, Lucasfilm is still officially keeping mum on Christensen's rumored appearance in the series. But we'll find out when Ahsoka debuts in 2023.
The Acolyte
One of the more intriguing elements from the deep dive into Lucasfilm's current slate of projects is the TV series from Russian Doll's Leslye Headland. Set 100 years before The Phantom Menace, The Acolyte ventures into newer territory for the Star Wars fans not entrenched deep in the franchise's lore. According to Vanity Fair, Headland describes The Acolyte, set during the High Republic era, as a "mystery thriller set in a prosperous and seemingly peaceful era" but things are certainly bubbling under the surface. The writer/director specifically looked to The Phantom Menace when talking about the series, sharing that the series examines the landscape that allowed the Sith to infiltrate the Senate.
This all sounds so exciting. But it's going to be a little bit before we see the series in its final form. Casting is still underway, although Amandla Stenberg is reportedly fronting the series. The Acolyte doesn't have a release date just yet but hopefully we'll see it by 2024.
Grammar Rodeo, the Jon Watts Co-Created Series
We only just learned that Spider-Man: No Way Home director Jon Watts and Chris Ford were working on a Star Wars series—codenamed Grammar Rodeo. But now we have a lot more info. Star Wars Celebration revealed the new Disney+ series is called Star Wars: Skeleton Crew and Jude Law is leading the cast. In the vein of a '80s coming-of-age film from Steven Spielberg's Amblin Entertainment, the series follows a group of kids lost in the galaxy who are trying to find their way home. Skeleton Crew takes place around the same time as The Mandalorian. Who knows, maybe Din Djarin will encounter yet another kid (or four) and help them.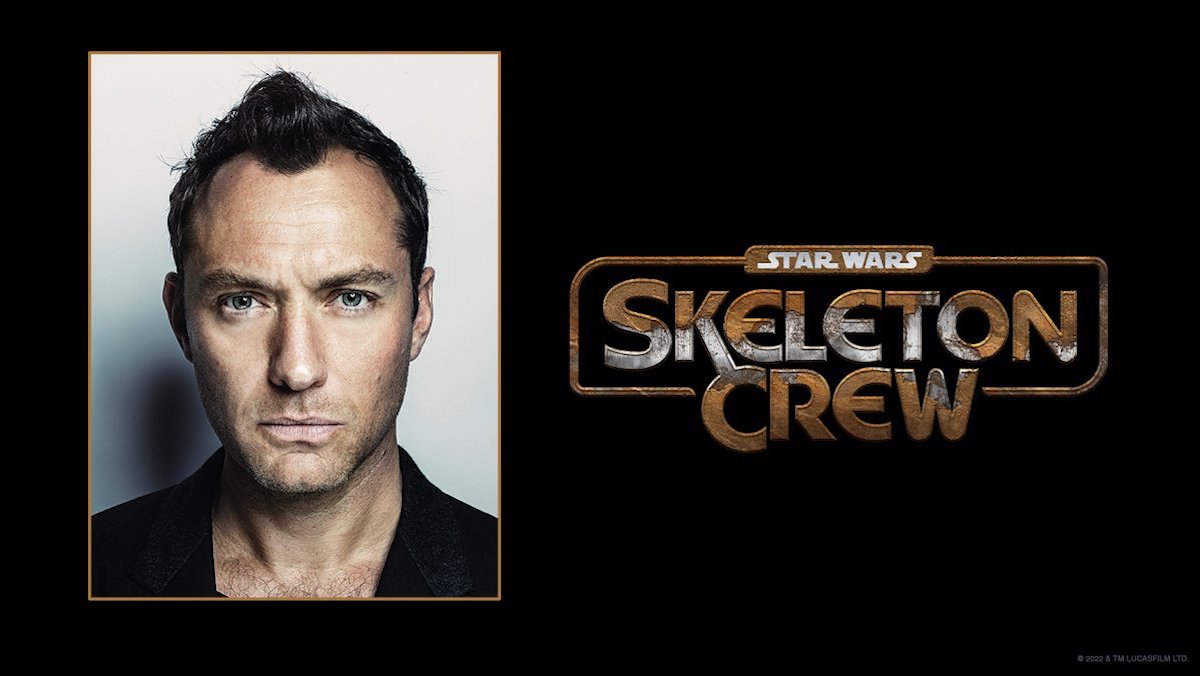 A Star Wars project in the vein of The Goonies? That's certainly piqued our interests. It's a little curious to see Jon Watts attached to another big-budget project, given he just exited Marvel's Fantastic Four film. But his work on the Tom Holland Spider-Man films gives him excellent credibility with coming-of-age adventures. Star Wars: Skeleton Crew debuts in 2023.
Upcoming Star Wars Movies
While TV is currently taking center stage, Lucasfilm is working on a few Star Wars films. Currently, there are two on the way: the Taika Waititi-directed film and Patty Jenkins' Rogue Squadron. Vanity Fair reported that Waititi's film, co-written by Krysty Wilson-Cairns, is probably up first. Interestingly, the project is still shrouded in secrecy, so we still don't really know what to expect from it. Rogue Squadron, initially scheduled to arrive around Christmas 2023, is apparently further down the road.
As for Rian Johnson's trilogy and the reported film from Marvel boss Kevin Feige? Kennedy confirmed that the former's Star Wars series is still happening. But currently Johnson's schedule is a bit busy with the Knives Out franchise and other films in the works. As for Feige? There's nothing official actually in the works, at least not yet.
This movie slate is a pretty stark shift given how many films Lucasfilm churned out—and announced—during the 2010s. But it makes sense, given the company's current emphasis on TV projects. While so much can change over the next few years, it's exciting to see all the Star Wars content we have to look forward to.
Originally published on May 17, 2022.