As a part of its Star Wars Celebration, Lucasfilm gave some updates about its TV projects during the Studio Showcase panel, including Andor, which debuts later this summer and has now shared its official release date. As the title suggests, the series sees Diego Luna returning as Cassian Andor. Andor takes place just five years before the events depicted in Rogue One. Set during a period where the Empire has a strong, ever-growing hold throughout the galaxy, the origin story follows Cassian Andor on a journey from largely apathetic thief to resistance fighter. And now we finally have our first full glimpse at Andor with its first teaser trailer.
Led by Tony Gilroy, the Star Wars spy series will span two seasons. A 12-episode first season of Andor will debut on August 31, 2022. It launches with two episodes. A second season, also boasting 12 episodes, will follow, serving as the second half of Andor's story—leading right into Rogue One. Season two starts shooting in November.
The teaser introduces us to a dark time in the Star Wars universe, but reminds us that "people are standing up." A synopsis for the show further notes:
The Andor series will explore a new perspective from the Star Wars galaxy, focusing on Cassian Andor's journey to discover the difference he can make. The series brings forward the tale of the burgeoning rebellion against the Empire and how people and planets became involved. It's an era filled with danger, deception and intrigue where Cassian will embark on the path that is destined to turn him into a rebel hero.
But Luna isn't the only Star Wars actor reprising a role for the series. Genevieve O'Reilly returns as Rebel leader Mon Mothma. Luna and O'Reilly lead (initially) parallel stories with what the showrunner calls a "Dickensian ensemble cast." This includes Stellan Skarsgård and Adria Arjona as the resistance fighters who recruit Andor to the cause. Denise Gough and Kyle Soller also star.
In addition to the teaser, Lucasfilm also released a poster and a few images from the series.
Click To View Gallery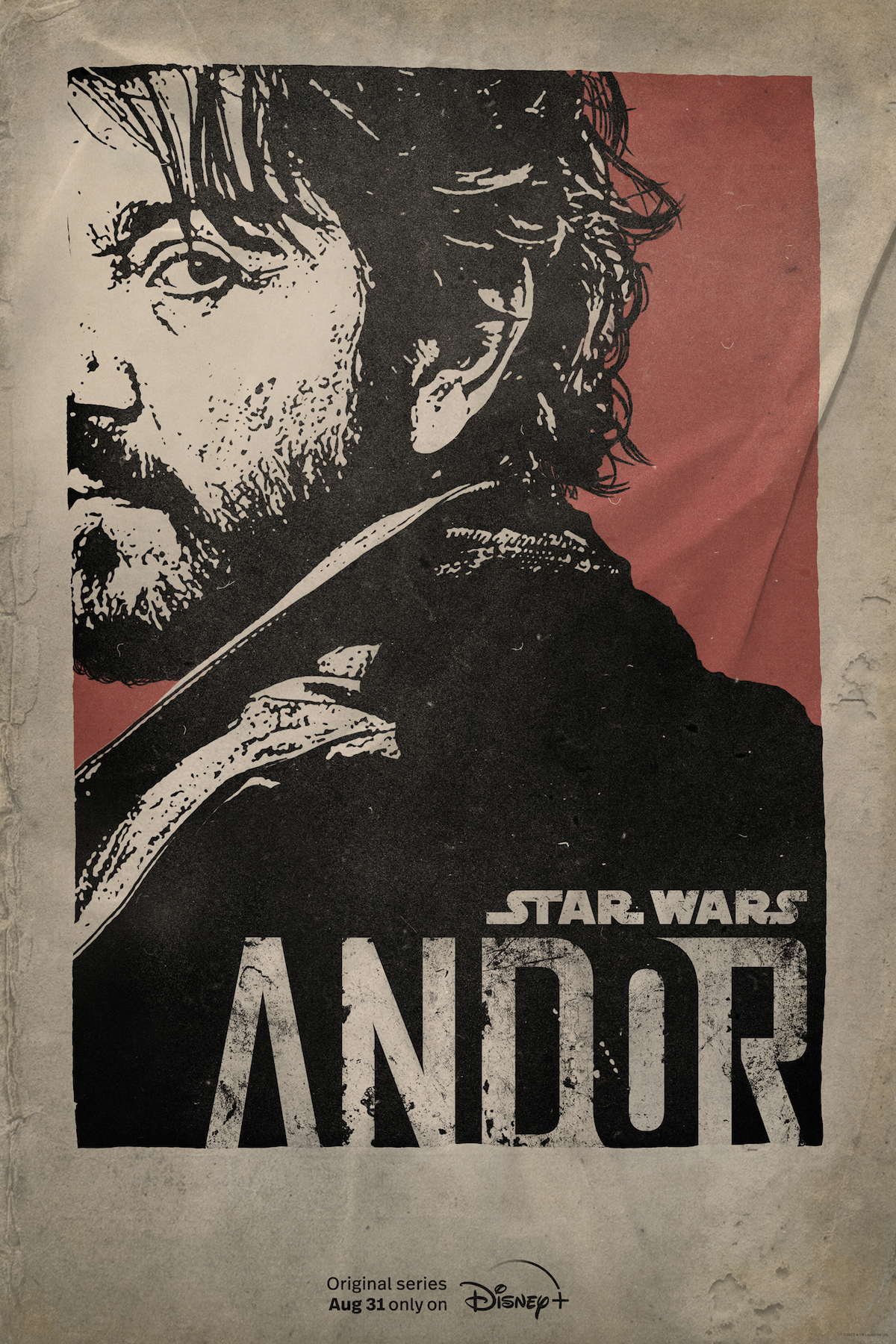 Speaking to Vanity Fair, Gilroy confirmed that K-2SO, hilariously voiced by Alan Tudyk in the film, won't feature in Andor. At least not season one. He did suggest we will get to see Andor and the droid meet—perhaps in season two.
Andor debuts on Disney+ on August 31, 2022.