Lucasfilm is bringing a plethora of series to Disney+, Disney's streaming service. They started with The Mandalorian in 2019, and they announced a few more shows during The Walt Disney Company Investor Presentation on December 10, 2020. They also brought details about previously revealed series, including the Rogue One spinoff centered on Cassian Andor.
This is everything we know about Andor.
Andor's Plot
The most recent trailer for Andor contained a surprise, the release date for the Star Wars show is delayed. Instead of August 31, Andor will release nearly a month later, on September 21. During its premiere, Andor's first three episodes will release at once, however, which should be exciting for fans.
The official synopsis for Andor shares,
The Andor series will explore a new perspective from the Star Wars galaxy, focusing on Cassian Andor's journey to discover the difference he can make. The series brings forward the tale of the burgeoning rebellion against the Empire and how people and planets became involved. It's an era filled with danger, deception and intrigue where Cassian will embark on the path that is destined to turn him into a rebel hero.
Additionally, StarWars.com calls Andor "a tense nail-biting thriller." And a recent article by Vanity Fair reveals more about the show. It offers that this is "a series that [will] explore Andor's backstory, revealing what drew him into the galactic Rebellion and how he evolved from a self-serving nihilist into a selfless martyr."
Vanity Fair also reveals that "Andor will be primarily set five years before that mission in Rogue One, although the show will flash back even further to when Cassian's childhood home world first falls under the tyrannical control of the Empire."
The article notes, "Luna describes Andor as a refugee story, with desperate people fleeing the Empire at the full force of its power." Luna offers, "It's the journey of a migrant…That feeling of having to move is behind this story, very profoundly and very strong. That shapes you as a person. It defines you in many ways, and what you are willing to do."
Showrunner Tony Gilroy also shares more in-depth insights into the Andor series and Cassian's character:
This guy gave his life for the galaxy, right? I mean, he consciously, soberly, without vanity or recognition, sacrificed himself. Who does that? That's what this first season is about. It's about him being really revolution-averse, and cynical, and lost, and kind of a mess… His adopted home will become the base of our whole first season, and we watch that place become radicalized. Then we see another planet that's completely taken apart in a colonial kind of way. The Empire is expanding rapidly. They're wiping out anybody who's in their way.
The Empire strikes strategically in Andor. Gilroy explains, "They're taking over the corporate planets. They're tightening up their supply chains. It's all the ways that oppression can pull a culture apart and destroy it."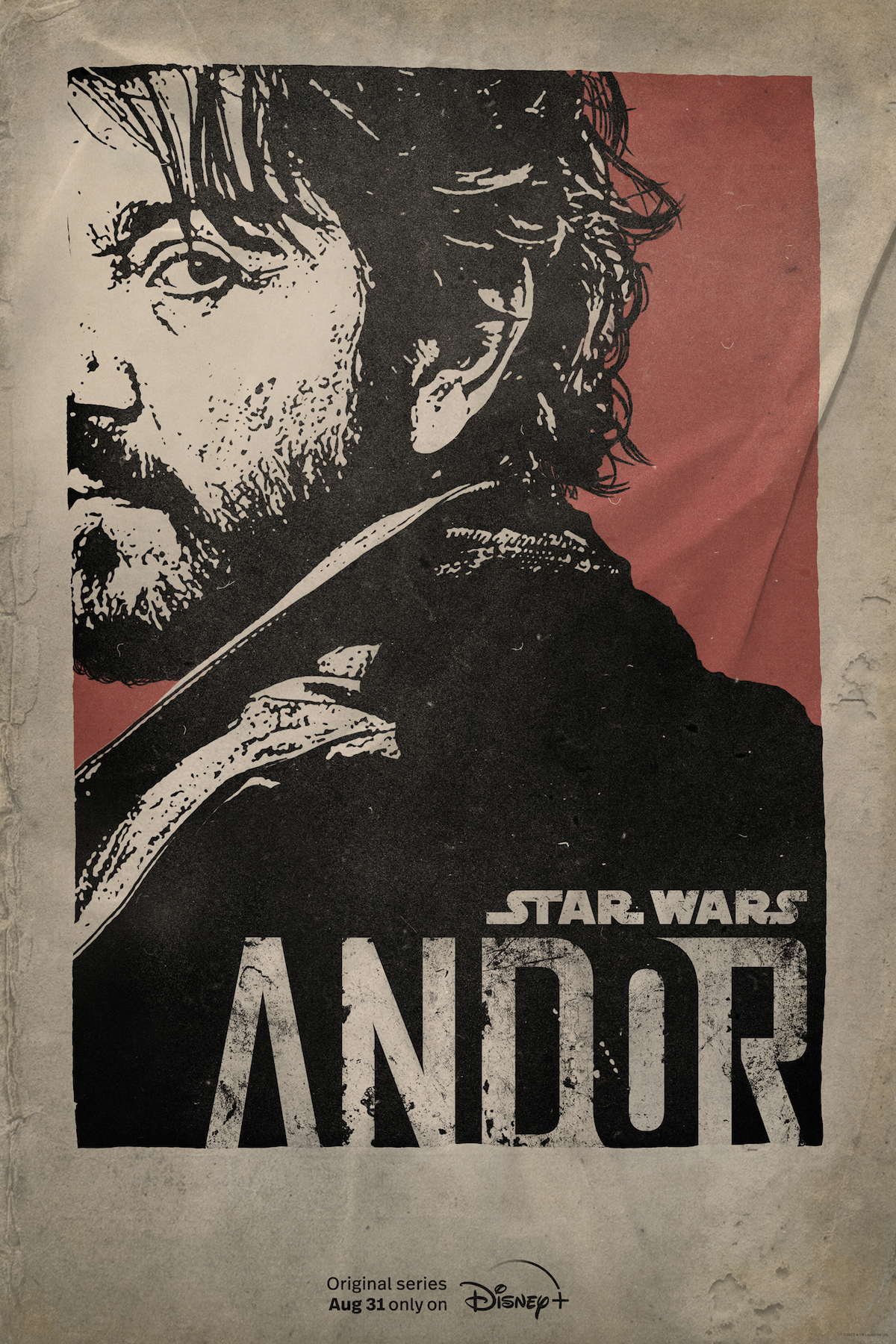 Vanity Fair adds about Cassian, "The story begins with the destruction of Andor's birth world, then follows him into adulthood, when he realizes he can't run forever…By journey's end, Andor's path will be to block theirs."
And finally, we learn that the character's journey orbits around coming to care about the Rebellion's cause. "In the beginning of it all, he couldn't give a shit about any of that. He's a thief. He's a ducker and a diver. He has a lot of anger about his childhood, and about the Empire, but he has no place to put it. He just doesn't believe in anything at this point," Gilroy shares. But, "He's seductive. Seductive in a way where he's manipulating people. He compromises, he changes his mind. He's really a perfect kind of spy, warrior, killer. How do you get to that place—and then sacrifice yourself?"
Gilroy also offers that Andor "is taking someone who's really anti-revolution, and turning them into the most passionate person who's willing to give themselves to save the galaxy."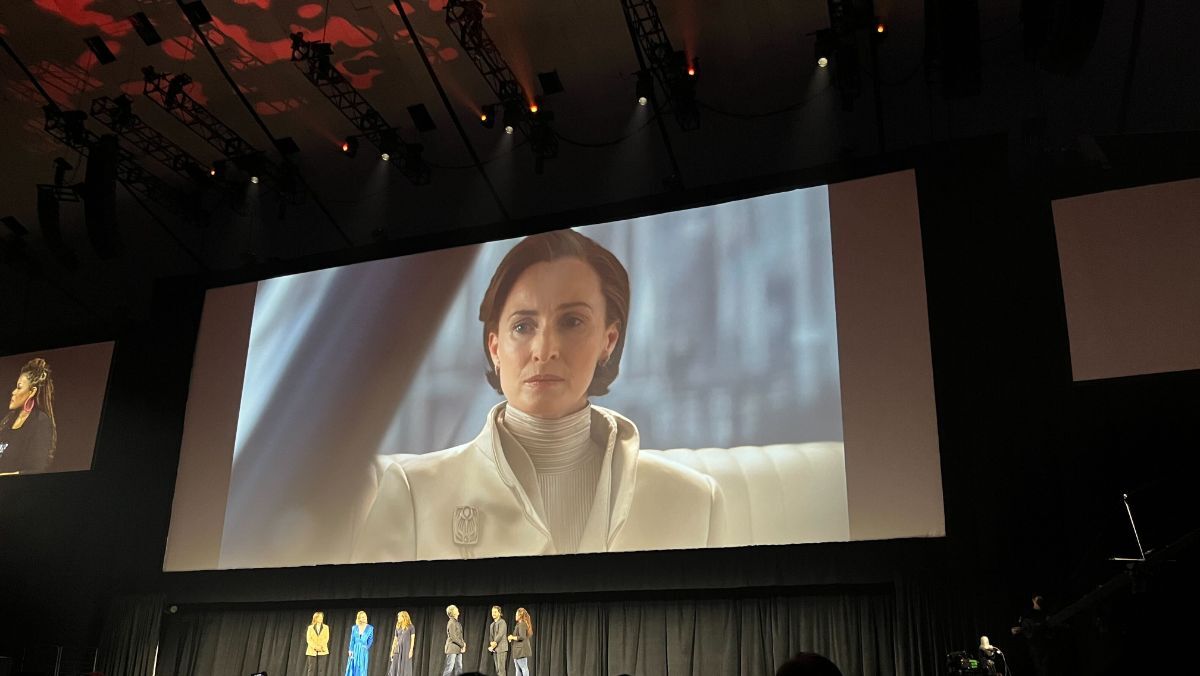 But Cassian isn't the series' only focus. The Vanity Fair article shares:
The show also focuses on the enigmatic Rebel leader Mon Mothma, played by Genevieve O'Reilly, who portrayed her as a young senator in Revenge of the Sith, then reprised the role in Rogue One. Mothma (then played by Caroline Blakiston) was the priestess-like figure in 1983's Return of the Jedi who outlines weaknesses in the new Death Star, gravely intoning, "Many Bothans died to bring us this information." In Andor, her story will run parallel to the title character, whom we know will eventually become one of her key agents. "It is a huge, orchestral, Dickensian ensemble cast," says Gilroy.
Those who want to go into the show knowing as little as possible should look away here. Because Gilroy reveals a few more specifics about the upcoming episodes, "Our show starts with a very simple, almost film noir situation for a thief, a skeevy kind of guy who gets in big trouble trying to sell something to save his ass. Someone's been watching him, a rebel talent scout, and he's sort of recruited on the worst day of his life. On episode four, we leave there and we begin to expand out…" According to Vanity Fair, "That storyline focuses on Luna and two unspecified characters played by Stellan Skarsgård and Adria Arjona." Although now we know that Skarsgård's brand new character will be called Luthen.
When it comes to Cassian and Mon Mothma's stories, Gilroy shares "They intersect. I'm not going to get into how they intersect. They do have intersection—but they do not meet. They will not meet until the second half." And he notes of the characters in the show, "I have 211 speaking parts in this show. There's probably 75 people in there who really matter, and there's at least a dozen seriously important characters that we'll be carrying forward to the second [season]."
Speaking of season two, the follow-up Vanity Fair article reveals more about the next season of Andor. "It is a second season, but it's really, for me, the second half of the novel," Gilroy tells the publication. "This first season is about him becoming a revolutionary, and the second 12 episodes take him into Rogue One." According to Empire, each of the 24 episodes represents a year. Season two starts shooting in November.
A new first-look clip at Andor reveals to us some of the main themes of the show. In it, we see Diego Luna's Cassian and Stellan Skarsgård's Luthen discussing the shortcomings of the Empire. This Andor clip really sets the tone for what's to come.
At Disney's D23 Expo, we received a new Andor trailer to get us even more excited for the show.
Recently, we learned who would direct the next season of the Star Wars show. Tony Gilroy revealed that directing season two of Andor would be Ariel Kleiman, Janus Metz, and Alonso Ruizpalacios. Each of these directors will direct blocks of episodes tied to narrative arcs explored in the show. Yellowjackets' Kleiman will direct six episodes split into two parts. The directors from Andor season one will not return.
Behind the Scenes
Andor began filming in London in November 2020. Tony Gilroy created the series, which will run for 12 episodes.
According to news shared by IGN, Andor producer Sanne Wohlenberg also shared, "We haven't been working with Stagecraft at all for our show, no. It is the first Star Wars show for Disney Plus that has not been leaning into that technology."
Lucasfilm is treating Andor as a feature film. With concept art, prop-building, and a full creature team, it does look like they're going all in. It's something I've enjoyed about The Mandalorian. They do have a smaller budget, but much of the time, it isn't glaringly obvious. Especially with the help of the Volume for filming. We're excited for Andor to involve more practical sets. And we're sure this will lend a different feel to the Star Wars series.
Andor's Cast
The cast for the series includes Genevieve O'Reilly, who will reprise her role as Mon Mothma (Rogue One). Co-stars Stellan Skarsgard, Denise Gough, and Kyle Soller will be part of the story. And obviously we have Diego Luna as Cassian. Though in the above behind-the-scenes peek video, they mention there are 200 main cast members. Which is just a few.
Andor's Release Date
Andor will premiere on September 21, 2022.
Originally published on December 10, 2020.
This post has affiliate links, which means we may earn advertising money if you buy something. This doesn't cost you anything extra, we just have to give you the heads up for legal reasons. Click away!