You'd think caring for a tiny Force-sensitive child would put any bounty hunter on tilt. Especially when the kid really knows how to push your buttons. ( Quite literally.) But Din Djarin and Grogu have always been a winning combo. That's why The Mandalorian has been a jackpot for Disney. Now it can be for you too. (Minus the part where you have to read all our pinball puns.) The Mandalorian stars in a new series of official Star Wars pinball machines. And they feature a Baby Yoda who looks like he's controlling the balls.
Stern Pinball has announced a new "innovative" pinball machine celebrating The Mandalorian. It comes in three models: Pro, Premium, and Limited Edition. All three versions feature a motorized rotating playfield with six stand-up targets, lights, and two full-size flippers. The game's best component, though, is its large custom sculpture of Grogu. He looks and moves like he is controlling the balls in the game. Just like he controls the little round knob from the Razor Crest. Of course, the Razor Crest doesn't have multi-ball action like this pinball machine. So Baby Yoda has his work cut out for him.
The game also has "authentic video and audio" from the show's first two seasons. As well as "exclusive custom speech" from Carl Weathers who plays Greef Karga. It also features Ludwig Göransson's theme song, and hand-drawn artwork by comic artist Randy Martinez. There's even a custom molded Razor Crest ship. (RIP Razor Crest.)
Stern Pinball
But this isn't just a regular game. It also recreates what it's like to be Din Djarin. Players need to look out for ambushes by enemy forces. "A dynamic inner loop shot activates an up/down horseshoe scoop ramp for fast, repeatable precision shooting, creating tense experiences on the Premium and Limited Edition models." Because it wouldn't be the full Mandalorian experience if things went smoothly.
"Star Wars is timeless and our players have enjoyed every pinball machine reimagined by the iconic space saga," said Gary Stern, Chairman and CEO of Stern Pinball, Inc, in a press release. "Stern's new pinball machine, inspired by The Mandalorian, continues that tradition with an engaging and exciting story for an entirely new generation of fans around the world. Collaborating with Lucasfilm, we have brought all of the suspense, excitement, and action from the Star Wars galaxy into a one-of-a-kind pinball adventure perfect for any location or home gameroom."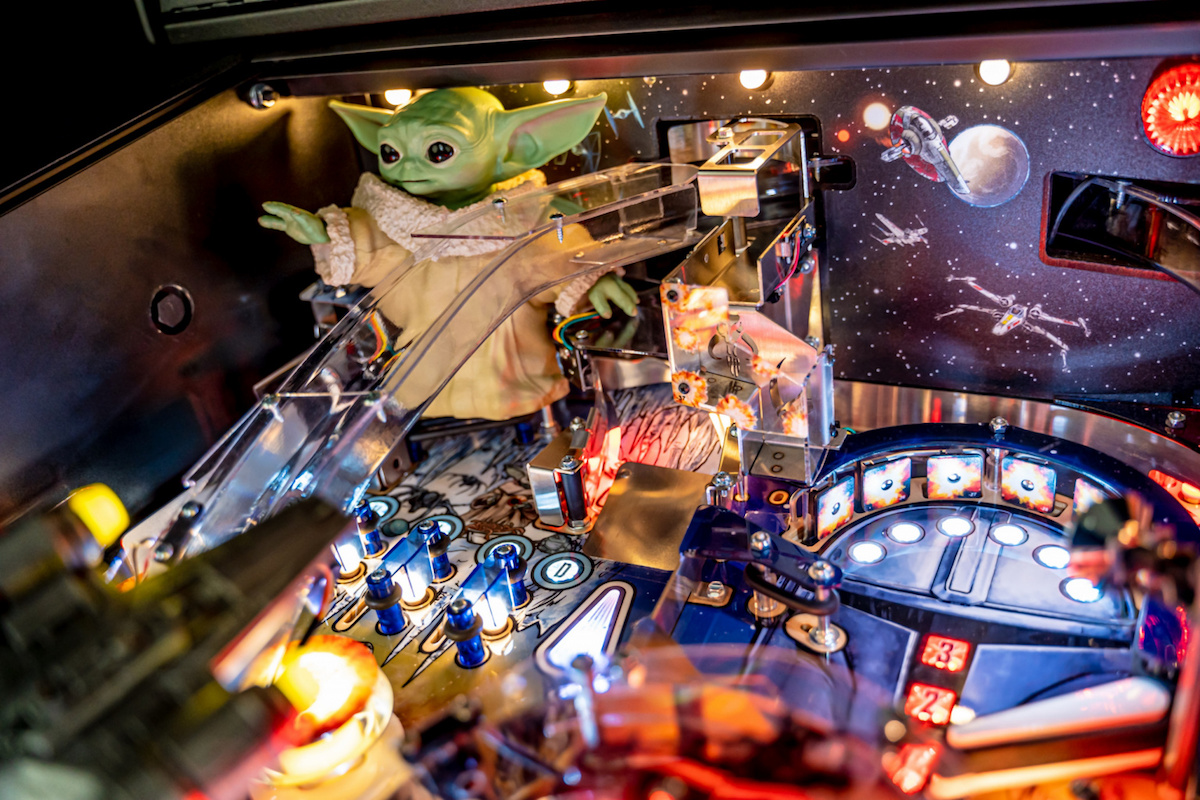 Stern Pinball
The Pro Model retails for $6,199. The Premium Model goes for $7,799. And the Limited Edition Model costs $9,199. Only 750 of those will be sold. But you get a lot for that high-end model. It includes "full color mirrored backglass inspired by Beskar armor, iconic custom cabinet artwork, custom high gloss powder-coated pinball armor, a custom designer autographed bottom arch, exclusive inside art blades, upgraded audio system, anti-reflection pinball playfield glass, shaker motor, a sequentially numbered plaque, and Certificate of Authenticity.
The only thing it's missing is a Force-sensitive child. But it would be impossible to match any of us with one of those.