Star Wars fandom often calls the era after Return of the Jedi and before the Expanded Universe in the '90s as "the Dark Times." During these years, there was very little new Star Wars media. But there were a handful of exceptions to this rule. One of these was Droids: The Adventures of R2-D2 and C-3PO. This Saturday morning cartoon ran from 1985 to 1986, alongside Ewoks. Droids told stories of the robot duo's adventures before A New Hope. And it even featured Boba Fett in one episode, and IG-88.
Hasbro
Now, as part of their Lucasfilm 50th celebration, Hasbro is releasing new retro-style action figures, based on the Droids toys of the '80s. Artoo, Threepio, and Boba Fett all come in packaging inspired by the classic Kenner Toys. And the color schemes match those of their old-school animated counterparts. And they even come with the collector's coin which the original figures came with. All four collector's figures are Target Exclusives.
Hasbro
R2-D2 and C-3PO both are part of the Star Wars: Vintage Collection, and stand at 3.75-inches. Both the Astromech and Protocol Droids retail for $15.99, and are available exclusively at Target.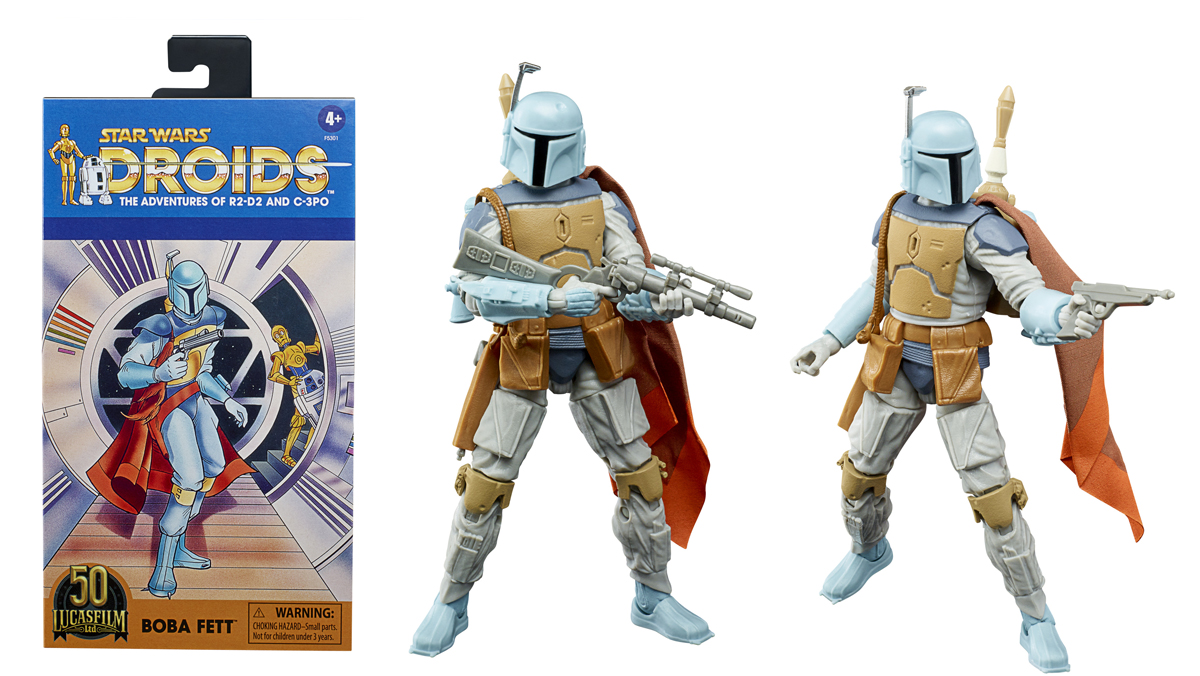 Hasbro
Boba Fett's figure is somewhat larger, coming in at 6 inches. As part of the Star Wars: Black Series, the bounty hunter comes as a fully articulated figure. He features a poseable head, arms, and legs. He also comes with premium deco, and includes two accessories. Like the two droids, Boba Fett is also available exclusively at Target, for a retail price of $26.49. There is also a smaller 3.75 inch Vintage Collection figure available for $15.99.
For those of you who never watched the Droids cartoons on which these figures are based, they are all now available on Disney+. Like the toys, they are also classified under the "Star Wars Vintage Collection." And they're a wonderful throwback to a time when new Star Wars media was an extremely rare gift.
Preorders are expected at Target.com starting 9 a.m. on Sept 24.