Felines have a long history in Star Trek. In the original animated series, M'Ress was a cat-like alien officer on the Enterprise. And of course, on The Next Generation, Lt. Commander Data had a pet cat for many seasons named Spot. Now, Star Trek: Discovery is adding a brand new kitty to the franchise. During Star Trek Day's Discovery panel, (via io9), we are introduced to Grudge, She's a Maine Coon, who's actually a boy cat named Leeu in real life. That translates into "lion" in Afrikaans. She's the companion of Book, a new character addition played by David Ajala.
As you can see in the short video posted above, Leeu is already the star of the Discovery set. The two-year old came on board after a casting call went out for a large cat to become a new member of the cast. Measuring in at 25″ long, (with the tail, he's 40″) he certainly fit the bill. Leeu's handlers on the Discovery set refer to him as a "one take wonder. Considering that cats are notoriously hard to wrangle for filming, due to his ability to ace it in one take, he's probably the most valued actor in the cast.
CBS All Access
Of course, Leeu might let all this fame and attention go to his head. After all, the production team has already set up a separate Twitter account just for Grudge. Grudge has already reshared tweets that refer to her as "Star Trek Discovery's new Queen," and Book's "ride or die." We wouldn't be surprised if Leeu starts pulling serious diva moves like demanding all of his M&M's are one color in his dressing room. Or whatever the kitty cat equivalent of that kind of thing is. Just stay humble and remember where you came from Leeu, and Grudge might dethrone Jones from Alien as sci-fi's most beloved kitty!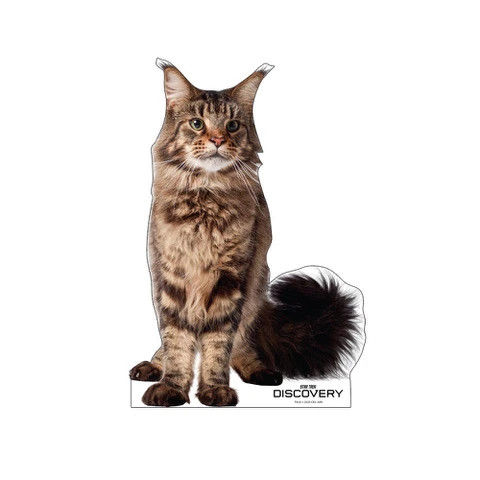 Shop Star Trek
We've all had the chance to meet Grudge in Star Trek: Discovery season three. And if you have capital F Feelings about the feline, you can purchase a Grudge standee from the Star Trek store.
Featured Image: CBS All Access
Originally published on September 9.