Imagine if you could relive your best memories. Not just remember them, but feel them on your skin. To breath the very same air from that long lost moment, and hear it echo in your ears just like the day it first happened—it's a beautiful idea. But also one you could easily get lost in. That's the danger facing the characters in Reminiscence. The film's first full trailer shows the risk of spending too much time in a past that might not be what you remember. The movie's director and all-star cast say it's about much more than that, though. Nerdist joined them for a virtual event on Wednesday, where they said that Reminiscence is a sci-fi noir about how we see each other. And it's all explored in a story full of mystery, lost love, and questions about who we really are.
"Nick Bannister (Hugh Jackman), a private investigator of the mind, navigates the darkly alluring world of the past by helping his clients access lost memories. Living on the fringes of the sunken Miami coast, his life is forever changed when he takes on a new client, Mae (Rebecca Ferguson). A simple matter of lost and found becomes a dangerous obsession. As Bannister fights to find the truth about Mae's disappearance, he uncovers a violent conspiracy, and must ultimately answer the question: how far would you go to hold on to the ones you love?"
While Reminiscence may be an action-thriller sci-fi noir, the idea came from a personal, intimate experience for writer-director Lisa Joy (Westworld). It all began with a very old photograph she found while cleaning out her late grandfather's belongings. She discovered a picture of an unknown woman whom Joy's grandfather had named his home after. He had never told his family about the mysterious woman. Joy said that photo made her reflect on the idea of truly reliving our past.
"It made me start to think about memory and our lives in general. And the moments that maybe pass by, and maybe disappear—they don't stay with us, those connections necessarily—but that meant something, that changed us and touched us. And how nice it would be able to go back to these memories fully for a moment, to live that life and feel the way you felt when you experienced them," she said.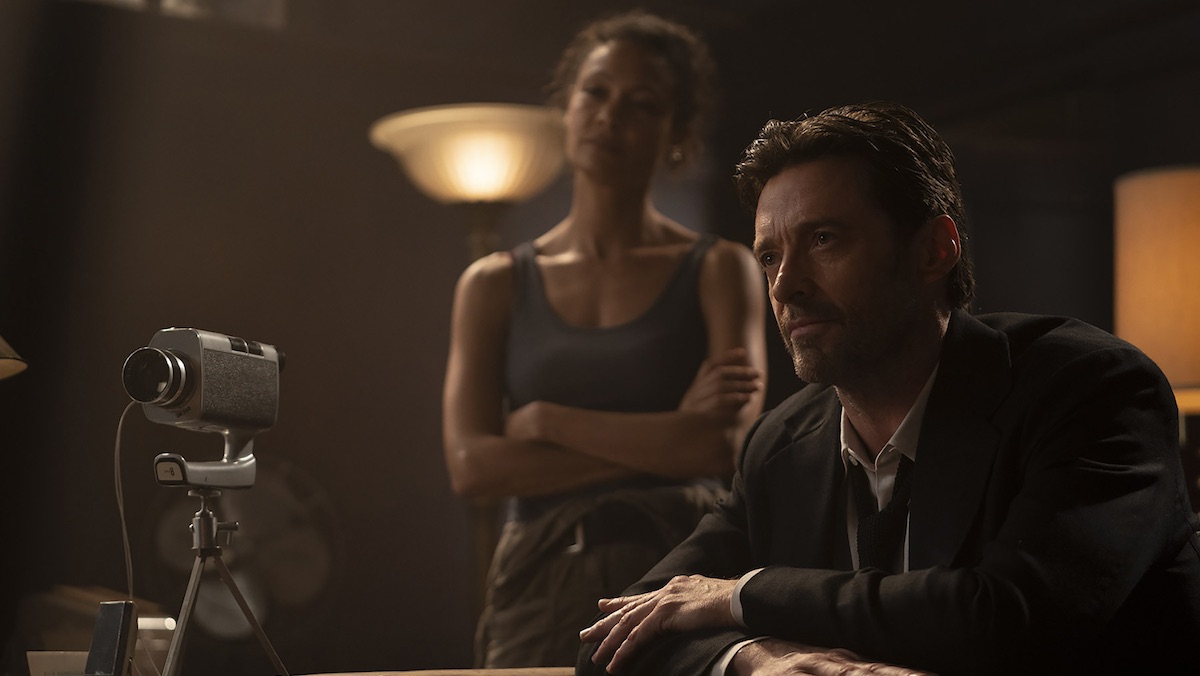 Warner Bros. Pictures/Ben Rothstein
Joy wrote the script right after giving birth. (Which somehow sounds less stressful than when she was writing while "puking from morning sickness.") During those late nights with a newborn, Joy realized she wanted to "bottle" those quiet "magical" times with her daughter. That made her realize "how much of life we value is in those small moments." Having an infant also explains why the cast says Joy sang "Baby Shark" on set "all the time."
Hopefully, none of us will one day have memories of living in a world like Reminiscence. It takes place in a flooded Miami; giant walls keep the city from total destruction. Almost all activity takes place at night because it's too warm during the day. And many also carry the scars of a recent war that shapes their current worldview.
Joy intentionally avoided naming a specific year for the film's setting… but it doesn't look to be too far in the future. She wanted it to feel relatable and not "too distant." The movie explores timeless themes about life, memory, and identity. But we should also see connections with our own world now, because as Joy says, "Science fiction is metaphor."
Warner Bros. Pictures/Ben Rothstein
The movie's sci-fi element comes from technology employed by Hugh Jackman's private investigator Nick Bannister and his colleague, Thandiwe Newton's Watts. Their clients hire the pair to search their memories with a highly-advanced machine developed by the military. But this tech isn't a matter of looking through a biological filing cabinet. It allows people to fully relive their memories, not just see them. Others can watch them too, thanks to a new piece of real technology. The memories seen in the film come from a new on-set tech, rather than a green screen. Joy and the cast didn't fully explain the technology, but Newton said it looked like "an art installation.'
The people of this world can fully re-experience what it was like to eat, smell, feel, and hear events from their past as though they are truly happening again. An option that is easy to get lost in, especially in a world that offers so little happiness today or tomorrow. But as Jackman points out, there's a danger to "spending too much time in the past or the future."
There may not have been a future where Joy directed her own script if not for Jackman. She said she only wanted to do it if he starred in the film. (To which Jackman joked that Brad Pitt turned down the role.) Joy knew Westworld's Newton could play Watts, the "toughest lady who was," a role that requires both "stoicism and heart."
Warner Bros. Pictures/Ben Rothstein
Finding someone to play the film's mysterious Mae, who Bannister falls in love with and then becomes determined to find, came with its own complications. Joy said it was like "casting five roles at once." It required someone who "could do tragedy, who could seduce but also be vulnerable, be witty, and sing." Which Joy said left one choice: Rebecca Ferguson.
When it comes to Mae, Joy says it's a Rashomon situation. Everyone looks at her differently. That idea appealed to both Ferguson and Jackman. Ferguson wanted to play Mae because the film explores the question of "who you really are." Jackman also cited the film's exploration of whether "we ever really know anyone." And since he's the one who loved Mae and is obsessed with finding her, it's his character who will explore Joy's idea of seeing others through "the gaze of love" and what that means.
Warner Bros. Pictures
If you're hoping for a character to hate, you may be disappointed. Daniel Wu's Saint Joe is a crime kingpin, but Joy "didn't want any of the villains to be villains." The actor describes his character as "three-dimensional and human," with his experiences from the war driving his actions.
Saint Joe could end up being a fan favorite. Joy "tweaked" the character "towards" Wu after casting him. And while he might be the movie's baddie, he's also funny. Joy also thinks Saint Joe might be the first "Chinese villain with a Southern accent," which she calls an "organic home brew blend." Sounds like a memorable bad guy.
Though who knows how we'll remember him or the film? Fortunately we won't need a high-tech machine to find out. We'll be able to do that re-watch the movie whenever we want after Reminiscence comes to theaters and HBO Max on August 20.