I don't know what "Dad Rock" actually is. That nebulous term feels like a pejorative catch-all for any older song that goofy fathers might like. But that could be anything from Michael McDonald-style Yacht Rock to classic Heavy Metal bands like Black Sabbath. Who knows?! Apparently the folks behind Now That's What I Call Music think they do. We just learned about their 59-track album titled Now That's What I Call Dad Rock.
And after looking at the list of songs they included, I know one thing for certain: "Dad Rock" is as meaningless a term as I thought. Because any compilation that includes Lynyrd Skynyrd, Natalie Imbruglia, The Killers, and Nickelback is a total mess.
Yes, Now That's What I Call Dad Rock exists. It is not a late April Fool's Day album. The 2018 release (which we first came across at Boing Boing) is billed as "the perfect gift for a rockin' Dad." It is supposedly "the definitive list of manthems," a compilation that features some "of the biggest rock and indie anthems."
Some songs definitely qualify, like the opening track "We Will Rock You" by Queen. Or "Bat Out of Hell" by Meat Loaf. And of course Lynyrd Skynyrd's "Sweet Home Alabama" is here.
But we have a much harder time accepting that Hozier's "Take Me To Church" qualifies by those parameters. The inclusion of Avril Lavigne's "Complicated" makes even less sense. And "There She Goes" by The La's is so absurd we're actually starting to wonder if this really is an elaborate hoax. But nope, you can still buy the album from some sellers. You can also find the full 59-song tracklist below.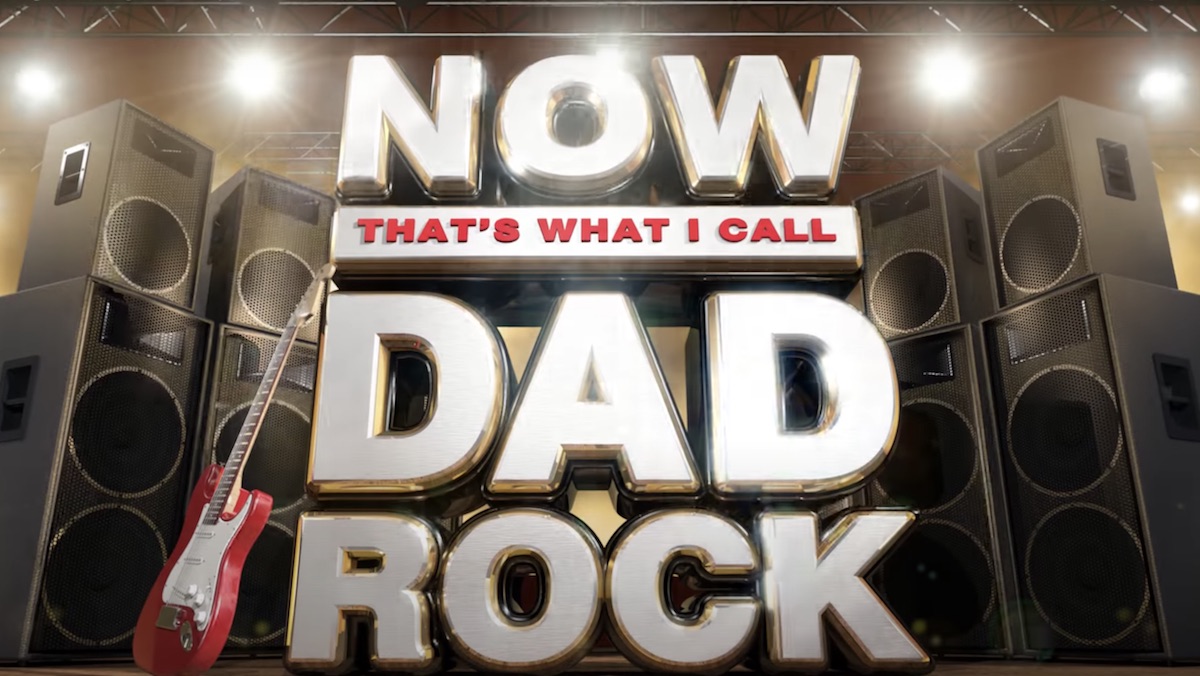 Now That's What I Call Music
Look, we get it. Dads contain multitudes. It's why they sometimes tuck dress shirts into shorts while wearing sandals with socks. They like music that spans decades and styles. Also, surely every song on this list has fans who are also fathers. But no single dad is a fan of all these songs. And even more importantly, if all of these tracks qualify as "Dad Rock" then everything and nothing does.
Now That's What I Call Dad Rock Tracklist

1. "We Will Rock You" – Queen
2. "Start Me Up" – The Rolling Stones
3. "With Or Without You" – U2
4. "Livin' On A Prayer" – Bon Jovi
5. "Radioactive" – Imagine Dragons
6. "Mr. Brightside" – The Killers
7. "Dakota" – Stereophonics
8 "Take Me To Church" – Hozier
9. "Rockstar" – Nickelback
10. "Sweet Home Alabama" – Lynyrd Skynyrd
11. "More Than A Feeling" – Boston
12. "(Don't Fear) The Reaper' – Blue Oyster Cult
13. "Bat Out Of Hell" – Meat Loaf
14. "Ace Of Spades" – Motörhead
15. "Should I Stay Or Should I Go" – The Clash
16. "The Jam" – Town Called Malice
17. "Two Princes" – Spin Doctors
18. "She's So Lovely" – Scouting For Girls
19. "Chelsea Dagger" – The Fratellis
20. "Rocks" – Primal Scream
21. "Africa" – Toto
22. "Don't You (Forget About Me)" – Simple Minds
23. There She Goes – The La's
24. "I Wanna Be Adored" – The Stone Roses
25. "Everybody's Changing" – Keane
26. "How To Save A Life" – The Fray
27. "Hold Back The River' – James Bay
28. "Ho Hey" – The Lumineers
29. "All Right Now" – Free
30. "Smoke On The Water" – Deep Purple
31. "Search And Destroy" – Iggy & The Stooges
32. "Are You Gonna Go My Way" – Lenny Kravitz
33. "Walk This Way" – RUN-DMC feat. Aerosmith
34. "(You Gotta) Fight For Your Right (To Party)" – The Beastie Boys
35. "Stacy's Mom" – Fountains Of Wayne
36. "Buck Rogers" – Feeder
37. "All The Small Things" – blink-182
38. "Crazy Crazy Nights" – Kiss
39. "Addicted To Love" – Robert Palmer
40. "The Final Countdown" – Europe
41. "Teenage Dirtbag" – Wheatus
42. "Kids" – MGMT
43. "In Too Deep" – Sum 41
44. "America" – Razorlight
45. "Complicated" – Avril Lavigne
46. "Torn" – Natalie Imbruglia
47. "The Sound" – The 1975
48. "Pompeii" – Bastille
49. "Naive" – The Kooks
50. "Breakfast At Tiffany's" – Deep Blue Something
51. "You Ain't Seen Nothing Yet" – Bachman – Turner Overdrive
52. "I Shot The Sheriff" – Eric Clapton
53. "Can't Fight This Feeling" – REO Speedwagon
54. "Maggie May" – Rod Stewart
55. "Sharp Dressed Man" – ZZ Top
56. "Born To Be Wild" – Steppenwolf
57. "Here I Go Again '87" – Whitesnake
58. "Eye Of The Tiger" – Survivor
59. "Love Is The Drug" – Roxy Music