If you know martial arts movies then you probably know Joe Taslim. The Indonesian actor has blown up the scene with stunning turns in The Raid, The Night Comes for Us, and Warrior. Soon he'll take on Hollywood with a turn as the iconic Mortal Kombat character Sub-Zero. On set, Nerdist joined a crew of roving journalists to chat with the amazing actor and his cast mates, who were clearly just as big fans of the radical martial arts practitioner as we are.
Warner Bros
"Joe Taslim was literally built to play Sub-Zero," producer Todd Garner told us. Anyone who has seen the actor destroy flesh and decimate the human body in Timo Tjahanto's stunning The Night Comes For Us would agree. But for Taslim himself, the casting was unreal. "When I was a kid I would play the game. So it's crazy that I'm playing a character that I played as a kid. It's a dream come true. So it's great for me as a person, as an actor, and as a martial artist to be able to be part of this beautiful family."
Taslim has a background in multiple martial arts, including Judo, Wushu, and Taekwondo. His passion for the former led him to become a gold medalist. But when it comes to his film fighting style, he never sticks to one school. "I think a lot of action actors are comfortable with their own style. Big names like Donnie Yen, Jackie Chan, Jet Li. From one movie to another, they bring their style to each character they're playing," Taslim said. "But I have a little bit of a different approach. I think when you do a movie, you play a character. That character has a background; so if I play a boxer then I need to look and walk and act like a boxer. But if I jump to another character, then I need to go clean to that project, learn everything, and trust the choreographers and the action director."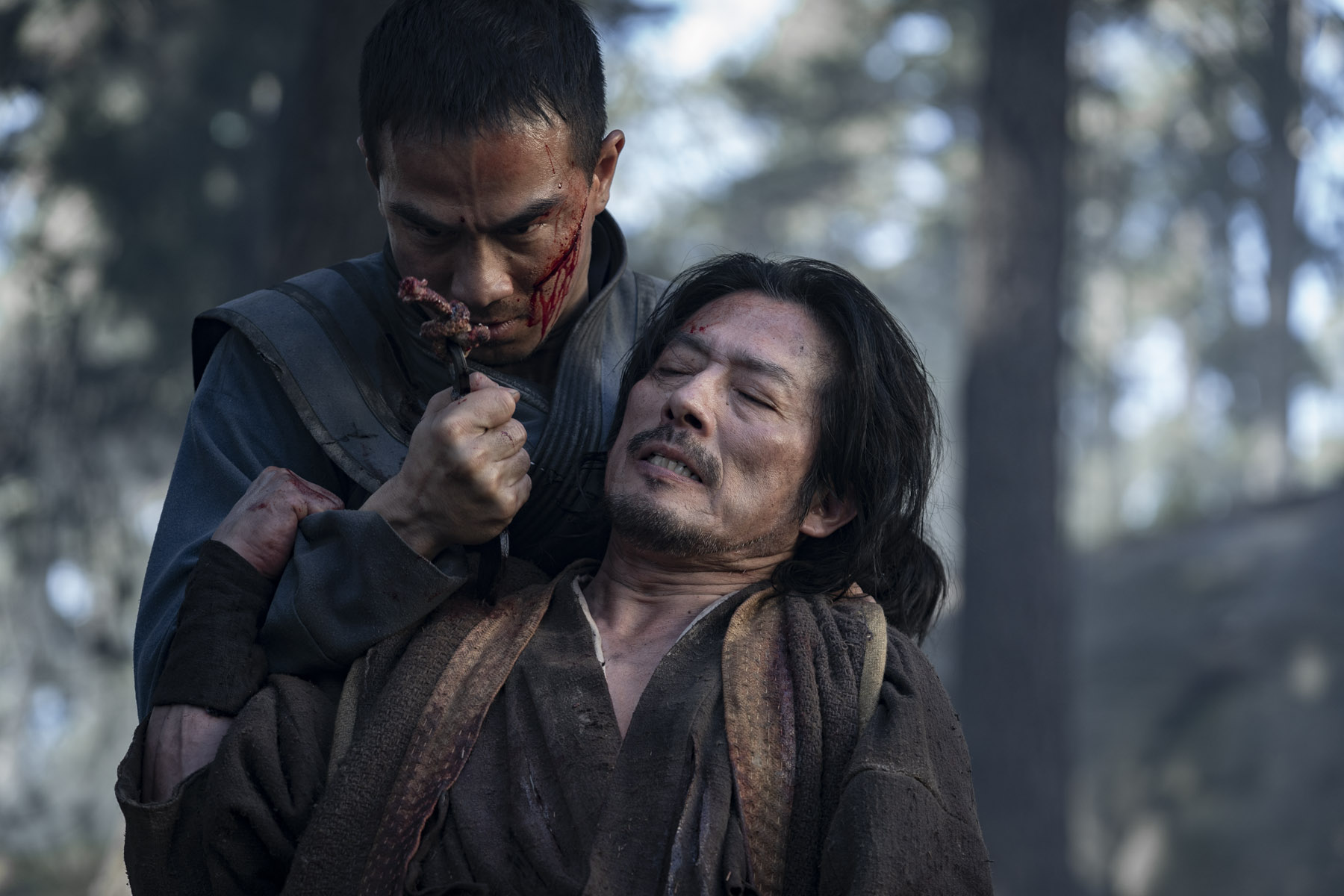 Warner Bros
Taslim uses this method on all of his projects, Mortal Kombat included. "In The Raid, it was very Silat, so I had to learn everything from zero. I shot two seasons of Warrior. I had to play a Kung Fu master, so I did not have to learn everything from zero," he said. "With this one, I came here with a clean sheet. I trusted that we have great directors, great action directors in the KG team. They showed me the designs and everything and said, 'If you want to add something, let me know.' And I saw their work and saw there's nothing to change because they are amazing."
Taslim continued, "My job is to be the empty glass, the white paper, and you guys fill me in. I'll put the soul. That's my job. My perspective on doing action is that you have to empty your glass and go to the next project and work it out together, and then let the audience drink it."
His talent and speed clearly inspired the cast and crew. "Joe is the fastest human being on the planet," Garner said.
Lewis Tan agreed. "Joe is insane. They almost had to slow him down. Even in his armor he's wearing."
Warner Bros
Taslim's impact on the cast was massive, making Sub-Zero the antagonist everyone wanted to share a scene with. "Everybody wants to fight Joe," producer E. Bennett Walsh laughed. "Because Joe is so amazing as a fighter. Then you have someone like Hiroyuki Sanada, who was trained by Sonny Chiba and is one of the last guys out of Japan who fights, who dances, who does his own clips. He was like, 'Let's do the fight, but I can't do it all.' Then he gets into it, gets into Joe and then says, 'Okay, I've got to do it all.'"
But the journey from professional Judo athlete to fastest man on Earth and martial arts superstar is not one that Taslim ever saw himself taking. "I'm living the dream," the actor said. "I'm from Indonesia, and there's not many people from Indonesia who made it out. So far just me and Iko, we're very fortunate. And every time we do an international project, we think, 'It's not just for us. We're doing it for 215 million people there.' So for me, it's to inspire and to do the best. It's never just a job for me because I am doing my hobby."
That quest for inspiration is key. "I want to inspire the people in Southeast Asia that we can do it. The world is more diverse now. Movies are a great bridge to connect the world to each other. We have a very diverse cast; this movie is going to represent all of the world. People are going to see it from South Sumatra to South Africa and feel represented."
Warner Bros.
When it comes to his own representation of Sub-Zero, there wasn't too much the actor could share. But he did want fans to know one thing. "I really work hard with Simon. We talk about the character," Taslim assured us. "We don't want the audience to see him just as a stereotype or in just one way. A bad guy has something inside of him. We know for sure that good guys can go crazy too. It's just a matter of that moment or accumulation of pain or whatever. So that balance is beautiful to play. We want to see if there's a little conscience in this guy. When you see the guy about to kill, what's going on inside those eyes? That's my job, to deliver that to the audience and make sure it's full and rich."
Mortal Kombat hits HBO Max and select theaters on April 16.
Featured Image: Warner Bros