Recently, Disney announced that Ronald D. Moore, genius producer and showrunner of series like Outlander and Battlestar Galactica, is developing a series of shows for Disney+. This franchise will focus on various lands within the Magic Kingdoms, all coexisting in an alternate reality. The backbone of this narrative is the organization known as S.E.A. (Short for "The Society of Explorers and Adventurers."
S.E.A. has been a Disney theme park fan's favorite open secret for years. In its " hidden backstory," S.E.A. is an organization referenced in various Disney theme parks in a kind of interconnected mythology. Tokyo DisneySea originated S.E.A. back in 2013. This later expanded to Hong Kong Disneyland's Mystic Point area, and eventually, figured into all of the Disney theme parks.
Different S.E.A. members get a reference in attractions like the Tower of Terror in Tokyo DisneySea, and Hong Kong Disneyland's Mystic Manor. In the states, both Disneyland Walt Disney World have S.E.A. references in the Big Thunder Mountain roller coaster. In the Disney mythos, S.E.A. is an organization that goes back hundreds of years.
But with Ronald D. Moore's potential new shows on Disney+, they could expand S.E.A. adventures into all manner of existing lands across all the Magic Kingdoms. The concept could be introduced in the various shows, and then added back into already existing attractions later. Here are some of our ideas for S.E.A. based series we'd love to see on Disney+, based on the beloved Disney lands and attractions.
Matterhorn Mountain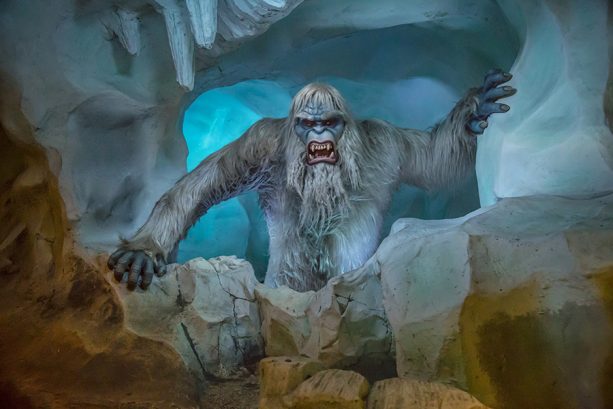 Disney Parks Blog
Because of its ties to preexisting classic animated fairy tales, the Fantasyland area in the parks would be hard to spin off into its own IP. Disneyland in Anaheim has one major attraction in the land not tied to an existing property, however. The Matterhorn Bobsleds. For this show, we imagine a group of S.E.A. explorers who find mystical secrets and an ancient Yeti in the legendary Swiss Alps peak.
New Orleans Square
Disney Parks Blog
In Disneyland in Anaheim, New Orleans Square ended up as the last new land overseen by Walt himself. It contains what most fans consider the crowning achievements of Walt Disney Imagineering: Pirates of the Caribbean and the Haunted Mansion. Pirates has become a blockbuster film franchise already, and a new Haunted Mansion movie is coming. But what if there were a S.E.A. series that tied in those two spooky worlds together, via the ghostly lore of the French Quarter? Ghosts and Pirates? It's already the best show ever.
Adventureland
Disney Parks Blog
Right now, only two attractions are ubiquitous across all the Adventureland areas in the different parks. The Jungle Cruise and the Enchanted Tiki Room. Granted, a lot of Adventureland areas also have a version of the Swiss Family Robinson treehouse. But how about a series with Indiana Jones-style jungle adventures within exotic locales? Perhaps featuring the The Jungle Cruise's Dr. Albert Falls, a S.E.A. member? This one writes itself.
Big Thunder Mountain
Disney Parks Blog
Frontierland, which is essentially based on the Old West, was once the centerpiece of Walt Disney's original park. This is back when Westerns ruled pop culture. These days, only one major attraction remains in most parks: Big Thunder Mountain Railroad. S.E.A. member Barnabas T. Bullion is eventually retconned into the Big Thunder mythology in the ride's 2013 refurbishment. Even though it's a roller coaster, the notion of a haunted runaway train in a mysterious mountain is great fodder for a potential series. And we already have a big S.E.A. connection. This one's a no-brainer.
Mystic Point
Disney Parks Blog
This land in Hong Kong resort is a spooky, magical area which is home to the Mystic Manor attraction. Essentially, it's an Asian variation on the classic Haunted Mansion ride in the other parks. Only with a little more magic and a lot less spooks. Considering that most of the lands are fixated on America or Europe, a S.E.A. based series set in Asia would be incredibly cool. The attraction already has a S.E.A. reference with the character of Lord Henry Mystic and his monkey Albert. So we've got our lead characters already!
Along with Star Wars, Marvel, and animation, the theme parks are a wonderful source for world building. We can't wait to see what Ron Moore cooks up with this potential franchise.
Featured Image: Disney Parks Blog