Spoilers ahead for the Lovecraft Country premiere
Black-led horror shows and films usually marry terror, social commentary, and history to convey a larger message. Lovecraft Country is no different. Atticus, Leti, and Uncle George's journey to the East Coast is introduced alongside a poignant voiceover by James Baldwin. The famed novelist, playwright, and activist's words not only elevate several profound scenes but it also fit perfectly into the foundation that Lovecraft Country aims to build.
The Story Behind Baldwin's Words
Baldwin's monologue is actually an excerpt from a debate about racial divide. On February 18, 1965, James Baldwin and William F. Buckley Jr. took center stage at the University of Cambridge to discuss segregation and the American Dream. Buckley was a pro-segregation wealthy white conservative who believed in white superiority—not the overt racist spewing offensive words, but his ideals were still the same. Many people in the room, including Cambridge student Jeremy Burford, largely took his side.
Baldwin was an eloquent champion for equality who wrote about the strife of being Black in America. He stood in front of a room of white people and spoke with powerful conviction about his beliefs.
Baldwin's words ring clear in Lovecraft Country; he boldly declared that the American Dream is at the expense of the American Negro.
"I find myself, not for the first time, in the position of a kind of Jeremiah. For example, I don't disagree with Mr. [Jeremy] Burford that the inequality suffered by the American Negro population of the United States has hindered the American dream. Indeed, it has. I quarrel with some other things he has to say. The other, deeper, element of a certain awkwardness I feel has to do with one's point of view. I have to put it that way – one's sense, one's system of reality.

It would seem to me the proposition before the House, and I would put it that way, is the American Dream at the expense of the American Negro, or the American Dream *is* at the expense of the American Negro. Is the question hideously loaded, and then one's response to that question – one's reaction to that question – has to depend on effect and, in effect, where you find yourself in the world, what your sense of reality is, what your system of reality is. That is, it depends on assumptions which we hold so deeply so as to be scarcely aware of them."
Buckley tried to counter that Baldwin's skin color was irrelevant to his points. He argued for preserving the "Southern way of life," but to no avail. Baldwin won the debate with words that now resonate deeply within the context of Lovecraft Country.
The American Dream in Lovecraft Country
Elizabeth Morris/HBO
The monologue plays across several scenes. First, Atticus, Leti, and George eat at a segregated hot dog stand. The inequality that Baldwin speaks of is evident as the employees serve white customers while making a man and his two impatient children wait. It sends a clear message to those kids about their lack of importance in relation to their white counterparts. One day, it's waiting for ice cream. The next day, it's a denial of service altogether because of their skin color. This is the reality and norm they have to deal with in every aspect of their lives for the foreseeable future.
The traveling trio passes a sign using a racial epithet. It warns Black travelers that they should not be out when the sun sets lest they want to lose their lives. They stop at a gas station and a white man makes his friends laugh by making monkey sounds and gestures at Atticus. It's a deeply painful and troubling moment for Atticus. Meanwhile, his tormentors have no concept of what it means to be seen in such a dehumanizing way. The fleeting moment is a constant reminder of what they face when they step outside of their neighborhoods.
A line of Black people stand in the sun waiting for a bus that may never come. There's a promotional billboard behind them with a white family smiling in a shiny blue car. The caption says "World's Highest Standard of Living" and "There's no way like the American Way." It is crystal clear which Americans the sign is referencing and the underlying message. Only white people should have access to that level of style, privilege, and comfort.
One's System of Reality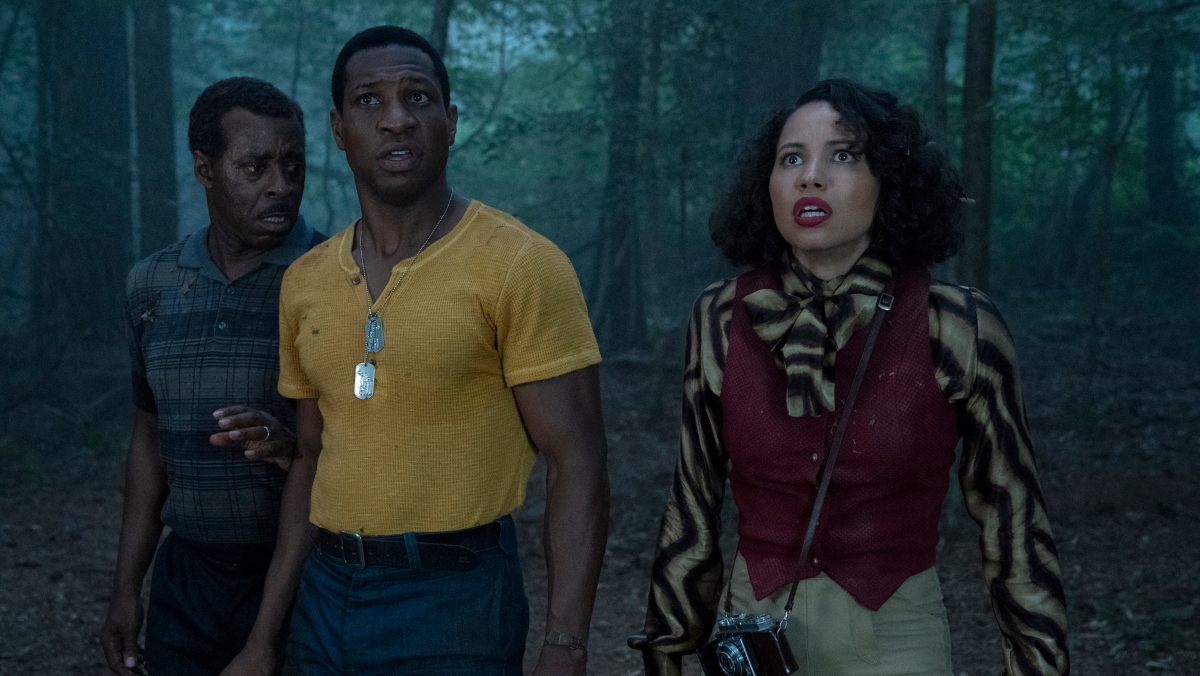 Eli Joshua Ade/HBO
It's a sad juxtaposition of two different Americas and points of view that Baldwin discusses. There is the reality of being white and not having any hardship in life attributed to their skin color. They got access to better schools, better funding, and better opportunities.
Then there's the America where Atticus, like many Black men, serves in the military to uphold America's "freedom," yet he can't be served at a restaurant. This is a world where literal monsters with dozens of eyes don't deter a white cop from continuing to point his gun at Black people. A place where the descendants of enslaved people who built America are hung from trees. Black people didn't have access to the American Dream. How could it be possible when people are denied basic rights, access, and their humanity?
Lovecraft Country's horror is amplified by this reality. Their investigations can lead to death and disaster. Curiosity can put them in a dire situation. Atticus doesn't look like the kind of hero that everyone will automatically want to believe and follow. The nightmares and truths they face pile on top of the daily pressures of being Black in a segregated America. It all culminates in layers of terror that are just as much fantasy as they are grim reality.
Featured Image: Eli Joshua Ade/HBO