It made sense Luke Skywalker answered Grogu's call from the Jedi Temple on Tython. That doesn't mean we weren't stunned to see the famous Jedi Master show up during The Mandalorian's season two finale, though. You can't expect one of the most important figures in the franchise to guest star on a Disney+ series set 25 years before the sequel trilogy. Or at least you couldn't before. De-aging technology and CGI make any and all cameos possible. And if Mark Hamill can appear on two Star Wars shows, anyone can and might. And it sounds like that will be the case during The Mandalorian's third season.
Executive producer Rick Famuyiwa recently told GamesRadar the "adventures get bigger" during the show's third installment. More enticing is that he also said "the characters you meet might be as iconic as Luke Skywalker." That's a mighty big tease with some major implications. So who might those iconic characters be? From those still waiting to make their live-action Star Wars debut to the most important figures in the franchise, these are the famous faces we think could appear during season three of The Mandalorian.
Iconic Characters Who Could Make Their Live-Action Debut on The Mandalorian
Hondo Ohnaka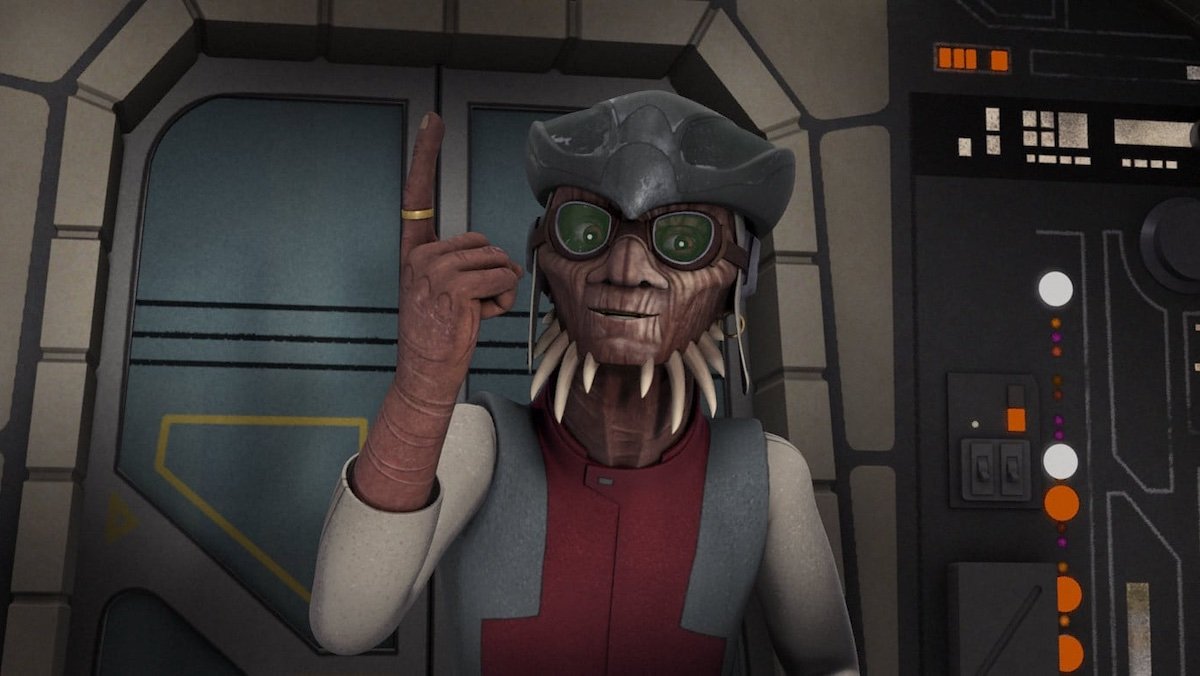 The only thing the lovable, lying, loquacious Weequay pirate from The Clone Wars and Star Wars Rebels hasn't stolen in the galaxy far, far away is a live-action appearance. (Though he does have an incredible animatronic at Disney Parks' Galaxy's Edge.) This is one cameo we really hope happens. Hondo Ohnaka is not only one of our favorites, we know he was active in the years following the fall of The Empire. Seeing Din Djarin deal with the charming, duplicitous Hondo would make for an iconic meeting.
Quinlan Vos
Obi-Wan Kenobi revealed The Clone Wars' Jedi Quinlan Vos not only survived Order 66 he continued serving the galaxy during Palpatine's reign. The mere mention of a famous Star Wars character who hasn't appeared in a live-action project always feels like an obvious case of Chehkov's blaster. The Mandalorian's third season could be where we see the popular Jedi finally appear in the flesh. Not only is he a great character worthy of such a role, it would let us know Quinlan outlived the Emperor.
Doctor Aphra
Doctor Aphra is the only character on this list to never even appear on a Star Wars animated show. Thus far her exploits have been strictly limited to the page. That hasn't stopped her from leading an iconic life. The sarcastic treasure hunter has crossed paths with some of the most important people in the franchise, including Darth Vader and Luke Skwalker. She's overdue to make her live-action debut. And if she gets it, those meeting her for the first time will quickly learn why she's a beloved figure.
The Crew of the Ghost from Star Wars Rebels
Star Wars Rebels' Sabine Wren, Ezra Bridger, and Hera Syndulla are set to appear on Ahsoka. (That's where we also expect Vice Admiral Thrawn to crossover from the animated side, too.) But it wouldn't surprise us if they follow Ahsoka's lead by making their live-action debut on The Mandalorian first. If the Ghost crew—with Chopper in tow—does, we could also see their seemingly retired colleague Zeb pop up, too. As could Hera's son with Kanan Jarrus, Jacen Syndulla.
If you're not pre-nerding out over the thought of young Jacen meeting little Grogu you might be a Sith.
Note: Cal Kestis, star of the Jedi Fallen video game series, will soon return for his second installment. He seems like an obvious character to include on this list. But we doubt Lucasfilm would reveal he's still alive many years after it takes place. That would remove a lot of the suspense of his story, which is still being told.
Iconic Star Wars Characters Who Could Appear During The Mandalorian Season 3
Lando Calrissian
Even C-3PO can figure out the odds of how fans would feel about a surprise Lando Calrissian cameo on The Mandalorian. It would have a 100% approval. And that would be true if either Solo's Donald Glover or the original and sequel trilogy's Billy Dee Williams returns to play the character again. The hero of Cloud City and his capes alway makes Star Wars a better place to visit.
Han Solo
Few characters can live up to the phrase "as iconic as Luke Skywalker," but Han Solo certainly qualifies. Could Harrison Ford really return to play the legendary smuggler-turned-Rebel? Death didn't stop him from appearing in The Rise of Skywalker. He is also currently starring on his first two TV series ever, so no one has to talk him into the merits of performing on the small screen. If anyone can fulfill this type of tease it's Ford, whose character might very well bring Chewbacca along for the fun.
(And hey, if Ford is not up for it, Alden Ehrenreich could once again bring Han to life.)
Leia Organa
Lucasfilm used motion capture and CGI to bring the late Peter Cushing's iconic villain Grand Moff Tarkin back to the franchise in Rogue One. That film also ended with a computer-generated version of Carrie Fisher's Leia Organa. The beloved actress also appeared in The Rise of Skywalker despite sadly passing away before filming. If her family gives their blessing once again, it's possible the great hero could return on The Mandalorian. Like Han Solo, she's one of the few figures alive during the time period of the show who would unquestionably qualify as iconic as her twin brother Luke.
Ben Solo
If Han Solo, Leia Organa, or both pop up on The Mandalorian they very well might have one of the most important figures in the franchise with them: their son Ben. The future Kylo Ren would be around 5 or 6 during The Mandalorian's third season. He'd be many, many years away from his turn to the Dark Side, but season three's trailers keep hinting at the galaxy's growing threat we know will become the First Order.
It would be only fitting if we meet the group's future Supreme Leader while he was just a boy, same as we did his mother on Obi-Wan Kenobi and grandfather Anakin in The Phantom Menace.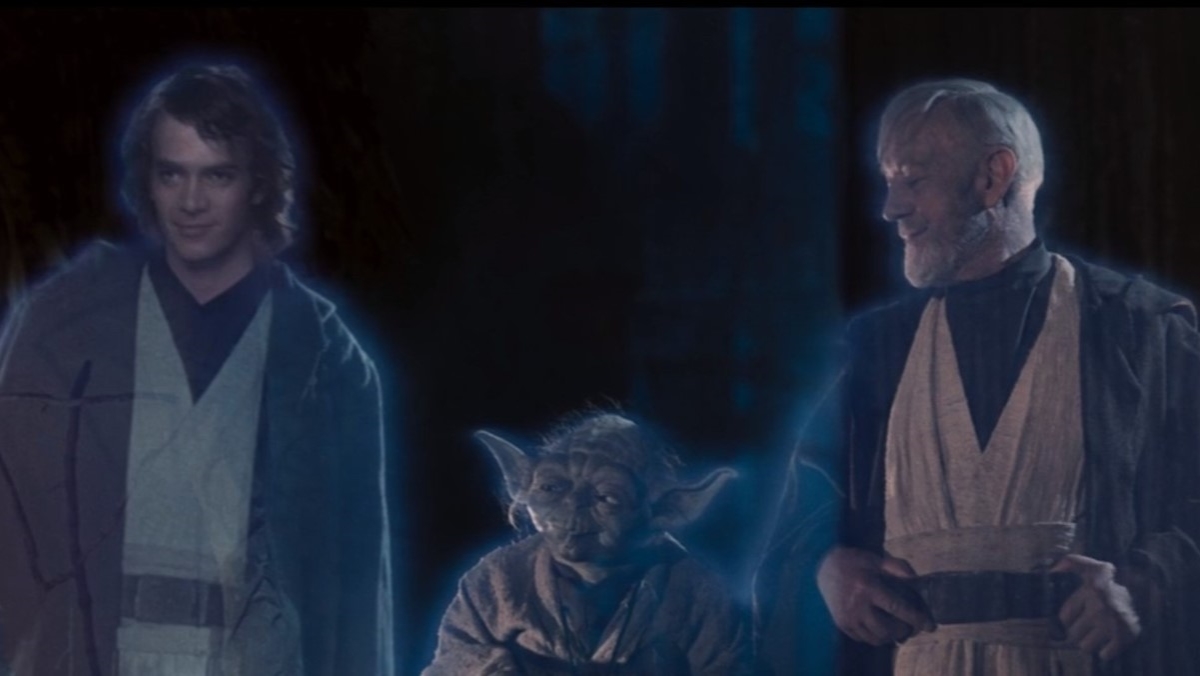 Of course, the former Darth Vader could always show up, too. As could any other iconic character or actor from the franchise even if they've become one with the Force.
"No one's ever really gone" in Star Wars. Not when the franchise has both ghosts and modern technology.
Mikey Walsh is a staff writer at Nerdist. You can follow him on Twitter at @burgermike. And also anywhere someone is ranking the Targaryen kings.