Prepare your snacks and get ready for some new Hulu content. The streaming service is officially turning Halloween into Huluween with a variety of intense thrillers and comedies to satisfy every viewers' tastes. The anticipation kicked off earlier this month with trailers for Into the Dark's October 4 episode "Uncanny Annie," Castle Rock's (October 23) chilling Season 2 drama, and Lupita Nyong'o's "school field trip turned zombie nightmare" dark comedy flick Little Monsters (October 11) but there's more in store!
Team Nerdist is bringing you an exclusive peek into the additional Huluween goodness that's on the way. Here's what you need to add to your October TV list for spooky season fun:
Light As A Feather – October 4
First, Hulu Original Light As A Feather returns for Season 2 on October 4. McKenna (Liana Liberato) and her friends believe they are done with last season's curse, but they are obviously wrong. This season will show the group's path towards discovering the origin story behind the "Light as a Feather" game and (hopefully) avoiding more deaths along the way.
The Light As A Feather Season 2 trailer dives deeper into the drama as the group reconvenes and faces several near-death experiences. McKenna warns that a point will come when it's "every man for themselves" and, well, she's probably right. If you gotta save someone from an evil entity, it might as well be yourself. And, if these exclusive photos are any indication, Season 2 is going to further develop and test this group's bond.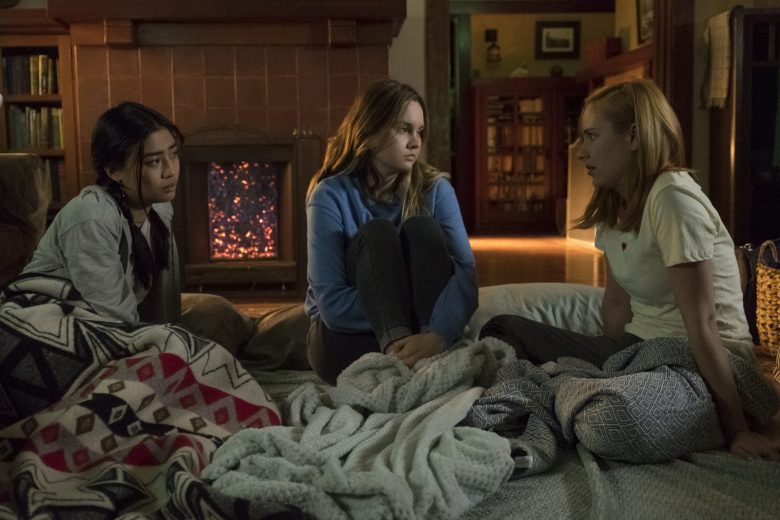 Hulu
Wounds – October 18
Hulu
You heard it here first – Wounds is joining the Huluween lineup on October 18! The thriller, based on Nathan Ballingrud's novella The Visible Filth, made its world premiere at the Sundance Film Festival in January 2019. Wounds focuses on Will, a New Orleans bartender whose life drastically changes when he finds a phone at his bar following a brawl. He witnesses something "awful" on the phone and it leads to a series of strange and disturbing events that throw his life into terrifying turmoil. It's an interesting premise that's undoubtedly geared towards those who like psychological twists and turns. Wounds is written and directed by Babak Anvari and features a great cast including Armie Hammer, Dakota Johnson, and Zazie Beetz.
Check out the exclusive (and darkly intiguing) full-length trailer below!
Zomboat! – October 25
Hulu
Surprise! Huluween is including another zombie comedy in its programming with Zomboat! This series will debut on October 25 to give you an excuse to stay in on a Friday night. Zomboat! follows two sisters as they escape the apocalypse (with a few friends in tow) in a 1980s wood paneled boat. Life is hard, so this group will probably have a hard time living in close quarters and adjusting to a new lifestyle. There's no trailer for this series yet, but surely it is on the way so keep an eye out to see this group of survivors in action.
Zomboat! is the latest collaboration between Hulu and ITV2 following Harlots and stars rising actors Leah Brotherhead, Cara Thebold, and Hamza Jeetooa, who recently starred as Manish in Doctor Who's "Demons of the Punjab" episode.
It's officially Fall now, so get ready for Halloween festivities with a Huluween TV takeover.
Image Credit: Hulu