It's time to get spooky-ooky with Halloween right around the corner! By now everyone should be getting into the fall festivities — hay-rides, apple picking, and horror movies galore! With Mercury Retrograde gracing us with its unearthly face, Halloween could end up playing out in a very interesting fashion. Take it easy, ghosts and ghouls: you're not doomed. Focus on enjoying yourself, relaxing, and unwinding.
Some of you might shy away from the seasonal festivities, but for you die-hard-pumpkin-spice-drinkers, do I have a treat for you. In honor of the "scariest" time of year (not including the election season), here are the Zodiac signs as scary movies…
Image: Netflix
Aries: Bird Box
Aries is a deeply complex sign, but they'll never really tell you how deep the rabbit hole goes. If you pay attention, and I mean really pay attention, you might catch a glimpse of the clues they're dropping. Bird Box is a post-apocalyptic thriller film that follows Malorie Hayes (Sandra Bullock), as she fights off mysterious monsters to get her children to a safe space. Like Aries, the film highlights the importance of following your instincts. And though Bird Box isn't exactly the easiest movie to understand, neither is Aries. Both the film and the Zodiac sign focus on survival, and though there are deeper issues worth exploring, who has the time? Aries is known for impulsivity, a desire to be a lone wolf, and their willingness to do whatever it takes to protect their loved ones… just like Malorie in Bird Box.
Image: Netflix
Taurus: Secret Obsession
Whether you watched (or liked) this 2019 thriller or not, it's drenched of Taurus vibes. People don't always get this sign's stubborn streak or desire to stay in control, but Secret Obsession puts the spotlight on how fixed on someone a Taurus can get. The Netflix film follows a young woman, Jennifer Williams (Brenda Song), who finds herself in a hospital bed with no memory of what happened or how she got there. Secret Obsession builds tension with increasingly nerve-wracking red flags, leading to an ultimate showdown. Though psychological thrills pique the interest of Scorpio, too, it's Secret Obsession's ability to make you wish that everything will turn okay that makes it a Taurus.
Image: Earthrise / TLA Releasing
Gemini: Suicide Circle
Gemini is known for its desire to gain clarity and to understand the world around them. They aren't satisfied with what their eyes can see, so they communicate and ask questions to understand the "who, what, where, when, and why" of a situation. Suicide Circle is a Japanese satirical horror film that follows the Tokyo police department as they try to understand the reason behind all the mass suicides occurring in the city. Despite the film's gory and triggering content, there's a split between the darker tone of the adults and the more cheerful and whimsically tone in the teenagers. Gemini is known for having two sides, and it's because of Suicide Circle's ability to leave the audience with more questions after the film than they had at the beginning that makes this movie ruled by Mercury.
Image: Paramount Pictures
Cancer: Psycho
Cancers aren't necessarily evil. In fact, they may very well have the best of intentions. Cancers are the nurturers of the Zodiac, children with sunny dispositions and sensitive personalities. Alfred Hitchcock's legendary film Psycho follows a woman, Marion Crane, who steals a large sum of money and runs away to be with her boyfriend. On her way to California, Marion stops at a hotel where she meets the infamous Norman Bates. We aren't going to spend this Halloween unpacking how that energy could express itself in Cancers who identify as male, as there are many cultural factors to account for. But Norman Bates' entire personality is so influenced by his mother that it absolutely screams "I am a Cancer" for him to develop an alternative personality on mommy dearest.
Image: New Line Cinema
Leo: It and It: Chapter Two
Leos everywhere, rejoice! You're special and get two movie selections. To be fair, It and It: Chapter Two are both based on Stephen King's lengthy novel, which was split into two films. It centers around a group of children in the 1980s trying their best to cope with their fears and process their trauma. Children are usually under the control of their parents, for better or worse, and we see this play out by following the lives of "The Loser's Club." Leo energy finds its home in the 5th house of pleasure, creativity, and children, so it shouldn't be a surprise that the kids of IT represent Leo. Plus, Pennywise's eventual demise is exactly how a Leo would die: by learning that they're not actually that special.
The Zodiac Signs as Stephen King's IT Characcters
Image: Netflix
Virgo: I Am Mother
No offense, but a mysterious robot that adopts the identity of a well-meaning "mother" who kills her "children" who aren't perfect enough? Sounds like a pretty Virgo-inspired plot. I am Mother is a Netflix sci-fi thriller about an extremely intelligent android, "Mother," raising a human child, "Daughter." Daughter spends the majority of her life learning ethics and philosophy, subjects that Mother feels she needs to study in order to restart the human race. Virgos have an underlying desire to be the best, something so ingrained in their psyche that they have to prepare and plan for everything. The terrifying part of Mother isn't her need for perfection, but because you're not quite sure what's going to happen if you don't meet her expectations.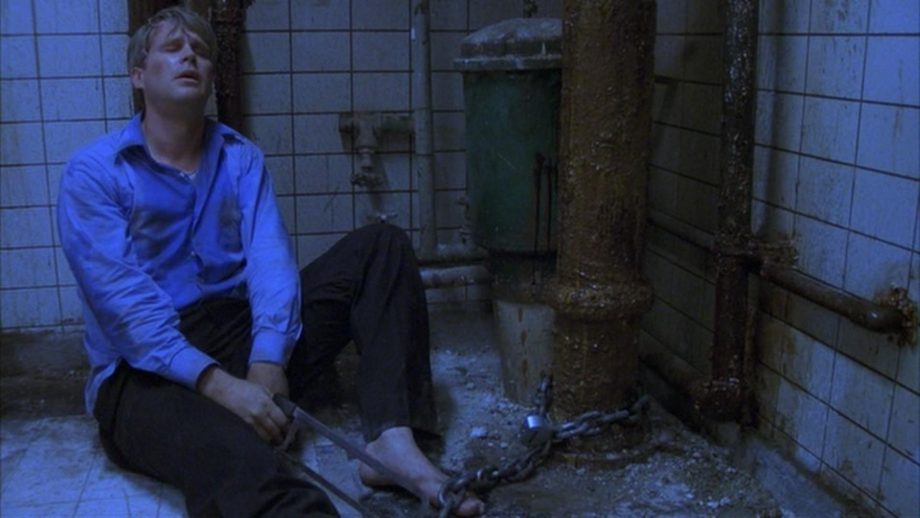 Image: Lionsgate
Libra: Saw
I can't imagine how John Kramer felt when he learned that he had an inoperable frontal lobe tumor, but I find it fascinating that he gave birth to Jigsaw after his suicide attempt. It was that extreme low that led Kramer to find a new "purpose" in life, one where he would place victims in life-threatening scenarios that challenge their moral and ethical reasoning. While Saw may just seem like a twisted play on "What would you do?" it is actually very Libra-like at its core. Libras care about justice, fairness, and empathy. Ironically, Saw puts people seemingly "impossible" situations and forces them to make decisions, something that could arguably send a Libra to their end.
Image: Universal Pictures
Scorpio: Get Out
We all went into Get Out knowing that we were about to dive off the deep end, and in true Scorpio nature, the Acadamy Award-winning film gave us exactly what we were looking for. Scorpio energy is notorious for being intense, complex, and multifaceted. Much like Get Out, Scorpios' energy dips into the darker themes of life. Get Out is a film that challenges some of our perspectives and experiences in our own skin. Though the film starts off friendly and somewhat light-hearted, soon the terrifying aspects of Scorpio begin to seep out. Scorpios can be extremely reflective, so it's no surprise that our Scorpio film is filled with homicidal micro-aggressions to unpack.
Image: Dimension Films
Sagittarius: Scary Movie
Sagittarius is the philosophical, adventurous, and knee-slapping hilarious member of the Zodiac. Sagittarius don't take themselves too seriously and often use humor as a way to cope with scary or even upsetting situations. Not everyone can make it through a "true" scary movie, and that's where Sagittarius energy makes it all bearable. Scary Movie is a parody film that follows a group of teenagers who accidentally hit a man with a car, then decide to get rid of the body. The film primarily focuses on spoofing the movies Scream and I Know What You Did Last Summer, both fitting choices for our "Know-It-All" centaurs.
Image: Universal Pictures
Capricorn: Us
Capricorn is often misunderstood. Though they can be very focused and determined, Capricorns can also be some of the most imaginative and creative of the Zodiac. Capricorn has a certain child-like wonder. Ruled by Saturn, they don't mind dedicating their whole lives to build their own personal dream-land. Us, another Jordan Peele horror film, captures the Capricorn-like dualism of maintaining the status quo while trying to get ahead. The film closely follows a mother, Adelaide, who's particularly shy with a mysterious and traumatic backstory. As we learn about "The Tethered" and Adelaide's connection to it, it becomes very easy to see how this enigmatic woman tries to have her cake and eat it, too.
Image: 20th Century Fox
Aquarius: The Rocky Horror Picture Show
Aquarius is a sign that often feels before their time and is called out for being "weird." While others may want to uphold order, Aquarius challenges the world by forcing it to reconcile what it is and what it's trying to be. Much like Aquarius, The Rocky Horror Picture Show takes traditional values, mocks them, and throws them out the window. This film stars a self-proclaimed "sweet transvestite from Transsexual, Transylvania," which was extremely shocking at the time because only 6 years prior, the Stonewall riots broke out in New York, New York. Aquarius is an energy that often struggles with suppressing their strange side in order to conform to a more "appropriate society." At the time, the scariest thing about The Rocky Horror Picture Show was that it encouraged people to be their full and authentic selves.
Image: New Line Cinema
Pisces: A Nightmare on Elm Street
Pisces is the last sign of the Zodiac wheel, and they are known for being dreamy and thoughtful, often to the point of escapism. Which makes the original A Nightmare on Elm Street so fitting. A serial killer who haunts people's dreams? And if you're killed in your dreams, you die in real life? Perfectly Pisces. A Nightmare on Elm Street introduces us to horror icon Freddy Kreuger, who victimizes a group of teenagers by appearing as their worst fears within their dream space. Though Pisces energy isn't inherently good or bad, it is interesting to note that even Pisces gets stuck in their own head. Pisces also sometimes carry an unconscious pattern of self-imposed victimization. Freddy Kreuger is literally their worst nightmare.