While tabletop games are obviously enjoyed year-round, there's no better time to treat yourself or the lucky Game Master in your life than the holidays! We're living in a heyday for tabletop gamers. From award-winning indie TTRPGs to the latest and gorgeous dice and accessories for their Dungeons & Dragons campaign, there's a multitude of great gifts out there for RPG and board gaming enthusiasts. We had a tough time narrowing down our tabletop gaming gift guide to just 10 items. Take a look at these picks–and make a roll to resist buying a second one for yourself.
Shopping for a different kind of nerd? Try our other gift guides.
Wizards of the Coast
If you know a Dungeon Master or player who considers dragons the best part of Dungeons & Dragons, this is 100% the book for them. Fizban's Treasury of Dragons—the title of which is a shoutout to the beloved Dragonlance character—introduces intriguing new character options, adds stunning gem dragons to Fifth Edition, and provides an all-around comprehensive guide to dragons.
Insight Editions
Dungeons & Dragons 100 Postcards: Archival Art from Every Edition
Gifting a mini art gallery or setting up a future pen pal? The choice is yours with this glorious postcard set from Wizards of the Coast and Insight Editions. With 100 postcards featuring art from every edition of D&D, this set is actually a gift that keeps giving.
Beadle & Grimm's
Barovian Coins from Curse of Strahd
There are stocking stuffers, and then there are actual coins from a Domain of Dread. We know which one sounds cooler. Toss these coins into the hands of someone who loves the classic D&D campaign Curse of Strahd.
Level Up Dice
Bored with the standard dice carrying case? Level Up Dice has just what you're looking for! This redesigned dice "Duel Case" was designed with convenience in mind—as in, no flying dice when you pry open a magnetized case.
Simon & Schuster
Every table has one: the detail-oriented notetaker. An invaluable member of the party and the one you turn to when you're trying to remember who you talked to that one time. This campaign journal keeps all that information in one place, while also offering prompts to explore (and remember) your characters' backstories.
Renegade Game Studios
A single-session game played entirely through text, Alice Is Missing is a role-playing experience unlike any other. It's also the 2021 ENnie Awards winner for Best Game. If your game group plays remotely, this is a must for your next game night together. (Last minute shopping? Send it digitally thanks to Roll20.)
Funko Games
The Rocketeer: Fate of the Future
Whether the recipient is a board game fan or an enthusiast of great 1990s films—or both!—pick up The Rocketeer: Fate of the Future for the perfect gift. This two-player, action-strategy game is an art deco delight that lets you play as the heroes or the villains.
Funko Games
What's that? You want more nostalgia? It doesn't get more "80s adventure" than The Goonies. A strategy game for two to five players, The Goonies Never Say Die puts one person into the role of Goondocks Master. They take the other players on an exciting adventure through locations familiar to fans of the cult classic.
Ravensburger
Perhaps the board game enthusiast you're shopping for is looking for something a little more spine-tingling. They'll love Alien: Fate of the Nostromo. Players work together to survive and repair the ship while the Alien is on the hunt. Will anyone make it out alive?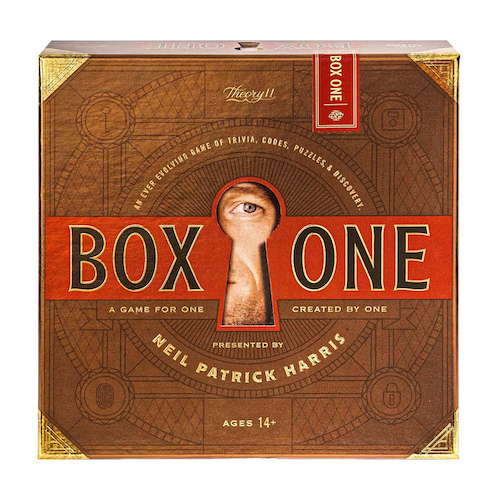 Theory11
If the gamer on your shopping list prefers to have a game night for one, Box One promises to be a one-of-a-kind game experience. Neil Patrick Harris designed the puzzles, codes, and trivia inside to create a unique challenge for mystery and puzzle enthusiasts. How long will it take to crack the code?
Kelly Knox is a freelance entertainment writer in Seattle, WA, who writes for Star Wars, DC Comics, and more. Her book Marvel Monsters is out now from DK Books. Follow her on Twitter for bad puns, pop culture coverage, and more.