Disney+: the gift that keeps on giving. When it debuted last week with more content than fans could imagine, it also managed to throw its audience a few surprises, including the reveal of this official title sequence for Hawkeye, the Disney+ series that will arrive in 2021. Marvel fans who were lucky enough to attend San Diego Comic Con were able to see a brief teaser of this title sequence at the Marvel panel, but now it seems that Disney has released it into the wild in all its boomerang arrow glory.
The official #Hawkeye title sequence has been revealed on @disneyplus: pic.twitter.com/jpHuXqZ2yp

— MCU – The Direct (@MCU_Direct) November 18, 2019
From interviews to concept art, it's been pretty much confirmed that the series will draw heavily from Matt Fraction and David Aja's popular series, which essentially reinvigorated the character following his MCU debut in 2012's Avengers. The series focused on his crime fighting adventures with Young Avenger Kate Bishop, who he took under his wing to train and mentor. We're not quite sure yet how the show will blend the comic's arc with the MCU, as longtime producer Trinh Tran has stated that the show will dive into Clint's backstory as well as shed some more light on his vigilante days as Ronin, the moniker he adopted after Thanos' snap.
In the MCU, Clint Barton has a wife and kids while in the Hawkeye comics, he lives alone and fights crime in New York. But given that the style of the title sequence is closely tied to, if not a mirror of, Aja's aesthetic, right down to the logo, it's impossible to imagine that there won't be storylines taken from the comic, especially since Kate is going to be involved. And given we don't know much about the character in the MCU, it would be easy to tie Fraction and Aja's story into Clint's past as a way to show how he got to where he is now as an Avenger.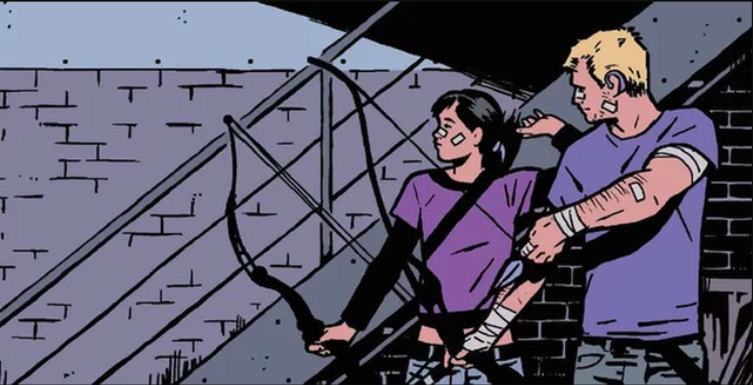 Marvel Comics
Currently, Jeremy Renner is set to reprise his role as Clint Barton, despite recent serious allegations from his ex-wife Sonni Pacheco that have emerged due to a nasty custody battle over Renner's six-year-old daughter. Those allegations include reports of Renner firing a gun while the child was in the house as well as threatening to kill Pacheco and himself. There were initial reports of Disney moving forward without the character, though those talks seem to have been dropped for now. As for who will inhabit the role of Kate Bishop? Bumblebee's Hailee Steinfeld had been the long-rumored choice to bring Clint's protege to life, but Disney has remained mum about confirming any casting for the series, which means we'll have to wait and see if those reports are true.
Hawkeye is just one of the many limited series spinning out of the MCU that will comprise the MCU's Phase 4 slate, along with WandaVision, Loki, and The Falcon and the Winter Soldier, and will arrive on Disney+ in 2021.
Featured Image: Marvel Studios