After what seems like eternity, the long-awaited debut of Disney+ has finally arrived, bringing with it an embarrassment of riches: a new Star Wars series, pretty much every nostalgia-based Disney cartoon you can think of, and plenty of treasures from the Disney vault—not to mention every Star Wars movie, Marvel movie, and a host of other exciting programs from Marvel, National Geographic, and more.
Given the hoopla surrounding today's release, it seems obvious that Marvel wouldn't miss a chance to use the streaming site's launch as a way to promote its many Disney+ series that will arrive starting next year. So among the content available to users is a new short called "Expanding The Universe." The twelve minute "documentary" plays like something you would find at Comic-Con, complete with a trailer for the Infinity War saga and most of the Disney+ content that was actually revealed at San Diego Comic-Con and D23 a few months earlier.
While the short doesn't really give us any new information (though for those who didn't make it to the summer conventions, it's fun to see cast members and interviews with the creative team), the real gems lie in the newly released concept art interspersed throughout the special. Eagle-eyed fans got their first looks at potential costumes for two of Marvel's upcoming Disney+ series: The Falcon And The Winter Soldier and Hawkeye.
The Falcon And The Winter Soldier
Interestingly, Falcon's new costume looks much more tactical than what we've seen in the MCU; It also includes comic accurate colors and a more comic accurate uniform which showcases the gold beak on his chest. Arguably the biggest change in the new look for the Winter Soldier is a shorter hairstyle, a throwback to the character's look in The First Avenger that seems to signal a return to the Bucky Barnes that we knew before Hydra.
It's a look that makes sense, given that his journey in the MCU has seen him mostly reformed from his brainwashed assassin ways. (Complementing that train of thought, there's also a white star on his metal arm, marking the return of the embellishment after his old arm with the soviet red star was lost in Captain America: Civil War.) There are also hints of red in his blue suit, what could be considered a callback to the character's 40's era look.
Marvel Studios
Marvel Studios
The concept art also offered a first look at Emily VanCamp's Sharon Carter, last seen in Captain America: Civil War. The art depicts her wearing SHIELD-like tactical gear similar to her costume seen in the comics, as well as a quick glimpse of Daniel Bruhl who returns as Baron Zemo (seen wearing his comic-accurate purple mask) and Wyatt Russell's John Walker, aka US Agent. It's worth noting his costume design skews extremely close to Captain America's uniform, down to the helmet, cowl, colors, and American flag symbolism. While we don't know how closely his character will mirror his comics counterpart, Walker is known for taking up the mantle of Captain America after Steve abandons it—something that could play heavily into the series, especially given the fact that Cap has handed off his shield and his mantle to Falcon.
Marvel Studios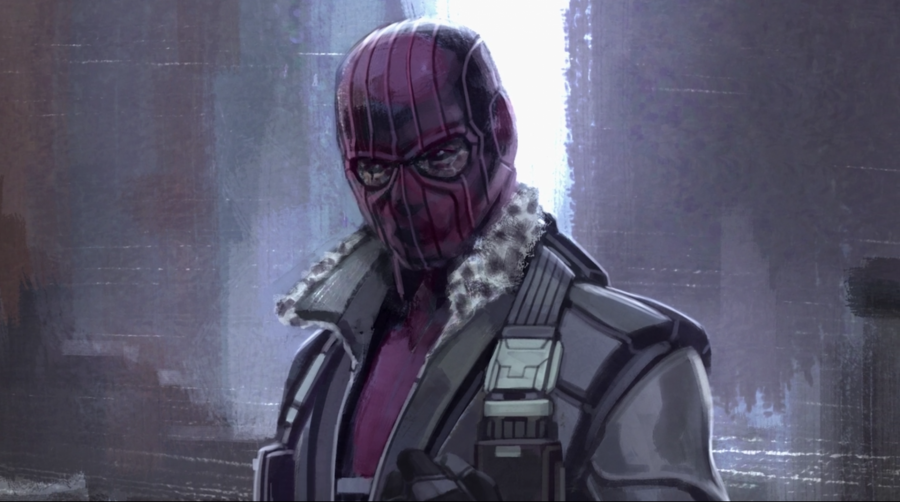 Marvel Studios
Marvel Studios
Hawkeye
It's actually the Hawkeye series where we get the most comprehensive look at possible new costumes, with images that show Clint Barton and Kate Bishop both in tactical gear and casual crime-fighting clothing. It's been heavily implied that the show, centering around Kate Bishop's introduction to the Marvel Universe through the mentoring of Clint Barton, will draw heavily from the acclaimed 2012 comic series by Matt Fraction and David Aja. And although it's not yet clear how the Hawkeye series will fit into the continuity of the MCU, it's worth noting that Clint is sporting his Captain America: Civil War costume in the action-inspired concept art (even if this doesn't end up being used as a final look, it fits the purple aesthetic that the characters in Fraction and Aja's comic are known for.)
Kate's costume, meanwhile, is nearly identical to the costume first created by artist Jamie McKelvie in Young Avengers and later retooled by Aja, complete with purple sunglasses, bandages, and suit modifications. Perhaps the most exciting reveal we get from this art, however, is the confirmation of the inclusion of Lucky the Pizza Dog, a beloved character in the comic—which, along with the fact that the action shot mimics a panel from the comics, all but confirms that however much the series ties into Hawkeye's story in the MCU, its storyline will probably be very closely in tune with Fraction and Aja's story.
Marvel Studios
Marvel Studios
Marvel Studios
Given the comic accurate costume choices seen in most of the concept art, we can assume that Marvel is really planning to lean into the comic stories of these characters to drive their narratives—which would be a good way for the Disney+ series to differentiate themselves from the MCU. Of course, as we all know, concept art is just that, and therefore anything can change before we see a real costume. But it's fun to have some visuals of what we can potentially look forward to as we gear up for more Marvel goodness next year.
Featured Image: Marvel Studios