The Fox-era of X-Men movies is over. Sure, we're getting The New Mutants in April, but that'll be all she wrote in terms of that version of those characters. Even if you didn't love how everything wrapped up, there's no denying those 12 movies made an indelible mark on superhero films and Hollywood as a whole. No reason not to celebrate them! Hasbro knows this. This weekend at New York Toy Fair, Hasbro unveiled a line of hyper-detailed X-Men movie franchise figures in their insanely popular (and awesome) Marvel Legends line, and we have the exclusive right here!
Hasbro is killing it with their Marvel Legends line of figures. While they've done some amazing comics-inspired X-Men toys, this marks the first time they've tackled the likenesses of any of the movie versions. And we have to say, these are pretty darn awesome looking. Each employs the company's hyper-realistic face-mapping technology. This ensures the figures look the most like their respective actors as possible. And you wouldn't have it any other way!
First up, let's take a look at the figures based on the Deadpool movies.
MARVEL LEGENDS SERIES 6-INCH CABLE Figure
HasbroJosh Brolin as Cable was one of the most ingenious casting choices in the Fox-era. And with this figure, complete with the most massive blaster rifle we've ever seen, Brolin is now immortalized in two Marvel Legends figures. The second, of course, is the MCU Thanos figure. You got the metal arm and the teddy bear; what more do you need? This figure is a Wal-Mart and WalMart.com exclusive, just so's you know.
MARVEL LEGENDS SERIES 6-INCH DOMINO Figure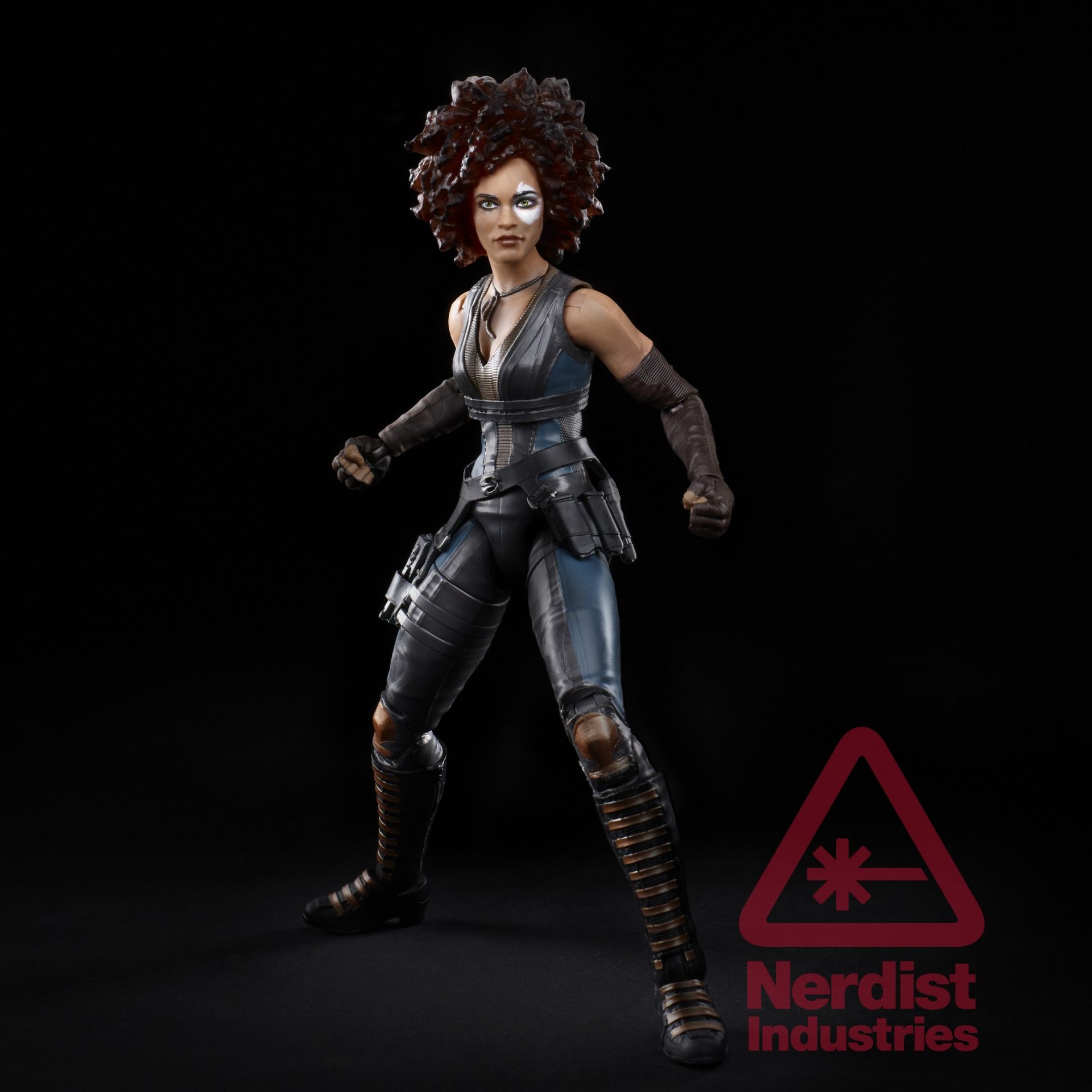 HasbroNext up is Zazie Beetz's version of Domino from Deadpool 2, which we have to say looks pretty terrific. She comes with pistols in holsters (a Domino staple) and is ready to beat the crap out of anybody, or dodge certain doom with her luck powers. She and Brolin's Cable, we hope, get to come back in the new MCU version of X-Men movies.
MARVEL LEGENDS SERIES 6-INCH DEADPOOL & NEGASONIC TEENAGE WARHEAD 2-PACK
Hasbro
HasbroLast for the Deadpool figures is a must-have two-pack. We get both Deadpool, as assayed by Ryan Reynolds, and the movie version of Negasonic Teenage Warhead, Brianna Hildebrand. Negasonic comes with a dope-ass hairstyle and earrings as well as power effects to add to her arms. Deadpool, meanwhile, comes with a pair of katanas, a pair of pistols, and holsters galore. Looking particularly Liefeldian.
Next we move on to X-Men figures proper.
MARVEL LEGENDS SERIES 6-INCH MYSTIQUE Figure
HasbroFirst up is this figure based on Rebecca Romijn's turn as the villainous and often misunderstood Mystique. No accessories, but tons and tons of articulation, perfect for someone as acrobatic as her.
MARVEL LEGENDS SERIES 6-INCH PROFESSOR X & MAGNETO 2-PACK
Hasbro
HasbroThe one I'm perhaps most excited about. This two-pack features the X-Men saga's two most important characters (arguably), Professor Xavier and Magneto. It's their figurative and literal chess match and the opposing ideologies that drives most of the films' action. And, geniuses that they are, Hasbro isn't making you choose between eras. As many of their figures are modular, with different heads and/or arm choices, this two-pack comes with the heads of both Patrick Stewart and James McAvoy's Charles and both Ian McKellen and Michael Fassbender's Erik. Such a good idea.
Hasbro
HasbroThe Charles figure comes with a wheelchair (naturally) and the Magneto figure's got what appears to be a take on his Days of Future Past costume. The McKellen head is without helmet, but the Fassbender one is with. Pretty dope.
And, of course, we have a pair of figures based on the real star of the show: Hugh Jackman's Wolverine.
MARVEL LEGENDS SERIES 6-INCH WOLVERINE Figure (jacket)
HasbroFirst of the two is Logan looking his most GQ. This is, of course, the version of the character with the perfectly coiffed hair from X-Men Origins: Wolverine. I have to say, even if the movie isn't very good, it's one of Jackman's best looks.
MARVEL LEGENDS SERIES 6-INCH WOLVERINE Figure (tanktop)
HasbroFinally we have a jacket-less, white-tanktopped Wolverine. This version comes with two heads and two sets of hands. The look appears to be a sort of Days of Future Past or The Wolverine version of the character. You get both a calm-looking face and a rage-filled face; you also get metal claws and bone claws. A set of dog tags complete the accessories.
Hasbro
HasbroThis one is an Amazon exclusive. And maybe the best thing about this figure is it's available for pre-order beginning TODAY (2/22) at 4pm EST. Hop to it!
The single figures have an approximate retail price of $24.99 while the two-packs are $49.99. All of these X-Men movies Marvel Legends figures will drop sometime in Fall of 2020.
Xavier School lives on!
Featured Image: Hasbro
Kyle Anderson is the Senior Editor for Nerdist. You can find his film and TV reviews here. Follow him on Twitter!