From Walt Disney to Clive Owen, most of us have seen at least one telling of the King Arthur story. Usually it involves his ascension to the throne of Camelot, or Lancelot's romance with Guinevere, or those silly knights looking for the Holy Grail. But Arthurian legend has far more heroes and way weirder stories than just Round Table shenanigans. Some of it downright creepy. Case in point, David Lowery's new film, The Green Knight, which looks especially chilling.
The Green Knight is a retelling of the Arthurian story of Sir Gawain and the Green Knight. It's not a particularly nice sounding myth, really. Sir Gawain (Dev Patel here), King Arthur's nephew, accepts a challenge from the mysterious and terrifying Green Knight. What challenge? Well, that's the weird bit. The Knight challenges any knight to strike him with an axe if he will take a return blow in a year and a day. Gawain accepts this challenge and promptly chops off the Knight's head. The Knight then stands up, picks up his head, and effectively says "I'll see you in a year and a day."
So Gawain, a noble and chivalrous knight as ever there was, has to therefore live 366 days with the knowledge that the Green Knight is coming for him. What's more, a Lady in the Knight's castle calls Gawain's honor into question. Should he live up to his word or try to run away from destiny?
David Lowery is no stranger to fantasy, or gloomy takes on things. His Ain't Them Bodies Saints is a particularly somber romance between two criminals; he then directed Disney's Pete's Dragon remake, which was a beautiful, realistic take on that material. Lowery's next, A Ghost Story, is all about loss and grief in the guise of a spooky story. And, most recently, he wrote and directed Robert Redford in The Old Man and the Gun. Next up, he'll go back to Disney for a live-action Peter Pan.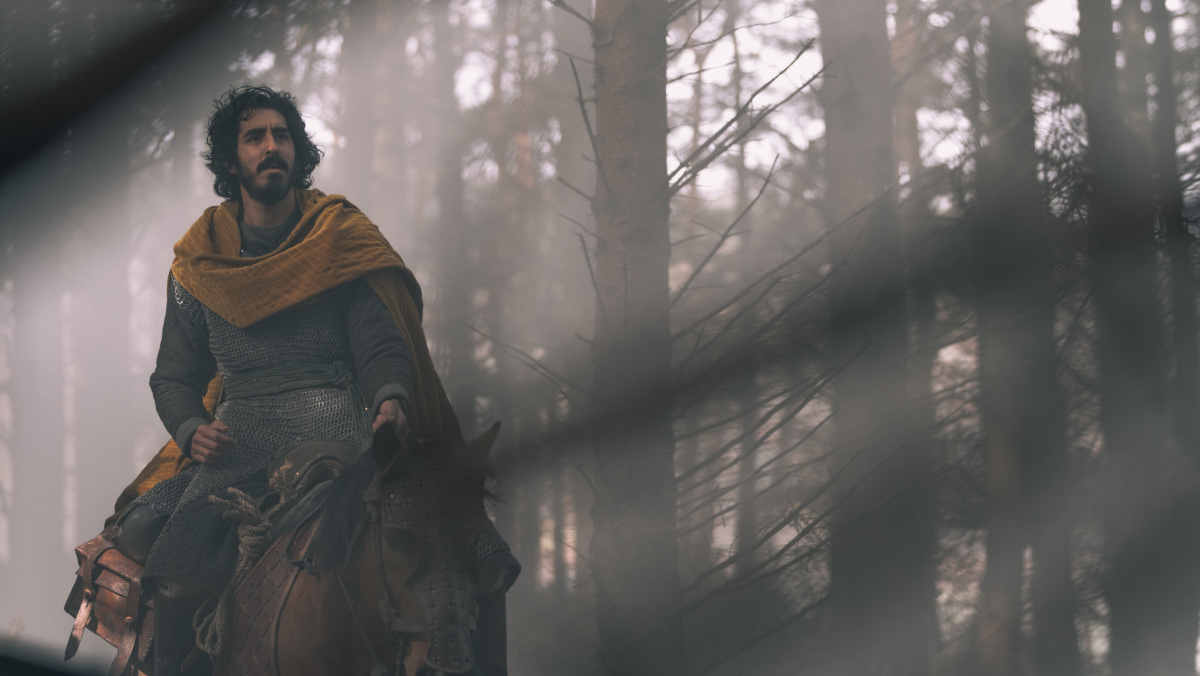 A24
If the trailer for The Green Knight is any indication, it looks like exactly the movie Arthur-fiends have wanted for awhile. A mix of history and magic, steeped in lore and legend. There are so many such legends to tell, so I can only hope we get Lowery's Arthurian cinematic universe at some point. We need to see more of this version of the mythos. The mood, the atmosphere, and the tension in the trailer alone is just perfect. And that brief shot of a giant hand coming over the hills is haunting.
In addition to Dev Patel, the cast includes Alicia Vikander, Joel Edgerton, Sean Harris, Kate Dickie, and Ralph Ineson as the Green Knight. Ineson, of course, played the patriarch of the family in The Witch and has maybe the best, deepest, gravelliest voice of all time. Harris and Dickie are credited as "King" and "Queen," respectively, but that means they're Arthur and Guinevere, I believe. Arthur's evil sorceress sister Morgan Le Fay also features in the myth, but whether they'll specifically name her, or any of the more famous characters aside from Gawain, remains unknown.
The pandemic delayed The Green Knight's release date, but now it's set to arrive on July 30, 2021.
Originally published February 13, 2020 with updates on March 12, 2021.
Kyle Anderson is the Senior Editor for Nerdist. You can find his film and TV reviews here. Follow him on Twitter!