I don't know exactly how much the Death Star cost to build. One study put the final price tag at $850 quadrillion. That number is basically meaningless. My brain can't process a total of that magnitude. But I can comprehend how much an expensive new luxury Star Wars Death Star watch is selling for. You will need a whole lot of beskar steel to buy it.
And for $150,000 it better be more than fully operational.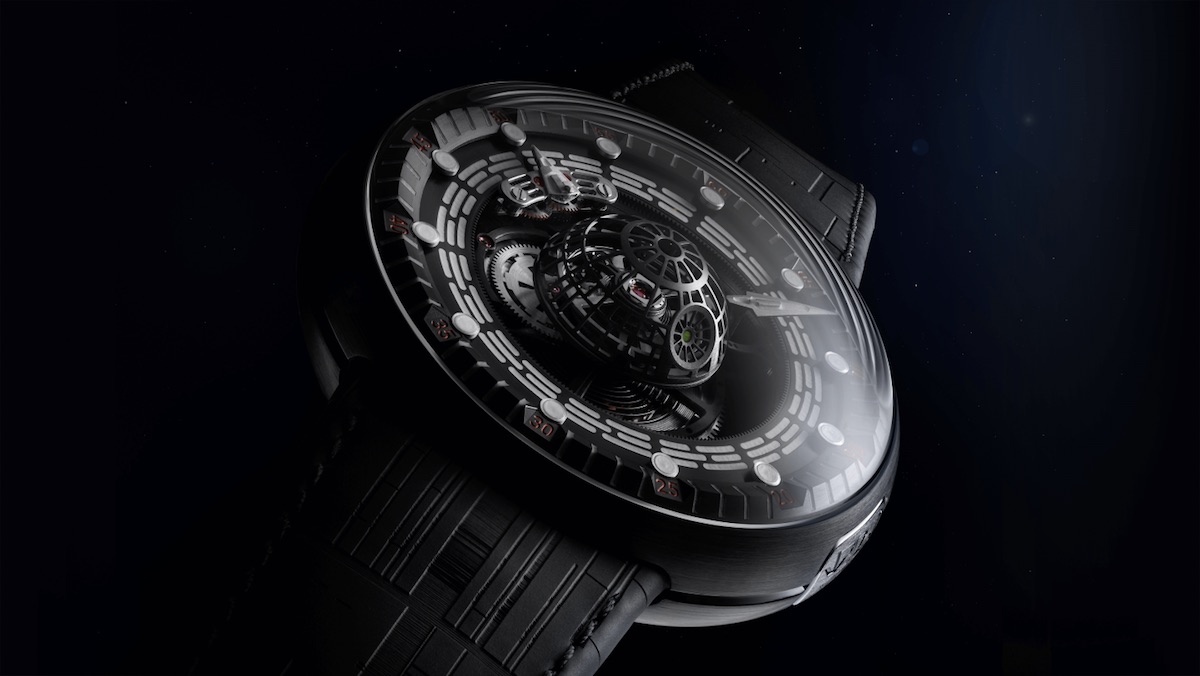 Kross Studio
Kross Studio, the Swiss design studio responsible for the $30,000 Batmobile clock we told you about last year, found the time to team up with Lucasfilm on something even more extravagant. The company is now selling a watch (that we first saw at Gizmodo) based on the Empire's iconic Alderaan-destroying weapon.
The new 10-piece Death Star Ultimate Collector Set is a Tourbillon watch that comes with an authentic kyber crystal prop from Rogue One. It's also packaged in an Imperial kyber crystal container that is based on the ones seen in the film.
Kross Studio
The "fully hand-assembled and hand-painted" container itself is a collectible. It features more than 700 parts and is "scaled to half the original film dimensions of 3.94 feet long."
The container also has nine compartments, including six free ones for your other Star Wars merch. The other three hold the watch's components inside capsules.
Kross Studio
But with a $150k price tag, you're going to need more than a great container. The watch needs to be out of this world too. For that Kross Studio designed "a rare mechanical complication" that pays tribute to the Death Star. "This in-house-developed manual-winding mechanical movement delivers a robust 5-day power reserve." It also features 281 components. That includes "hands which have been affixed to a peripheral display that orbits 360 degrees around the tourbillon." The hour hand is also based on an Imperial-Class Star Destroyer. And the minute hand looks like a Super-Class Star Destroyer.
But the real show-stopper is the tourbillon cage. It recreates the Death Star's northern hemisphere and makes one revolution per minute. That includes a replica of the battle station's signature green kyber crystal powered laser cannon. All of which is housed inside a 45 mm dome-shaped sapphire crystal case. It's made of black DLC coated grade 5 titanium.
Kross Studio
The watch also features an "ingenious crown system." It includes an inset push-button system, with an engraving in Aurebesh. To set the time and wind the watch, Kross Studio also developed a "D-ring shaped crown on the case back, stowed out of sight to help maintain the timepiece's sleek, space-age styling." And while this part is far less fancy, the watch also comes with three interchangeable straps, in black, gray, and Imperial red.
In total the whole set will cost you $150,000 dollars. Which for many of us is no different than telling us to pay for a new Death Star. But at least this watch will only destroy bank accounts and not planets.