This is a spoiler free review.
Have you ever wanted to see a Marvel film that brings the chaotic energy of an '80s horror B-movie, Danny Elfman's extremely melodramatic scoring, and the feel of flicking through an action-packed comic book issue? Well then you're in luck as with Doctor Strange in the Multiverse of Madness Sam Raimi delivers one of the most fun and scary MCU movies yet. And for those of you worried that it might not be, this is absolutely a Raimi film. Not only is it the first true horror in the MCU—replete with brutal kills—but it's dripping with his style and signature tricks. It helps that Loki scribe Michael Waldron delivers a laugh-filled script that constantly hits.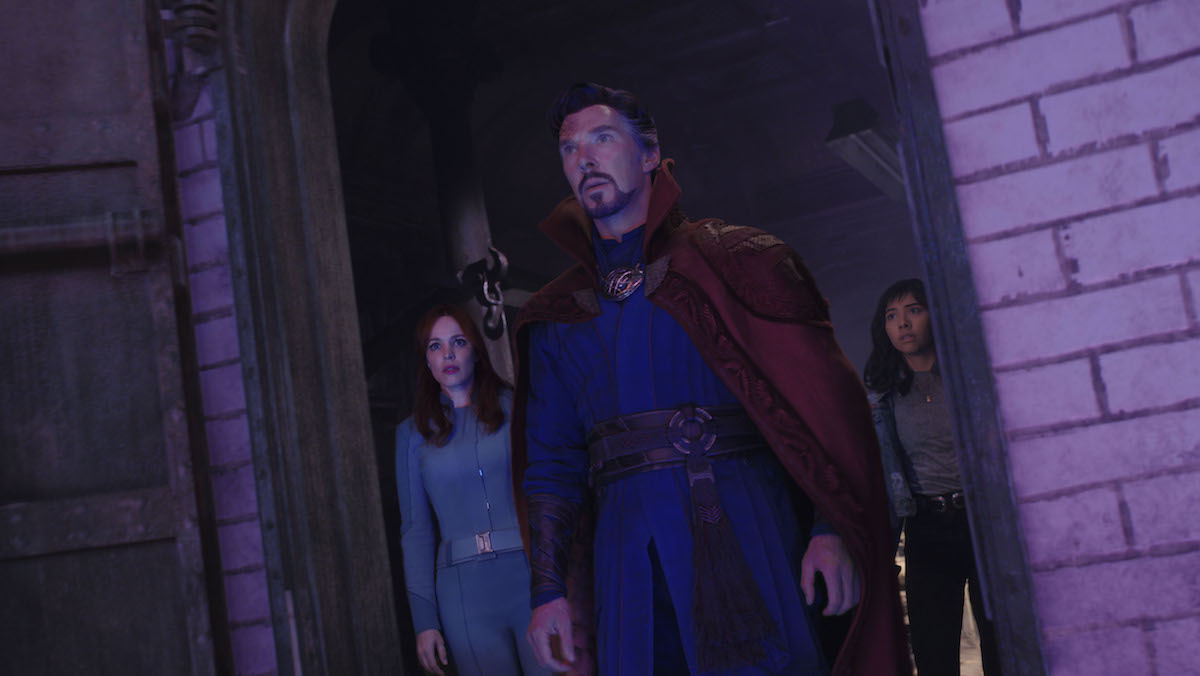 Though it's only his second solo movie, Doctor Strange (Benedict Cumberbatch) has become a stalwart since his debut in 2016. That film introduced a serious—and seriously flawed—hero as a doctor turned sorcerer. His role in the MCU has grown exponentially since then. Strange has since played key parts in epic Avengers event movies like Infinity War and Endgame. He even took Peter Parker under his wing in the recent Spider-Man: No Way Home. He seems to continue that trend here as he helps a superpowered teen called America Chavez (Xochitl Gomez). She unexpectedly enters his universe, bringing a tentacled creature along with her. Don't worry, though, because Strange is not settling down. In fact, Raimi brings a heavy metal silliness to Strange that's a total delight. And as every good multiverse movie should, it pushes the boundaries of who and what the character can be.
Raimi is in his element as he crafts cosmic set piece after magic set piece after multiversal set piece. This is a universe where the rules mean anything can happen and under Raimi's watch they will. Fans have been waiting for America to arrive in the MCU and Gomez does the fan fave character justice. She's powerful, funny, and appropriately in control of her own story. Cumberbatch expands on his guest roles in other MCU movies, crafting someone funnier, less hateable, and with a heart beating deep under that blue costume. Benedict Wong is back as the rightful Sorcerer Supreme and he once again steals every scene he's in. When America arrives, the pair realize there's only one person who can help: Wanda Maximoff. As expected, Elizabeth Olsen brings her WandaVision chops in another powerhouse performance.
The ragtag group is soon swept into the much hinted at multiversal madness. If you grew up reading comics you'll recognize the story jumping, world shifting, page turning pacing that makes you feel like you're flying through your fave issue. For some viewers it could be jarring. But if you strap in and go along for the ride, you'll likely have a whole lot of fun. The trailers have teased some things we won't talk about here, but don't worry even if you feel like you've seen a lot—and we've all seen a lot—because you'll almost certainly be surprised. Raimi pulls no punches and isn't afraid to do things that would have seemed unthinkable a few films ago. Phase four is truly a new beast for better and for worse. The freedom Raimi had here makes this one of the most fun, ridiculous, and refreshing entries into the MCU.
Your enjoyment of this one will likely be defined by two things: How much you like Raimi, and how comic book-y you like your comic book movies. If you're a grim and gritty lover, perhaps the brutal horror will sway you, though you may find the comedy harder to swallow. But if you've dreamed of diving into a live-action issue of EC Comics or Doctor Strange, then get ready for a new fave.
Doctor Strange in the Multiverse of Madness is out on May 6.
4 out of 5