Doctor Strange in the Multiverse of Madness is almost upon us! As we venture deeper into the mystical world of the Sorcerer Supreme, it's the perfect time to grab some new reading material. Marvel's latest team-up movie is going to introduce (and reintroduce) a ton of characters, as well as a bunch of new Stephen Stranges. So this curated list will help you learn more about the key players. It'll also help sate your comic book appetite until the next big MCU film hits our screens. The best thing is these are all collections that are easy to find at your local comic shop or online! So grab your most dramatic cape, hustle up a cauldron full of your fave hot drink, and dive right in. Here are the Doctor Strange comics you should read to get you ready for Multiverse of Madness.
Steve Ditko is the man who shaped Doctor Strange. Though he created the character with the assistance of Stan Lee, Ditko's psychedelic art and vision are what many readers remember. This now out-of-print collection—that you can luckily still buy digitally—summons some of his most famous work on Strange Tales. Not only will you learn the origin of Doctor Strange but this collection also covers Baron Mordo, Clea, and Dormammu. These are characters that we'll almost certainly see versions of in the new Doctor Strange movie, so reading these comics will well prepare you. Plus, this is just some of that really good, out-there '60s stuff. Ditko was a stone-cold weirdo and that comes through in the best way here. If you want to know the real Doctor Strange in all his odd glory, this is the book for you.
Much has been made of the upcoming appearance of Gargantos (nee Shuma-Gorath) in the new Doctor Strange movie. Sure, most of it has been made by me, the number one Shuma fan. But it's an intriguing development that brings the elder gods into the MCU. While I can't recommend any Gargantos comics—there are only two and he barely features in them—I can recommend this collection including Shuma's Marvel Premiere stories. Not only does it feature great Doctor Strange tales by famed creators like Steve Englehart, Gardner Fox, Gene Colan, Frank Brunner, and more, but it also features the first real appearance comic book appearance of Shuma-Gorath. This is a great primer for the Lord of Chaos, which will prepare you for Shuma-Gorath aka Gargantos' appearance as a potential villain in Doctor Strange 2, as well as offer you a way to read up on a ton of influential Doctor Strange stories.
Yes, yes, yes, this is maybe my most recommended superhero book of all time. But it's really that good and also very relevant to the current MCU. Kieron Gillen, Jamie McKelvie, Matt Wilson, and Clayton Cowles created something incredibly special here. This Young Avengers team is where many readers first fell in love with America Chavez. McKelvie's character design is definitely the inspiration for Multiverse of Madness' America Chavez, and this is a cosmic romp. Kid Loki ( you met him in Loki) rounds up the titular team including America, Kate Bishop from Hawkeye, Wanda's son Billy, and his boyfriend Wiccan. It even features an appearance from Patriot ( who we recently saw in Falcon and the Winter Soldier). Basically, this is THE Marvel book to get you ready for America and her teammates. Hopefully, we'll see them soon after Doctor Strange 2, but if not, we will enjoy reading these stories in the meanwhile.
If you just can't get enough of the coolest queer hero in Marvel comics, then good news. In 2017, Gabby Rivera, Joe Quinones, Joe Rivera, Paolo Rivera, and Jose Villarrubia delivered America's first solo series. Here they introduced an expanded origin for the character as well as the team-up that launched 1000 ships: America and Kate Bishop. This is a dynamic, bombastic, and heartfelt series that recontextualized America. It's likely going to be a big influence on the America we see in the MCU too. So make sure to add this one to your to-read pile. Especially if you love queer-centered superhero stories about strong women leading badass superhero teams! And who amongst us doesn't love all of the above??
Another perennially relevant story for the MCU's newest phase is House of M. The world-shattering event comic from Brian Michael Bendis, Oliver Copiel, Tim Townsend, Frank D'Armata, and Chris Eliopoulos changed everything. And since WandaVision has a huge influence in Wanda's arc in the MCU, it looks like we could see Wanda once again embracing her villainous side in Multiverse of Madness, making House of M relevant once again. After the X-Men decide they're going to kill Wanda, her brother Quicksilver and father Magneto come up with a plan. Soon afterward, the world changes. Now mutants rule under the watchful eye of Magneto… but is it real or all a figment of Wanda's imagination?
Continuing our Wanda Maximoff revisit, this exhilarating new miniseries is the latest story to add to her sprawling mythos. Not only is the five-issue story an emotional read, but these comics also look to have introduced a key bit of canon we've seen in the Doctor Strange 2 trailers. Focusing on the aftermath of Wanda's death, her (sometime) father is put on trial for her murder. But there's something far deeper hiding under the surface here. Leah Williams, Lucas Werneck, Valerio Schiti, Edgar Delgado, and Clayton Cowles deliver a haunting tale, and a key new Marvel location, the Eldritch Orchard. That might be the cherry blossom-strewn space where we see Wanda and Strange wandering in the Multiverse of Madness trailers…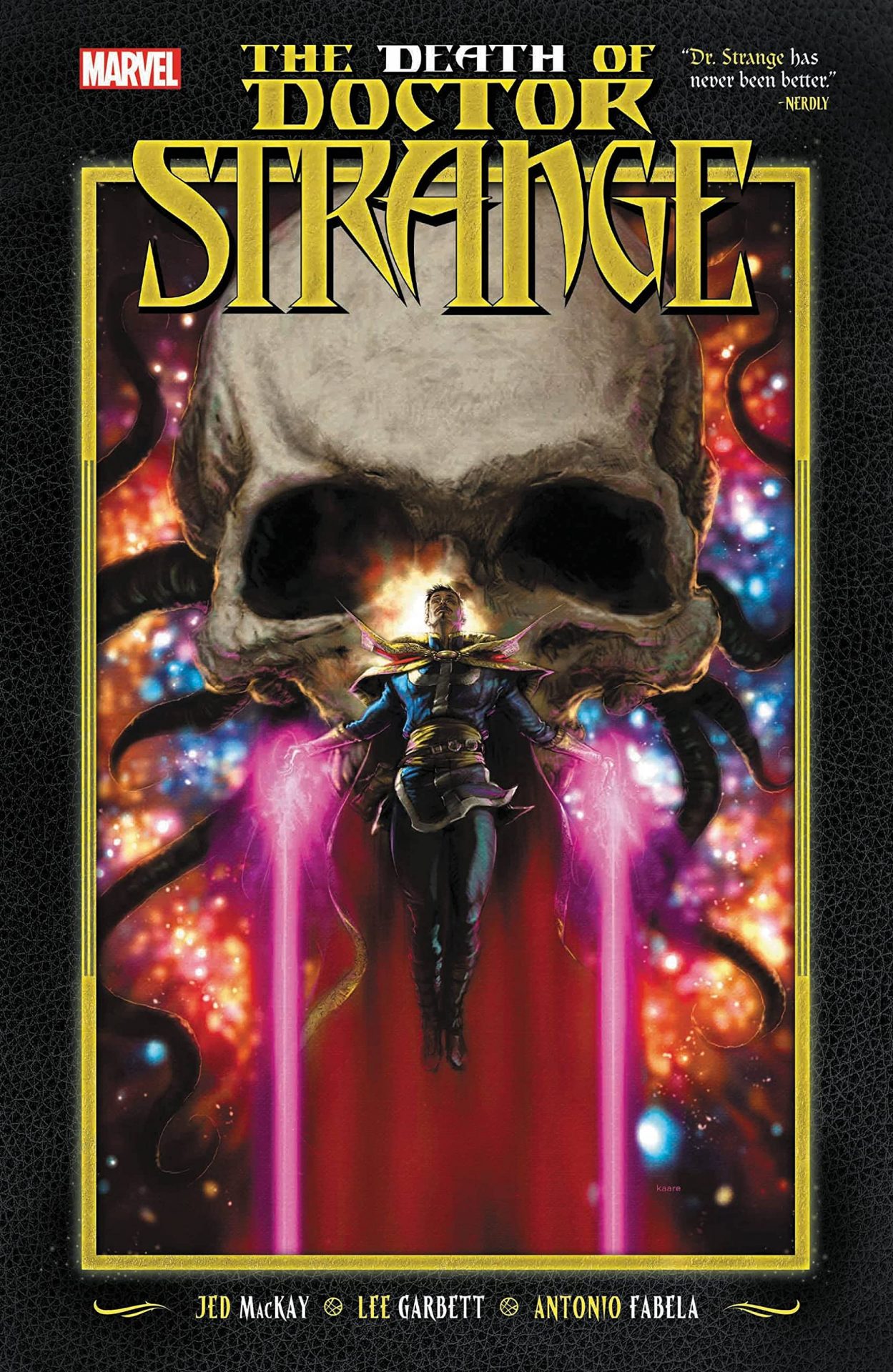 Marvel has long held a tradition of signposting their movie choices in their recent comics. So that's why I was more than a little suspicious when Stephen was murdered recently. This five-issue collection centers on the titular crime and the massive fallout Doctor Strange's death brings with it. Without the Sorcerer Supreme, the world is at risk and even the most famous superheroes on Earth have no idea how to help. Luckily, a strange detective is on hand to help solve the crime and save the day… if he can do it before his time runs out. Jed McKay, Lee Garbett, Antonio Fabela, and Cory Petit team up for this magical mystery that will likely seed some stuff for Doctor Strange 2. And if not, well then you got to read a really fun miniseries about the death of the Sorcerer Supreme. This is definitely a Doctor Strange comic to read if you haven't already.
Featured Image: Marvel Comics