Hey there, Wednesday Warriors! It's the best day of the week, the one day we all feverishly look forward to! That's right, it's new comic book day and we are pumped for all the awesomeness hitting the shelves! Get thee to the comic store and bring some joy into your life. But first, arm yourself with a few recommendations. Or, if you are a big spender, we also have a complete list of this week's releases. There are some awesome new series launching this week, so it's a perfect time to try something new!
As usual, we will touch on a plot detail or two below, which means you are officially entering spoiler territory. You've been warned, friends
MALL #1
Written By: Michael Moreci and Gary Dauberman
Art By: Zak Hartong
Colors By: Addison Duke
Letters By: Jim Campbell
Mall #1 is a crazy fun comic. It moves at a frantic pace and keeps you on the edge of your seat right up to the last panel. Michael Moreci and Gary Dauberman's story is a deceptively simple one; the world has ended and those "lucky" enough to survive the fires, floods, and violence have created a make-shift society in a mall. Tribes, clans, and gangs battle for control of the food court or a shoe store. It's ridiculous, but Moreci and Dauberman embrace that absurdity while injecting the overall story with heart and horror. Artist Zak Thompson and colorist Addison Duke keep the detail on the characters and let the mall itself drift into the background. Every gang has its own look and feel, some are terrifying and some are delightfully absurd, all of them add a layer to the story and a hint of a world you can't wait to learn more about. Mall is comic book perfection; a wild ride that will leave you breathless and begging for more.
MOUNTAINHEAD #1
Written By: John Lees
Art By: Ryan Lee
Colors By: Doug Garbark
Letters By: Shawn Lee
This one is superb, folks. This comic may not currently be on your radar but it should be. Beautiful, dark, and surprising, Mountainhead #1 is easily one of the year's best debuts. It's haunting and it'll stick with you, from the emotional and devastating script to the detailed and visceral art, this book is nothing short of brilliant. The story revolves around a boy who struggles through a transient existence with his father who is convinced a shadowy force is chasing them down. The snowy atmosphere only adds to the overall bleakness and helps to punctuate the shocks of red blood. John Lees' script is menacing, poetic, and rich. Ryan Lee's art is unreal and perfect for this story. Everything about this first issue works. Mountainhead demands your attention and you'd be a fool to ignore it.
TEST #3
Written By: Christopher Sebela
Art By: Jen Hickman
Colors By: Harry Saxon
Letters By: Hassan Otsmane-Elhaou
Test #3 gets weird. Really weird. Of course, The first two issues of Test were fairly weird, too, so maybe we can chalk this up to a natural progression. Whatever the case, this comic continues to impress. Christopher Sebela is one of comics best voices, he's a writer who always produces great stuff with a strong point of view. Test is some of his best work to date, which is saying something. Jen Hickman's art is awesome, as usual. There are two double-page spreads in this issue that are beautiful and bizarre, the sort of stuff that makes you pause and just relish in the awesomeness before you. Harry Saxton's colors a big part of that beauty, he adds a soft purple glow to the pages that is equal parts comforting and unsettling. If you aren't reading Test, you're missing out big time.
MARVEL COMICS #1000
Written By: Everybody
Art By: Literally Everybody
Colors By: Every Single Colorist Ever
Letters By: Everyone
Obviously, we have to talk about Marvel Comics #1000. It's a huge book that celebrates 80 years of Marvel Comics by jamming just about every creative team you can think of into its pages. Essentially, it's a whirlwind tour through the story of the Marvel Universe, a series of snapshots and one-page comics that hit all the highlights of the universe's complicated and robust history. There are lots of great moments peppered throughout the issue, but the big one is the ending, which lays some light groundwork for upcoming events. Apparently, The Masked Raider is going to be a big deal in 2020, so that' something to look forward to. All in all, this issue is a love letter to Marvel and it's cool to see creators share moments with characters that mean so much to them. Here's to another eight years, True Believers!
BATMAN SUPERMAN #1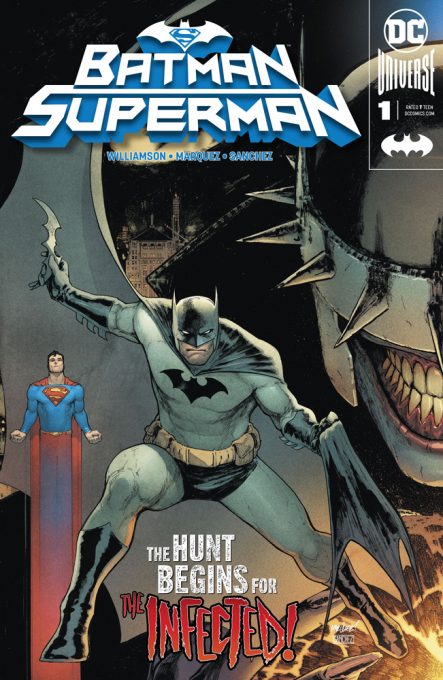 Written By: Joshua Williamson
Art By: David Marquez
Colors By: Alejandro Sanchez
Letters By: John J. Hill
Even if you are a little tired of this whole Batman Who Laughs thing, you need to check out Batman Superman #1. We were hesitant to jump into another one of these "now there are bad versions of the good guys!" stories, but this issue quickly put all our fears to rest. Joshua Williamson and Dave Marquez nail it, big time, delivering all the things that make Batman and Superman such a great team. There are plenty of twists and turns, lots of awesome character work, and so much amazing art from Marquez you barely be able to contain yourself. Seriously, the man was born to draw Superman and that alone is worth the cover price. Sure, The Batman Who Laughs character has worn pretty thin, but William and Marquez prove there is still gold to be mined in the concept. Add this one to your pull list, you won't regret it.
Okay, that's it for us this week! Let us know what comics you are picking up in the comments below!
Featured Image: Vault Comics
PREMIER PUBLISHERS

BOOM! STUDIOS

JAN199486	(USE JUL198300) ONCE & FUTURE #1 (OF 6) (2ND PTG)	$3.99
FEB199066	ANGEL #3 (2ND PTG)	$3.99
JUN191258	ANGEL #4 CVR A MAIN PANOSIAN	$3.99
JUN191259	ANGEL #4 CVR B PREORDER BUONCRISTIANO	$3.99
JUN191303	AVANT-GUARDS TP VOL 01 (C: 0-1-2)	$14.99
JUN191289	BONE PARISH #12 (OF 12)	$3.99
JUN191264	BUFFY VAMPIRE SLAYER CHOSEN ONES #1 CVR A MAIN	$7.99
JUN191265	BUFFY VAMPIRE SLAYER CHOSEN ONES #1 PREORDER YOON VAR	$7.99
APR191228	CLIVE BARKERS NEXT TESTAMENT OMNIBUS TP (MR) (C: 0-1-2)	$29.99
APR191206	GREASE BATS ORIGINAL GN (C: 0-1-2)	$19.99
APR191236	JIM HENSON BENEATH DARK CRYSTAL HC VOL 02 (C: 0-1-2)	$24.99
MAY191214	JUST BEYOND SCARE SCHOOL ORIGINAL GN RL STINE (C: 0-1-2)	$9.99
JUN191299	LUMBERJANES #65 CVR A MAIN LEYH	$3.99
JUN191300	LUMBERJANES #65 CVR B PREORDER MILLEDGE VAR	$3.99
JUN198646	MIGHTY MORPHIN POWER RANGERS #42 FOC MORA VAR (C: 1-0-0)	$3.99
JUN191282	MIGHTY MORPHIN POWER RANGERS #42 FOIL MONTES VAR (C: 1-0-0)	$4.99
JUN191280	MIGHTY MORPHIN POWER RANGERS #42 MAIN (C: 1-0-0)	$3.99
JUN191309	STEVEN UNIVERSE ONGOING #31 CVR A MAIN LOUGHRAN (C: 1-0-0)	$3.99
JUN191310	STEVEN UNIVERSE ONGOING #31 CVR B PREORDER MONAROBOT VAR (C:	$3.99

DARK HORSE COMICS

APR190299	ART OF BRAVEST WARRIORS HC (C: 0-1-2)	$39.99
JUN190338	FIGHT CLUB 3 #8 CVR A MACK (MR)	$3.99
JUN190339	FIGHT CLUB 3 #8 CVR B FEGREDO (MR)	$3.99
APR190278	GIRL IN THE BAY TP (MR) (C: 0-1-2)	$17.99
MAR190381	GOT IRON THRONE BUSINESS CARD HOLDER (C: 0-1-2)	$19.99
JUN190371	MANOR BLACK #2 (OF 4) CVR A CROOK	$3.99
JUN190372	MANOR BLACK #2 (OF 4) CVR B THOMPSON	$3.99
JUN190285	STRANGER THINGS SIX #4 (OF 4) CVR A BRICLOT	$3.99
JUN190286	STRANGER THINGS SIX #4 (OF 4) CVR B WARD	$3.99
JUN190287	STRANGER THINGS SIX #4 (OF 4) CVR C RAVENNA	$3.99
JUN190288	STRANGER THINGS SIX #4 (OF 4) CVR D SATTERFIELD PHOTO	$3.99
JUN190307	TOMMY GUN WIZARDS #1 (OF 4) CVR A CUNNIFE	$3.99
JUN190308	TOMMY GUN WIZARDS #1 (OF 4) CVR B SHALVEY	$3.99
APR190332	VAMPIRE HUNTER D TP VOL 28 TIGER IN WINTER (C: 0-1-2)	$11.99

DC COMICS

JUN190470	ACTION COMICS #1014 VAR ED YOTV DARK GIFTS	$3.99
JUN190469	ACTION COMICS #1014 YOTV DARK GIFTS	$3.99
JUN190474	BATGIRL #38 CARD STOCK VAR ED YOTV DARK GIFTS	$4.99
JUN190473	BATGIRL #38 YOTV DARK GIFTS	$3.99
JUN190475	BATMAN BEYOND #35	$3.99
JUN190476	BATMAN BEYOND #35 VAR ED	$3.99
JUL190679	BATMAN BLACK & WHITE BLIND BAG MINI FIGS W 3 (18 PCS CASE) (	$90.00
JUN190457	BATMAN CURSE OF THE WHITE KNIGHT #2 (OF 8)	$4.99
JUN190458	BATMAN CURSE OF THE WHITE KNIGHT #2 (OF 8) VAR ED	$4.99
JUN190450	BATMAN SUPERMAN #1 BATMAN COVER	$3.99
JUN190453	BATMAN SUPERMAN #1 BLANK VAR ED	$3.99
JUN190451	BATMAN SUPERMAN #1 SUPERMAN COVER	$3.99
JUN190452	BATMAN SUPERMAN #1 VAR ED	$3.99
FEB190622	BATMAN VS KILLER CROC MINI BATTLE STATUE	$150.00
JUN190568	BATMAN WHO LAUGHS HC	$29.99
JUN190485	BOOKS OF MAGIC #11 (MR)	$3.99
JUL190069	DC PREVIEWS #17 SEPTEMBER 2019 EXTRAS (NET)	$PI
JUN190498	DETECTIVE COMICS #1010 VAR ED YOTV DARK GIFTS	$3.99
JUN190497	DETECTIVE COMICS #1010 YOTV DARK GIFTS	$3.99
JUN190494	DIAL H FOR HERO #6 (OF 6)	$3.99
JUN190508	FLASH #77 CARD STOCK VAR ED YOTV DARK GIFTS	$4.99
JUN190507	FLASH #77 YOTV DARK GIFTS	$3.99
JUN190504	FREEDOM FIGHTERS #8 (OF 12)	$3.99
MAY190488	HARLEY & IVY MEET BETTY & VERONICA TP	$16.99
APR190434	HARLEY QUINN BREAKING GLASS TP DC INK	$16.99
JUN190467	HOUSE OF SECRETS #92 FACSIMILE EDITION	$3.99
APR190550	INJUSTICE 2 TP VOL 05	$16.99
JUN190519	JUSTICE LEAGUE #30 CARD STOCK VAR ED YOTV DARK GIFTS	$4.99
JUN190518	JUSTICE LEAGUE #30 YOTV DARK GIFTS	$3.99
JUN190521	JUSTICE LEAGUE DARK #14 VAR ED YOTV DARK GIFTS	$3.99
JUN190520	JUSTICE LEAGUE DARK #14 YOTV DARK GIFTS	$3.99
JUN190527	MARTIAN MANHUNTER #8 (OF 12)	$3.99
JUN190528	MARTIAN MANHUNTER #8 (OF 12) VAR ED	$3.99
MAY190495	ORION BY WALTER SIMONSON TP BOOK 02	$34.99
MAY190497	POWERS TP BOOK 06 NEW ED (MR)	$39.99
JUN190534	RED HOOD OUTLAW #37 VAR ED YOTV DARK GIFTS	$3.99
JUN190533	RED HOOD OUTLAW #37 YOTV DARK GIFTS	$3.99
APR190435	SUPERMAN OF SMALLVILLE TP DC ZOOM	$9.99
MAY190515	TALES OF THE BATMAN GERRY CONWAY HC VOL 03	$49.99
JUN190551	TERRIFICS #19 VAR ED YOTV DARK GIFTS	$3.99
JUN190550	TERRIFICS #19 YOTV DARK GIFTS	$3.99
JUN190614	WATCHMEN TP NEW EDITION	$24.99
JUN190549	WONDER WOMAN #77 VAR ED YOTV DARK GIFTS	$3.99
JUN190548	WONDER WOMAN #77 YOTV DARK GIFTS	$3.99

DYNAMITE

JUN191208	BARBARELLA DEJAH THORIS GN	$17.99
APR190993	RED SONJA BIRTH OF SHE DEVIL #1 LIEBERMAN SGN ATLAS ED (C: 0	$49.99
JUN191166	RED SONJA VAMPIRELLA BETTY VERONICA #4 CVR A DALTON	$3.99
JUN191167	RED SONJA VAMPIRELLA BETTY VERONICA #4 CVR B HACK	$3.99
JUN191168	RED SONJA VAMPIRELLA BETTY VERONICA #4 CVR C BRAGA	$3.99
JUN191169	RED SONJA VAMPIRELLA BETTY VERONICA #4 CVR D PARENT	$3.99
JUN191170	RED SONJA VAMPIRELLA BETTY VERONICA #4 CVR E STAGGS	$3.99

IDW PUBLISHING

JUN190661	DISNEY AFTERNOON GIANT #6 (C: 1-0-0)	$5.99
JUN190670	DUCKTALES SILENCE & SCIENCE #1 (OF 3) CVR A GHIGHLIONE (C: 1	$3.99
JUN190671	DUCKTALES SILENCE & SCIENCE #1 (OF 3) CVR B STELLA (C: 1-0-0	$3.99
MAY190586	GI JOE A REAL AMERICAN HERO #266 CVR A ATKINS (C: 1-0-0)	$3.99
MAY190587	GI JOE A REAL AMERICAN HERO #266 CVR B SULLIVAN (C: 1-0-0)	$3.99
MAY190585	GI JOE A REAL AMERICAN HERO SIERRA MUERTE TP (C: 0-1-2)	$15.99
JUN190728	MOUNTAINHEAD #1 (OF 5) CVR A LEE (C: 1-0-0)	$3.99
JUN190639	MY LITTLE PONY FRIENDSHIP IS MAGIC #81 CVR A BALDARI (C: 1-0	$3.99
JUN190640	MY LITTLE PONY FRIENDSHIP IS MAGIC #81 CVR B RICHARD (C: 1-0	$3.99
JUN190654	SONIC THE HEDGEHOG #20 CVR A YARDLEY (C: 1-0-0)	$3.99
JUN190655	SONIC THE HEDGEHOG #20 CVR B LAWRENCE (C: 1-0-0)	$3.99
JUN190695	STAR PIG #2 (OF 4) CVR A RICHARD	$3.99
JUN190734	STAR TREK YEAR FIVE #5 CVR A THOMPSON	$3.99
JUN190665	TANGLED THE SERIES HAIR IT IS CVR A PETROVICH (C: 1-0-0)	$4.99
JUN198405	TMNT ONGOING #96 2ND PTG	$3.99
JUN190677	TMNT ONGOING #97 CVR A WACHTER	$3.99
JUN190678	TMNT ONGOING #97 CVR B EASTMAN	$3.99
MAY190559	TMNT RISE OF THE TMNT TP VOL 02 BIG REVEAL (C: 0-1-2)	$9.99
MAR190695	TMNT SHREDDER IN HELL #4 CVR A SANTOLOUCO	$3.99
MAR190696	TMNT SHREDDER IN HELL #4 CVR B EASTMAN	$3.99
JUN190691	TMNT URBAN LEGENDS #16 CVR A FOSCO	$3.99
JUN190692	TMNT URBAN LEGENDS #16 CVR B FOSCO & LARSEN	$3.99
JUN190698	TRANSFORMERS #11 CVR A RAIZ	$3.99
JUN190699	TRANSFORMERS #11 CVR B CALTSOUDAS	$3.99
JUN190668	UNCLE SCROOGE #48 CVR A MAZZARELLO (C: 1-0-0)	$4.99

IMAGE COMICS

JUN190049	ASCENDER #5 (MR)	$3.99
JAN190284	BLACK SCIENCE #42 CVR A SCALERA (MR)	$3.99
JAN190285	BLACK SCIENCE #42 CVR B ROBINSON (MR)	$3.99
JUN198336	COFFIN BOUND #1 2ND PTG (MR)	$3.99
JUN198683	EXCELLENCE #1 3RD PTG	$3.99
JUN198684	EXCELLENCE #2 2ND PTG	$3.99
JUN198685	EXCELLENCE #3 2ND PTG	$3.99
JUN190072	ICE CREAM MAN #14 CVR A MORAZZO & OHALLORAN (MR)	$3.99
JUN190073	ICE CREAM MAN #14 CVR B B&W RENTLER (MR)	$3.99
JUN190043	SKYWARD TP VOL 03 FIX THE WORLD	$16.99
JUN198708	SPAWN #299 2ND PTG	$2.99
MAY190125	WALKING DEAD SOMETHING TO FEAR CARD GAME (C: 0-1-2)	$20.00

MARVEL COMICS

JUN198796	ABSOLUTE CARNAGE #1 (OF 5) 3RD PTG NEW ART HOTZ VAR AC	$7.99
JUN190775	ABSOLUTE CARNAGE #2 (OF 5) AC	$4.99
JUN190781	ABSOLUTE CARNAGE #2 (OF 5) CHECCHETTO YOUNG GUNS VAR AC	$4.99
JUN190776	ABSOLUTE CARNAGE #2 (OF 5) CHRISTOPHER ACTION FIGURE VAR AC	$4.99
JUN190779	ABSOLUTE CARNAGE #2 (OF 5) HOTZ CONNECTING VAR AC	$4.99
JUN190777	ABSOLUTE CARNAGE #2 (OF 5) LIM VAR AC	$4.99
JUN190792	ABSOLUTE CARNAGE LETHAL PROTECTORS #1 (OF 3) AC	$3.99
JUN190794	ABSOLUTE CARNAGE LETHAL PROTECTORS #1 (OF 3) SMALLWOOD CONNE	$3.99
JUN190797	ABSOLUTE CARNAGE MILES MORALES #1 (OF 3) AC	$3.99
JUN190802	ABSOLUTE CARNAGE MILES MORALES #1 (OF 3) GARRON YOUNG GUNS V	$3.99
JUN190799	ABSOLUTE CARNAGE MILES MORALES #1 (OF 3) NAKAYAMA CONNECTING	$3.99
JUN191062	AGE OF X-MAN AMAZING NIGHTCRAWLER TP	$15.99
JUN191060	AGE OF X-MAN X-TREMISTS TP	$15.99
JUN198385	AMAZING SPIDER-MAN #26 2ND PTG WALKER VAR	$3.99
JUN190917	AMAZING SPIDER-MAN #28	$3.99
JUN190918	AMAZING SPIDER-MAN #28 BENGAL BOBG VAR	$3.99
JUN190931	AMAZING SPIDER-MAN VENOM 3D #1 POLYBAGGED	$7.99
JUN190905	AVENGERS #23	$3.99
JUN190907	AVENGERS #23 MCKONE BOBG VAR	$3.99
JUN190967	BLACK PANTHER #15	$3.99
JUN190968	BLACK PANTHER #15 BENJAMIN BOBG VAR	$3.99
JUN190912	CAPTAIN AMERICA #13	$3.99
JUN190913	CAPTAIN AMERICA #13 ZIRCHER BOBG VAR	$3.99
JUN191043	CAPTAIN MARVEL TP VOL 01 RE-ENTRY	$15.99
JUN198431	DAREDEVIL #8 2ND PTG ZDARSKY VAR	$3.99
JUN190990	DOCTOR STRANGE #18	$3.99
JUN190991	DOCTOR STRANGE #18 MARTIN BOBG VAR	$3.99
JUN190864	FANTASTIC FOUR 4 YANCY STREET #1	$4.99
JUN190865	FANTASTIC FOUR 4 YANCY STREET #1 STONEHOUSE VAR	$4.99
JUN191069	FANTASTIC FOUR COMPLETE COLLECTION TP VOL 02	$39.99
JUN198432	FEARLESS #1 (OF 4) 2ND PTG CARNERO VAR	$4.99
JUN190938	FRIENDLY NEIGHBORHOOD SPIDER-MAN #11	$3.99
JUN190939	FRIENDLY NEIGHBORHOOD SPIDER-MAN #11 HILDEBRANDT BOBG VAR	$3.99
JUN198387	GUARDIANS OF THE GALAXY #7 2ND PTG SMITH VAR	$3.99
JUN198388	HISTORY OF MARVEL UNIVERSE #1 (OF 6) 2ND PTG RODRIGUEZ VAR	$4.99
JUN190821	HOUSE OF X #3 (OF 6)	$4.99
JUN190825	HOUSE OF X #3 (OF 6) ASRAR CONNECTING VAR	$4.99
JUN190827	HOUSE OF X #3 (OF 6) CHRISTOPHER ACTION FIGURE VAR	$4.99
JUN190824	HOUSE OF X #3 (OF 6) DEKAL CHARACTER DECADES VAR	$4.99
JUN190823	HOUSE OF X #3 (OF 6) PICHELLI FLOWER VAR	$4.99
JUN190826	HOUSE OF X #3 (OF 6) YOUNG VAR	$4.99
JUN190909	IMMORTAL HULK DIRECTORS CUT #2 (OF 6)	$4.99
JUN198390	LOKI #1 2ND PTG BAZALDUA VAR	$3.99
JUN190842	MARVEL COMICS #1000	$9.99
JUN190851	MARVEL COMICS #1000 ALLRED 60S VAR	$9.99
JUN190856	MARVEL COMICS #1000 ANDREWS DECADE VAR	$9.99
JUN190855	MARVEL COMICS #1000 BAGLEY 00S VAR	$9.99
JUN190863	MARVEL COMICS #1000 BLANK VAR	$9.99
JUN190850	MARVEL COMICS #1000 BROOKS 40S VAR	$9.99
JUN190849	MARVEL COMICS #1000 GARCIN COLLAGE VAR	$9.99
JUN190860	MARVEL COMICS #1000 HILDEBRANDT VAR	$9.99
JUN190854	MARVEL COMICS #1000 LIM 90S VAR	$9.99
JUN190848	MARVEL COMICS #1000 MCGUINNESS VAR	$9.99
JUN190852	MARVEL COMICS #1000 SMALLWOOD 70S VAR	$9.99
JUN190853	MARVEL COMICS #1000 TEDESCO 80S VAR	$9.99
JUN190859	MARVEL COMICS #1000 YOUNG VAR	$9.99
JUN198433	MARVEL COMICS PRESENTS #6 3RD PTG SIQUEIRA VAR	$4.99
JUN191077	MARVEL GRAPHIC COMIC BOXES ABSOLUTE CARNAGE (BUNDLE OF 5) (N	$50.00
MAY190952	MARVEL MONOGRAPH TP ART OF ADI GRANOV	$19.99
JUN190879	MARVEL MONSTERS #1	$4.99
JUN190880	MARVEL MONSTERS #1 SUPERLOG VAR	$4.99
JUL190068	MARVEL PREVIEWS VOL 04 #26 SEPTEMBER 2019 EXTRAS (NET)	$1.25
JUN190986	MARVEL TEAM-UP #5	$3.99
JUN191040	MARVEL VISIONARIES TP JOHN BUSCEMA	$34.99
MAR190996	MARVELS POSTCARD BOOK HC	$19.99
JUN198434	MILES MORALES SPIDER-MAN #1 4TH PTG GARRON VAR	$3.99
JUN198435	MILES MORALES SPIDER-MAN #2 3RD PTG GARRON VAR	$3.99
JUN190996	MOON GIRL AND DEVIL DINOSAUR #46	$3.99
JUN190898	POWER PACK GROW UP #1	$4.99
JUN190899	POWER PACK GROW UP #1 CHARRETIER VAR	$4.99
JUN190900	POWER PACK GROW UP #1 LUBERA VAR	$4.99
JUN198403	POWERS OF X #2 (OF 6) 2ND PTG SILVA VAR	$4.99
JUN190995	RUNAWAYS #24	$3.99
JUN190943	SHE-HULK ANNUAL #1	$4.99
JUN190944	SHE-HULK ANNUAL #1 CHRISTOPHER CONNECTING VAR	$4.99
JUN198391	SILVER SURFER BLACK #1 (OF 5) 4TH PTG MOORE VAR	$3.99
JUN198392	SILVER SURFER BLACK #2 (OF 5) 2ND PTG MOORE VAR	$3.99
JUN198393	SPIDER-MAN LIFE STORY #5 (OF 6) 2ND PTG ZDARSKY VAR	$4.99
JUN190934	SPIDER-MAN LIFE STORY #6 (OF 6)	$4.99
JUN190919	SPIDER-MAN VELOCITY #1 (OF 5)	$3.99
JUN190921	SPIDER-MAN VELOCITY #1 (OF 5) DELLOTTO VAR	$3.99
JUN190922	SPIDER-MAN VELOCITY #1 (OF 5) WAITE RETRO GAME VAR	$3.99
JUN191014	STAR WARS AOR GENERAL HUX #1	$3.99
JUN191016	STAR WARS AOR GENERAL HUX #1 CONCEPT VAR	$3.99
JUN191015	STAR WARS AOR GENERAL HUX #1 MCKONE PUZZLE PC VAR	$3.99
JUN191018	STAR WARS AOR POE DAMERON #1	$3.99
JUN191020	STAR WARS AOR POE DAMERON #1 CONCEPT VAR	$3.99
JUN191019	STAR WARS AOR POE DAMERON #1 MCKONE PUZZLE PC VAR	$3.99
JUN191021	STAR WARS AOR POE DAMERON #1 SAMNEE GREATEST MOMENTS VAR	$3.99
JUN191026	STAR WARS GALAXYS EDGE #5 (OF 5)	$3.99
MAY190975	STAR WARS VADER DARK VISIONS TP	$15.99
JUN198436	SWORD MASTER #1 2ND PTG REMENAR VAR	$3.99
JUN190941	THANOS #5 (OF 6)	$3.99
JUN190942	THANOS #5 (OF 6) YOON BOBG VAR	$3.99
JUN190903	THOR #16	$3.99
JUN190904	THOR #16 SLINEY BOBG VAR	$3.99
JUN191065	THOR EPIC COLLECTION TP BLACK GALAXY	$39.99
JUN198394	VALKYRIE JANE FOSTER #1 2ND PTG NEW ART DAUTERMAN VAR	$3.99
JUN190783	VENOM #17 AC	$3.99
JUN190784	VENOM #17 SUNGHAN YUNE BOBG VAR AC	$3.99
JUN191045	WAR OF REALMS JOURNEY INTO MYSTERY TP	$15.99
JUN198395	WEB OF VENOM FUNERAL PYRE #1 2ND PTG SHALVEY VAR	$4.99
JUN191056	WOLVERINE TP INFINITY WATCH	$15.99
JUN191068	X-MEN MILESTONES TP INFERNO	$34.99

COMICS & GRAPHIC NOVELS

JUN192234	A CENTAURS LIFE GN VOL 17 (MR) (C: 0-1-0)	$13.99
JUN192254	ABANDONED SACRED BEASTS GN VOL 09 (C: 0-1-0)	$10.95
JUN192229	AKASHIC RECORDS OF BASTARD MAGICAL INSTRUCTOR GN VOL 07 (C:	$12.99
JUN192145	AO HARU RIDE MANGA GN VOL 06 (C: 1-1-2)	$9.99
JUN191821	AT THE END OF YOUR TETHER #3 (OF 3) SKIPPING TAPE	$4.99
APR198036	ATTACK ON TITAN BEFORE THE FALL GN VOL 17 (C: 1-1-0)	$10.99
FEB191419	BARACK PANTHER BARACK IN BLACK #1	$3.99
JUN191828	BATTLECATS VOL 2 #4	$3.99
JUL192202	BEAUTY AND DREADED SEA BEAST GN (C: 0-1-0)	$5.95
JUN192150	BEHIND THE SCENES GN VOL 07 (C: 1-1-2)	$9.99
JUN191607	BELLADONNA #0 CENTURY STUNNING (MR)	$19.99
JUN191616	BELLADONNA #1 CENTURY BIKINI A (MR)	$15.99
JUN191617	BELLADONNA #1 CENTURY BIKINI B (MR)	$15.99
JUN191618	BELLADONNA #1 CENTURY BIKINI C (MR)	$15.99
JUN191619	BELLADONNA #1 CENTURY BIKINI NUDE A (MR)	$19.99
JUN191620	BELLADONNA #1 CENTURY BIKINI NUDE B (MR)	$19.99
JUN191621	BELLADONNA #1 CENTURY BIKINI NUDE C (MR)	$19.99
JUN191610	BELLADONNA #1 CENTURY NUDE A (MR)	$15.99
JUN191611	BELLADONNA #1 CENTURY NUDE B (MR)	$15.99
JUN191612	BELLADONNA #1 CENTURY NUDE C (MR)	$15.99
JUN191613	BELLADONNA #1 CENTURY NUDE D (MR)	$15.99
JUN191614	BELLADONNA #1 CENTURY NUDE E (MR)	$15.99
JUN191615	BELLADONNA #1 CENTURY NUDE F (MR)	$15.99
JUN191608	BELLADONNA #1 RED HOT TOPLESS LEATHER (MR)	$19.99
MAR191605	BELLADONNA FIRE FURY #12 (MR)	$5.99
MAR191612	BELLADONNA FIRE FURY #12 BONDAGE (MR)	$5.99
MAR191613	BELLADONNA FIRE FURY #12 BONDAGE NUDE (MR)	$7.99
MAR191618	BELLADONNA FIRE FURY #12 FURIES WRATH	$5.99
MAR191619	BELLADONNA FIRE FURY #12 FURIES WRATH NUDE (MR)	$7.99
MAR191626	BELLADONNA FIRE FURY #12 KILLER BODY (MR)	$5.99
MAR191627	BELLADONNA FIRE FURY #12 KILLER BODY NUDE (MR)	$7.99
MAR191606	BELLADONNA FIRE FURY #12 NUDE (MR)	$7.99
MAR191617	BELLADONNA FIRE FURY #12 PAINTED NUDE (MR)	$7.99
MAR191609	BELLADONNA FIRE FURY #12 SHIELD MAIDEN (MR)	$5.99
MAR191610	BELLADONNA FIRE FURY #12 SHIELD MAIDEN NUDE (MR)	$7.99
MAR191620	BELLADONNA FIRE FURY #12 STUNNING (MR)	$5.99
MAR191621	BELLADONNA FIRE FURY #12 STUNNING NUDE (MR)	$7.99
MAR191614	BELLADONNA FIRE FURY #12 VIKING VIXEN (MR)	$5.99
MAR191615	BELLADONNA FIRE FURY #12 VIKING VIXEN NUDE (MR)	$7.99
MAR191622	BELLADONNA FIRE FURY #12 WAR CRY (MR)	$5.99
MAR191623	BELLADONNA FIRE FURY #12 WAR CRY NUDE (MR)	$7.99
MAR191607	BELLADONNA FIRE FURY #12 WRAP (MR)	$5.99
JUN191469	BETTY & VERONICA JUMBO COMICS DIGEST #276	$7.99
JUN192151	BLACK TORCH GN VOL 05 (C: 1-1-2)	$9.99
JUN191395	CASPER CAPERS #6 LTD ED CVR	$9.99
JUN191394	CASPER CAPERS #6 MAIN CVR	$3.99
MAY191795	COLLECTED TOPPI HC VOL 02 NORTH AMERICA	$24.99
JUN191443	COOKIE & KID #2 (OF 6)	$3.99
JUN191507	CRIMSON NUN #1 COMMEMORATIVE VAR	$5.99
JUN191528	CROSSED BADLANDS #100 CENTURY FAIRY TALE A (MR)	$24.99
JUN191529	CROSSED BADLANDS #100 CENTURY FAIRY TALE B (MR)	$24.99
JUN191530	CROSSED BADLANDS #100 CENTURY FAIRY TALE C (MR)	$24.99
JUN191531	CROSSED BADLANDS #100 COSTUME CHANGE A (MR)	$5.99
JUN191532	CROSSED BADLANDS #100 COSTUME CHANGE B (MR)	$5.99
JUN191533	CROSSED BADLANDS #100 COSTUME CHANGE C (MR)	$5.99
JUN191534	CROSSED BADLANDS #100 COSTUME CHANGE D (MR)	$5.99
JUN191535	CROSSED BADLANDS #100 COSTUME CHANGE E (MR)	$5.99
JUN191536	CROSSED BADLANDS #100 COSTUME CHANGE F (MR)	$5.99
JUN191901	CRUCIFIED #3	$3.99
JUN192042	CULT CLASSIC RETURN TO WHISPER #2 & #3 DOUBLE FEATURE (2ND P	$3.99
DEC181579	DEVILS #3 (MR)	$3.99
APR191952	DISPOSABLE LEGENDS #2 (OF 6) (RES) (MR)	$3.99
JUN192002	DOCTOR MIRAGE #1 (OF 5) CVR A TAN	$3.99
JUN192003	DOCTOR MIRAGE #1 (OF 5) CVR B INGRANATA	$3.99
JUN192004	DOCTOR MIRAGE #1 (OF 5) CVR C ROBLES	$3.99
JUN192006	DOCTOR MIRAGE #1 (OF 5) CVR E BLANK	$3.99
JUN192007	DOCTOR MIRAGE #1 (OF 5) CVR F #1-5 PRE-ORDER BUNDLE ED	$3.99
APR191967	DOCTOR WHO 13TH TP VOL 02	$16.99
JUN191809	DRAWING BLOOD SPILLED INK #4 (OF 4) CVR A BISHOP (MR)	$3.99
JUN191810	DRAWING BLOOD SPILLED INK #4 (OF 4) CVR B EASTMAN (MR)	$3.99
JUN191429	EARTH BEFORE US YR TP VOL 01 DINOSAUR EMPIRE (C: 1-1-0)	$9.99
JUN192048	EDEN A SKILLET GRAPHIC NOVEL GN	$19.99
JUN191609	EMBER #0 PLATINUM LEATHER (MR)	$29.99
JUL192210	ERATHUNE TP	$19.99
MAY191403	EXCITING COMICS EXTRAVAGANZA ONE SHOT	$5.99
JUN192177	FINAL FANTASY LOST STRANGER GN VOL 03 (C: 1-1-2)	$13.00
JUN192091	FOURTH GENERATION HEAD TATSUYUKI OYAMATO GN VOL 01 (MR) (C:	$12.99
JUN191789	FOURTH POWER HC NEW ED (MR)	$29.95
JUN192131	FULLMETAL ALCHEMIST FULLMETAL EDITION HC VOL 06 (C: 1-1-2)	$19.99
JUN192143	GOLDEN KAMUY GN VOL 11 (MR) (C: 1-1-2)	$12.99
MAR191686	GRASS GN	$29.95
JUN192062	GRIMM UNIVERSE PRESENTS FALL 2019 CVR A VITORINO	$7.99
JUN192063	GRIMM UNIVERSE PRESENTS FALL 2019 CVR B ORTIZ	$7.99
JUN192064	GRIMM UNIVERSE PRESENTS FALL 2019 CVR C REYES	$7.99
JUN192065	GRIMM UNIVERSE PRESENTS FALL 2019 CVR D DIPASCALE	$7.99
JUN192066	GRIMM UNIVERSE PRESENTS FALL 2019 CVR E SANTACRUZ	$7.99
JUN192178	HAPPY SUGAR LIFE GN VOL 02 (C: 0-1-2)	$13.00
JUL192524	HAT BOYZ GN (MR)	$16.95
APR181874	HEATHEN TP VOL 02 (C: 0-1-2)	$14.99
JUN191622	HELLINA SCYTHE #1 FETISH FASHION A (MR)	$8.99
JUN191623	HELLINA SCYTHE #1 FETISH FASHION B (MR)	$8.99
JUN191624	HELLINA SCYTHE #1 FETISH FASHION C (MR)	$8.99
JUN191625	HELLINA SCYTHE #1 NUDE & NAUGHTY A (MR)	$9.99
JUN191626	HELLINA SCYTHE #1 NUDE & NAUGHTY B (MR)	$9.99
JUN191627	HELLINA SCYTHE #1 NUDE & NAUGHTY C (MR)	$9.99
JUN191628	HELLINA SCYTHE #3 FETISH FASHION A (MR)	$8.99
JUN191629	HELLINA SCYTHE #3 FETISH FASHION B (MR)	$8.99
JUN191630	HELLINA SCYTHE #3 FETISH FASHION C (MR)	$8.99
JUN191631	HELLINA SCYTHE #3 NUDE & NAUGHTY A (MR)	$9.99
JUN191632	HELLINA SCYTHE #3 NUDE & NAUGHTY B (MR)	$9.99
JUN191633	HELLINA SCYTHE #3 NUDE & NAUGHTY C (MR)	$9.99
JUN191634	HELLINA SCYTHE #4 FETISH FASHION A (MR)	$8.99
JUN191635	HELLINA SCYTHE #4 FETISH FASHION B (MR)	$8.99
JUN191636	HELLINA SCYTHE #4 FETISH FASHION C (MR)	$8.99
JUN191637	HELLINA SCYTHE #4 NUDE & NAUGHTY A (MR)	$9.99
JUN191638	HELLINA SCYTHE #4 NUDE & NAUGHTY B (MR)	$9.99
JUN191639	HELLINA SCYTHE #4 NUDE & NAUGHTY C (MR)	$9.99
JUN192146	IDOL DREAMS GN VOL 06 (C: 1-1-2)	$9.99
JUN191482	IDOLIZED TP VOL 01 (DIRECT MARKET)	$17.99
APR192021	IMMORTAL TP VOL 04 (OF 8) (MR)	$9.99
JUN191848	INVADER ZIM #46 CVR A C (C: 1-0-0)	$3.99
JUN191849	INVADER ZIM #46 CVR B CAB (C: 1-0-0)	$3.99
JUN192180	IS WRONG PICK UP GIRLS DUNGEON FAMILIA LYU GN VOL 04 (C: 1-1	$13.00
JUN192127	JOJOS BIZARRE ADV 4 DIAMOND IS UNBREAKABLE HC VOL 02 (C: 1-1	$19.99
JUN191456	JUGHEAD HUNGER VS VAMPIRONICA #4 CVR A PAT & TIM KENNEDY (MR	$3.99
JUN191457	JUGHEAD HUNGER VS VAMPIRONICA #4 CVR B PANOSIAN (MR)	$3.99
JUN191458	JUGHEAD HUNGER VS VAMPIRONICA #4 CVR C TAYLOR (MR)	$3.99
JUN191581	JUNGLE FANTASY IVORY #1 BIKINI CENTURY A (MR)	$15.99
JUN191582	JUNGLE FANTASY IVORY #1 BIKINI CENTURY B (MR)	$15.99
JUN191583	JUNGLE FANTASY IVORY #1 BIKINI CENTURY C (MR)	$15.99
JUN191584	JUNGLE FANTASY IVORY #1 BIKINI CENTURY D (MR)	$15.99
JUN191585	JUNGLE FANTASY IVORY #1 BIKINI CENTURY E (MR)	$15.99
JUN191587	JUNGLE FANTASY IVORY #1 BIKINI CENTURY NUDE (MR)	$19.99
JUN191586	JUNGLE FANTASY IVORY #1 BIKINI CENTURY TOPLESS (MR)	$17.99
JUN191589	JUNGLE FANTASY SECRETS #0 RED HOT LEATHER (MR)	$24.99
JUN191575	JUNGLE FANTASY VIXENS #1 (OF 2) KS COSTUME CHANGE A (MR)	$8.99
JUN191576	JUNGLE FANTASY VIXENS #1 (OF 2) KS COSTUME CHANGE B (MR)	$8.99
JUN191577	JUNGLE FANTASY VIXENS #1 (OF 2) KS COSTUME CHANGE C (MR)	$8.99
JUN191578	JUNGLE FANTASY VIXENS #1 (OF 2) KS COSTUME CHANGE D (MR)	$8.99
JUN191580	JUNGLE FANTASY VIXENS #1 (OF 2) KS COSTUME CHANGE NUDE (MR)	$16.99
JUN191579	JUNGLE FANTASY VIXENS #1 (OF 2) KS COSTUME CHANGE TOPLESS (M	$9.99
JUN191588	JUNGLE FANTASY VIXENS #1 (OF 2) ULTRA STRETCH (MR)	$9.99
JUN192181	KAKEGURUI TWIN GN VOL 03 (C: 0-1-2)	$15.00
JUN191463	KATY KEENE TP	$10.99
JUN192011	KILLERS #2 (OF 5) CVR A MEYERS	$3.99
JUN192012	KILLERS #2 (OF 5) CVR B GREENE	$3.99
JUN192013	KILLERS #2 (OF 5) CVR C DAGNINO	$3.99
JUN192014	KILLERS #2 (OF 5) CVR D SNYDER III	$3.99
JUN198058	KILLERS #2 (OF 5) CVR E PRE-ORDER BUNDLE ED	$3.99
MAY199157	KNIGHTS TEMPORAL #1 2ND PTG	$3.99
JUN191354	KNIGHTS TEMPORAL #2	$3.99
JUN192130	KOMI CANT COMMUNICATE GN VOL 02 (C: 1-1-2)	$9.99
JUL191797	LA MUERTA ASCENSION ONE SHOT PISTOLA CVR (MR)	$7.99
JUL191798	LA MUERTA ASCENSION ONE SHOT RAW ED CVR (MR)	$25.00
JUL191796	LA MUERTA ASCENSION ONE SHOT STANDARD CVR (MR)	$7.99
JUN191508	LILLITH #1 COMMEMORATIVE VAR	$5.99
JUN192092	LOVE IN LIMBO GN VOL 02 (MR) (C: 1-1-2)	$12.99
JUN192169	LOVE MOM & 2 HIT MULTI TARGET ATTACKS GN VOL 01 (C: 0-1-2)	$13.00
JUN192153	MAGI GN VOL 37 (C: 1-1-2)	$9.99
JUN192038	MALL #1 CVR A (MR)	$3.99
JUN192039	MALL #1 CVR B (MR)	$3.99
JUN191359	MARY SHELLEY MONSTER HUNTER #5	$3.99
JUN191568	MILITIA #3	$3.99
JUN192142	MOBILE SUIT GUNDAM THUNDERBOLT GN VOL 12 (C: 1-1-2)	$14.99
JUN192124	MY HERO ACADEMIA GN VOL 20 (C: 1-1-2)	$9.99
JUN192119	MY HERO ACADEMIA SMASH GN VOL 01 (C: 1-1-2)	$9.99
JUL192177	NAO OF BROWN SC GN (C: 1-1-0)	$34.99
MAR191436	NASTY PILLS #2 (OF 2) (MR)	$4.99
JUN192040	NECROMANCERS MAP #1 CVR A	$3.99
JUN192041	NECROMANCERS MAP #1 CVR B	$3.99
JUN192244	NIRVANA GN VOL 04 (C: 0-1-0)	$12.99
JUN192245	NON NON BIYORI GN VOL 12 (C: 0-1-0)	$12.99
JUN191361	OBERON TP VOL 01	$14.99
JUN192126	ONE PIECE GN VOL 91 (C: 1-1-2)	$9.99
JUN192125	ONE PUNCH MAN GN VOL 17 (C: 1-1-2)	$9.99
JUN191671	PERCY JACKSON & OLYMPIANS HC VOL 05 LAST OLYMPIAN (C: 1-1-0)	$21.99
JUN192171	PHANTOM TALES OF THE NIGHT GN VOL 01 (C: 0-1-2)	$15.00
JUN191367	PLANET OF THE NERDS #5 (MR)	$3.99
JUN192182	PLUNDERER GN VOL 02 (C: 0-1-2)	$22.00
JUL192203	PRIVATE EYE PRINCESS & EMERALD PEA GN (C: 0-1-0)	$5.95
JUN192120	PROMISED NEVERLAND GN VOL 11 (C: 1-1-2)	$9.99
JUN191754	PUMPKINHEADS GN (C: 1-1-0)	$17.99
JUN191755	PUMPKINHEADS HC GN (C: 1-1-0)	$24.99
JUL191891	PUSSYCATS EAT DEATH OR GET NAKED #1 (OF 4) CVR A CATHY/SUZIE	$3.99
JUL191892	PUSSYCATS EAT DEATH OR GET NAKED #1 (OF 4) CVR B PAM (MR)	$3.99
JUN192156	RAN & GRAY WORLD GN VOL 04 (C: 1-1-2)	$14.99
JUL192204	RAPUNZEL VS FRANKENSTEIN GN (C: 0-1-0)	$5.95
JUN191521	RAZOR #1 WARRIOR NUN COMMEMORATIVE SGN VAR	$9.99
JUN191520	RAZOR #1 WARRIOR NUN COMMEMORATIVE VAR	$5.99
JUN192172	REBORN AS POLAR BEAR LEGEND HOW FOREST GUARDIAN GN VOL 01 (C	$15.00
JUN192149	RECORD OF GRANCREST WAR GN VOL 04 (MR) (C: 1-1-2)	$9.99
JUN191792	RED RANGE PIRATES OF FIREWORLD #1 CVR A JOK	$5.99
JUN191793	RED RANGE PIRATES OF FIREWORLD #1 CVR B MARK OLSON	$5.99
JUN191794	RED RANGE PIRATES OF FIREWORLD #1 CVR C N STEVEN HARRIS	$5.99
JUN191795	RED RANGE PIRATES OF FIREWORLD #1 CVR D RAMON PEREZ	$5.99
JUN191796	RED RANGE PIRATES OF FIREWORLD #1 CVR E CHRIS SCHENCK	$5.99
JUN191797	RED RANGE PIRATES OF FIREWORLD #1 CVR F BOZIC	$5.99
JUN191798	RED RANGE PIRATES OF FIREWORLD #1 CVR G TALAJIC	$5.99
JUN191906	RED WINTER #2	$3.99
JUN198650	RESONANT #1 (2ND PTG) (MR)	$3.99
JUN192043	RESONANT #2 (MR)	$3.99
JUN191851	RICK & MORTY #53 CVR A (C: 1-0-0)	$3.99
JUN191852	RICK & MORTY #53 CVR B SMART (C: 1-0-0)	$3.99
MAY192203	SEKIREI GN VOL 09 (MR) (C: 1-1-2)	$24.00
JUN198649	SERA & ROYAL STARS #1 (2ND PTG)	$3.99
JUN192044	SERA & ROYAL STARS #2	$3.99
JUN192045	SHE SAID DESTROY #4 (MR)	$3.99
JUN192154	SHORTCAKE CAKE GN VOL 05 (C: 1-1-2)	$9.99
JUN191511	SHOTGUN MARY #1 BLOODLORE COMMEMORATIVE VAR	$5.99
JUN191525	SHOTGUN MARY #1 COMMEMORATIVE SGN VAR	$9.99
JUN191524	SHOTGUN MARY #1 COMMEMORATIVE VAR	$5.99
JUN191527	SHOTGUN MARY #1 DEVILTOWN COMMEMORATIVE SGN VAR	$9.99
JUN191526	SHOTGUN MARY #1 DEVILTOWN COMMEMORATIVE VAR	$5.99
JUN191517	SHOTGUN MARY #1 SHOOTING GALLERY COMMEMORATIVE SGN VAR	$9.99
JUN191516	SHOTGUN MARY #1 SHOOTING GALLERY COMMEMORATIVE VAR	$5.99
JUN192155	SLEEPY PRINCESS IN DEMON CASTLE GN VOL 08 (C: 1-1-2)	$9.99
JUN191476	SOULFIRE VOL 8 #3 CVR A FORTE	$3.99
JUN191477	SOULFIRE VOL 8 #3 CVR B MARIA	$3.99
JUN192188	SPIRITS & CAT EARS GN VOL 08 (MR) (C: 1-1-2)	$13.00
JUL191819	STALINGRAD LETTERS FROM THE VOLGA GN (RES) (C: 0-1-0)	$19.95
JUL192185	STAR POWER GN VOL 02 SEARCH FOR BLACK HOLE BILL	$19.95
JUN192189	STAR WARS LOST STARS GN VOL 02 MANGA (RES) (C: 1-1-2)	$13.00
APR191461	STITCHED TERROR #1 FIFTY SHADES INTENSE (RES) (MR) (C: 0-1-2	$89.99
APR191460	STITCHED TERROR #1 FIFTY SHADES TORTURE (RES) (MR) (C: 0-1-2	$89.99
APR191469	STITCHED TERROR #2 FIFTY SHADES INTENSE (RES) (MR) (C: 0-1-2	$89.99
APR191468	STITCHED TERROR #2 FIFTY SHADES TORTURE (RES) (MR) (C: 0-1-2	$89.99
APR191481	STITCHED TERROR #3 FIFTY SHADES INTENSE (RES) (MR) (C: 0-1-2	$89.99
APR191480	STITCHED TERROR #3 FIFTY SHADES TORTURE (RES) (MR) (C: 0-1-2	$89.99
MAY191394	STRONG BOX BIG BAD BOOK OF BOON #2 (OF 8)	$3.99
APR191857	SUPER FUN SEXY TIMES GN VOL 01 (MR)	$19.99
JUN191311	TALES OF SOPHISTICATION ONE SHOT	$4.00
JUN191941	TANK GIRL #6 CVR A PARSON	$3.99
JUN191942	TANK GIRL #6 CVR B FROG	$3.99
JUN191943	TANK GIRL #6 CVR C KANE	$3.99
JUN192046	TEST #3 (MR)	$3.99
JUN191590	THRESHOLD ALLURE #0 FIERCE (MR)	$7.99
JUN191591	THRESHOLD ALLURE #0 FIERCE NUDE (MR)	$9.99
JUN191592	THRESHOLD ALLURE #1 GREEK GODDESS PANDORA (MR)	$7.99
JUN191593	THRESHOLD ALLURE #1 GREEK GODDESS PANDORA NUDE (MR)	$9.99
JUN191595	THRESHOLD ALLURE #3 BRUTAL (MR)	$7.99
JUN191596	THRESHOLD ALLURE #3 BRUTAL NUDE (MR)	$9.99
MAR191603	THRESHOLD ALLURE #4 FIFTY SHADES BONDAGE NUDE (MR) (C: 0-1-2	$89.99
MAR191604	THRESHOLD ALLURE #4 FIFTY SHADES NUDE (MR) (C: 0-1-2)	$89.99
JUL192205	THUMBELINA WRESTLING CHAMP GN (C: 0-1-0)	$5.95
JUN192123	TOKYO GHOUL RE GN VOL 12 (C: 1-1-2)	$12.99
APR191955	TRAVELLER #1 (RES) (MR)	$3.99
MAR191566	UNHOLY ARGENT VS ONYX #1 FIFTY SHADES ARGENT NUDE (MR) (C: 0	$89.99
MAR191567	UNHOLY ARGENT VS ONYX #1 FIFTY SHADES ONYX NUDE (MR) (C: 0-1	$89.99
JUN192129	URUSEI YATSURA GN VOL 03 (C: 1-1-2)	$19.99
JUN191597	WAR GODDESS #0 BALTIMORE (MR)	$5.99
JUN191598	WAR GODDESS #0 DETROIT FANFARE (MR)	$5.99
JUN191600	WAR GODDESS #1 NYCC VIP (MR)	$9.99
JUN191599	WAR GODDESS #1 TUCSON (MR)	$5.99
JUN191509	WARRIOR NUN #1 1997 COMMEMORATIVE VAR	$5.99
JUN191514	WARRIOR NUN #1 AVENGELYNE COMMEMORATIVE VAR	$5.99
JUN191512	WARRIOR NUN #1 BOLT PREMIUM VAR	$5.99
JUN191504	WARRIOR NUN #1 BOLT VAR	$5.99
JUN191513	WARRIOR NUN #1 FRENZY COMMEMORATIVE VAR	$5.99
JUN191515	WARRIOR NUN #1 GLORY COMMEMORATIVE VAR	$5.99
JUN191506	WARRIOR NUN #1 PORTRAITS COMMEMORATIVE SGN VAR	$9.99
JUN191505	WARRIOR NUN #1 PORTRAITS COMMEMORATIVE VAR	$5.99
JUN191523	WARRIOR NUN #1 RAZOR COMMEMORATIVE SGN VAR	$9.99
JUN191522	WARRIOR NUN #1 RAZOR COMMEMORATIVE VAR	$5.99
JUN191519	WARRIOR NUN #1 SCORPIO ROSE COMMEMORATIVE SGN VAR	$9.99
JUN191518	WARRIOR NUN #1 SCORPIO ROSE COMMEMORATIVE VAR	$5.99
JUN191510	WARRIOR NUN #2 1997 COMMEMORATIVE VAR	$5.99
JUN191601	WEBWITCH #1 (OF 5) COSTUME CHANGE A (MR)	$8.99
JUN191602	WEBWITCH #1 (OF 5) COSTUME CHANGE B (MR)	$8.99
JUN191603	WEBWITCH #1 (OF 5) COSTUME CHANGE C (MR)	$8.99
JUN191604	WEBWITCH #1 (OF 5) COSTUME CHANGE D (MR)	$8.99
JUN191606	WEBWITCH #1 (OF 5) COSTUME CHANGE NUDE (MR)	$16.99
JUN191605	WEBWITCH #1 (OF 5) COSTUME CHANGE TOPLESS (MR)	$9.99
MAY191402	WILLIAM LAST SHADOWS OF CROWN #1	$3.99
JUN192225	WITCH HAT ATELIER GN VOL 03 (C: 1-1-0)	$12.99
JUN192194	YOWAMUSHI PEDAL GN VOL 12 (C: 1-1-2)	$24.00