We've loved watching the many creative people who have dealt with long quarantine hours by recreating their favorite movies and shows at home. What we didn't know until now though is that a lot of celebrities have been doing the exact same thing. Tons of big Hollywood names have been secretly working on a low-budget recreation of The Princess Bride. All shot with their own phones. It promises to be one of the best, most ridiculous remakes ever. And it was all done to raise big bucks for charity.
Vanity Fair has shared the first look at an inconceivable project set to debut at Quibi. Lots of famous performers have been shooting a star-studded " sweded" version of the 1987 classic fantasy The Princess Bride over the last few months. Filmmaker Jason Reitman came up with the idea in March. The project features Josh Gad in the role of Fred Savage's grandson. Even better is that Rob Reiner, who directed the original movie, will star as the grandfather, famously played by Peter Falk.
And as for one final emotional wallop: the late Carl Reiner joined his son for the film, which happened to be his final performance.
The film opens with Common in Cary Elwes' role as Westley. Tiffany Haddish plays Robin Wright's Princess Buttercup. And Hugh Jackman takes on Chris Sarandon's evil Humperdinck. From there the parts are picked up by others. Additional famous names take on the movie's many memorable characters.
The cast includes: Jennifer Garner, Sam Rockwell, Leslie Bibb, Neil Patrick Harris and his husband David Burtka, Chris Pine and Annabelle Wallis, a gender-swapped Joe Jonas and Sophie Turner, Lucas Hedges, Jenna Ortega, David Oyelowo, Jack Black, Diego Luna, J.K. Simmons, Catherine Reitman, Andy Serkis, Elijah Wood, Beanie Feldstein, Dave Bautista, Dennis Haysbert, Taika Waititi, David Spade, Jon Hamm, Stephen Merchant, Mackenzie Davis, Nicholas Braun, Robert Wuhl, Don Johnson, Ari Graynor, Thomas Lennon, Brandon Routh, Courtney Ford, Zoey Deutch, Zazie Beetz, Patton Oswalt and his daughter Alice, Rainn Wilson, Pedro Pascal, Jason Segel, Retta, and Keegan Michael Key.
Like we said, inconceivable!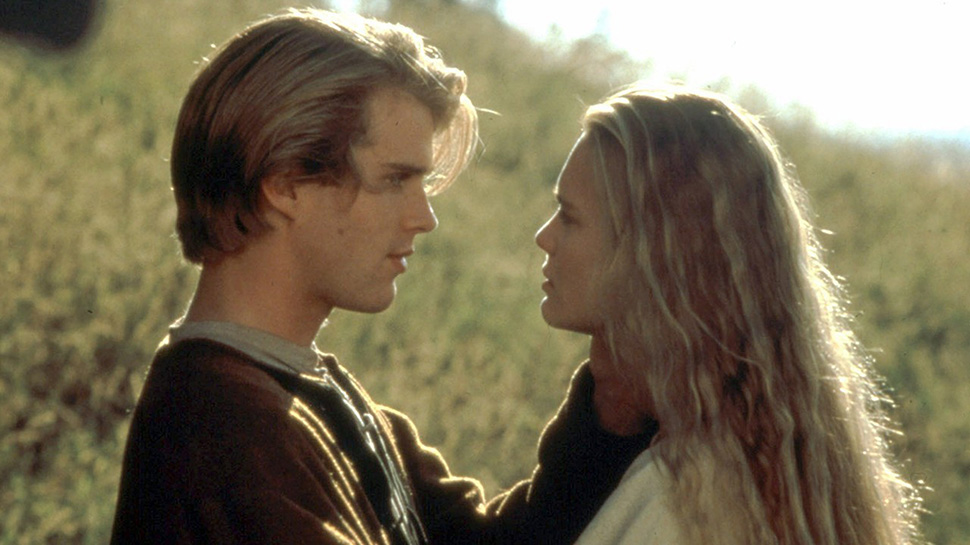 20th Century Fox
Even though this was a homemade version, Reitman did have to secure approval for the project. That included getting the okay from Norman Lear who controls the rights to The Princess Bride. The estate of writer William Goldman also gave the go ahead. As did composer Mark Knopfler, whose score will be recreated in this remake.
To make things even better, JoJo Rabbit director Taika Waititi and got in on the fun along with Reitman's wife, director Catherine Reitman. The two staged their own Princess Bride home movie, down to the cardboard cut-outs and fake mustaches, as shared by Reitman on Twitter.
Quibi donated one million dollars to the World Central Kitchen charity to stream the project. That will pay for 100,000 meals for people in need. This version of The Princess Bride will start airing chapter by chapter every day for two weeks on Quibi starting on Monday, June 29.
As far as quarantine projects go, we couldn't wish for a better one.
Original story published June 26.
Featured Image: Quibi