The Falcon and The Winter Soldier's first episode is finally available on Disney+ and the world is celebrating the new hero duo's arrival. Disney's UK website reveals that Captain America's shield is being displayed in a major way. Several countries across the globe are lighting up their iconic locations to show some love.
The iconic London Eye is giving us a cool display of red, white, and blue lights. And, the center of it boasts a projection of none other than Captain America's classic piece of armor. It's certainly a sight to behold and us Americans wish we could see it bright and shining in person. Because, even in the midst of our excitement, we do miss Steve Rogers.
This ode to Captain America quickly spread to several other countries with their own projections of the shield. The Singapore Flyer in the Republic of Singapore, Rome's LunEur Flywheel, and the La Grande Roue de Marseille in France, which all look like giant Ferris wheels, are also displaying Cap's shield in the middle with red or blue lights around its rim.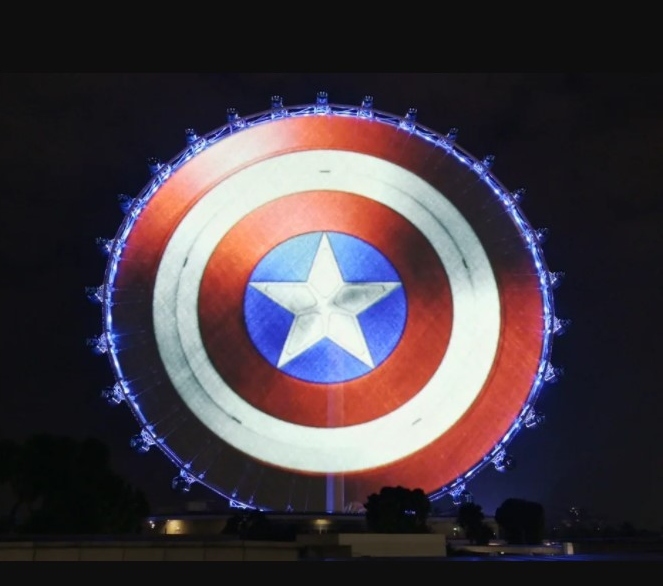 Disney UK
The Planetario planetarium in Buenos Aires boasts the shield on a giant ball sitting atop the building. It almost looks like a signal for both hope and help.
Disney UK
Finally, the Torre Latino in Mexico City and MAAG Hall in Zurich, Switzerland, have the symbol on the side of their respective buildings.
Disney UK
It's not clear how long they will be on display. The Falcon and The Winter Soldier will run for six episodes so perhaps these displays will stick around too. Either way, it's a fun moment of solidarity as we move forward with Sam and Bucky's action adventures. What will they face? And will Sam change his mind about being the next Captain America? We will see.