After waiting for what seemed an eternity, Marvel Studios' Black Widow is finally here. And now that you've presumably watched the film in theaters or on Disney+, Mondo has dropped some cool new merch for fans of Scarlett Johansson's Natasha Romanoff. Mondo Music, together with Hollywood Records, is presenting the premiere vinyl pressing of Lorne Balfe's score to Black Widow, available for pre-order at MondoShop.com today, July 9. You can check out images and specifications right here.
Marvel Studios' Black Widow – Original Motion Picture Soundtrack 2XLP
Mondo
Music by Lorne Balfe / Package designed by Mo Shafeek
Featuring Liner Notes by Director Cate Shortland and composer Lorne Balfe
Pressed on 2x 180 Gram Colored Vinyl / Also available on 2x 180 Gram Black Vinyl / Pre-Order begins 7/9 $35
Lorne Balfe's first MCU score is a force to be reckoned with. He's no stranger to crafting propulsive music for espionage epics, such as Mission: Impossible – Fallout. And his take on Black Widow is no exception. Balfe blends Russian choirs and soloists with delicate and haunting piano and acoustic guitar. And swirling strings blend with his trademark layered percussion.
Mondo
The soundtrack is pressed on 2x 180 Gram-colored vinyl. This butterfly, splatter effect is exclusive to the Mondo Record Shop. The album comes housed in a gatefold sleeve. So get ready to kick-start Phase Four with the latest in Mondo's ongoing celebration of the music of the MCU.
And of course, in celebrating the big-screen solo debut of Black Widow, we must remember to celebrate Nat's Marvel Comics roots. For those wanting some classic comic book style flair, Mondo has you covered. Mondo's new Black Widow and Taskmaster enamel pins by artist Tom Whalen are retro and cool. And Red Guardian has an enamel pin by artist Matt Taylor. All are available to pre-order beginning Friday, July 9.
Mondo
Black Widow Enamel Pin
Artwork by Tom Whalen / 1.43″ x 1.17″ soft enamel pin on shiny silver nickel, single post with butterfly clutch backing
Available as pre-order from July 9 until July 31 / $10
Taskmaster Enamel Pin
Mondo
Artwork by Tom Whalen / 1.4″ x 1.2″ soft enamel pin on shiny silver nickel, single post with butterfly clutch backing
Available as pre-order from July 9 until July 31 / $10
Red Guardian Enamel Pin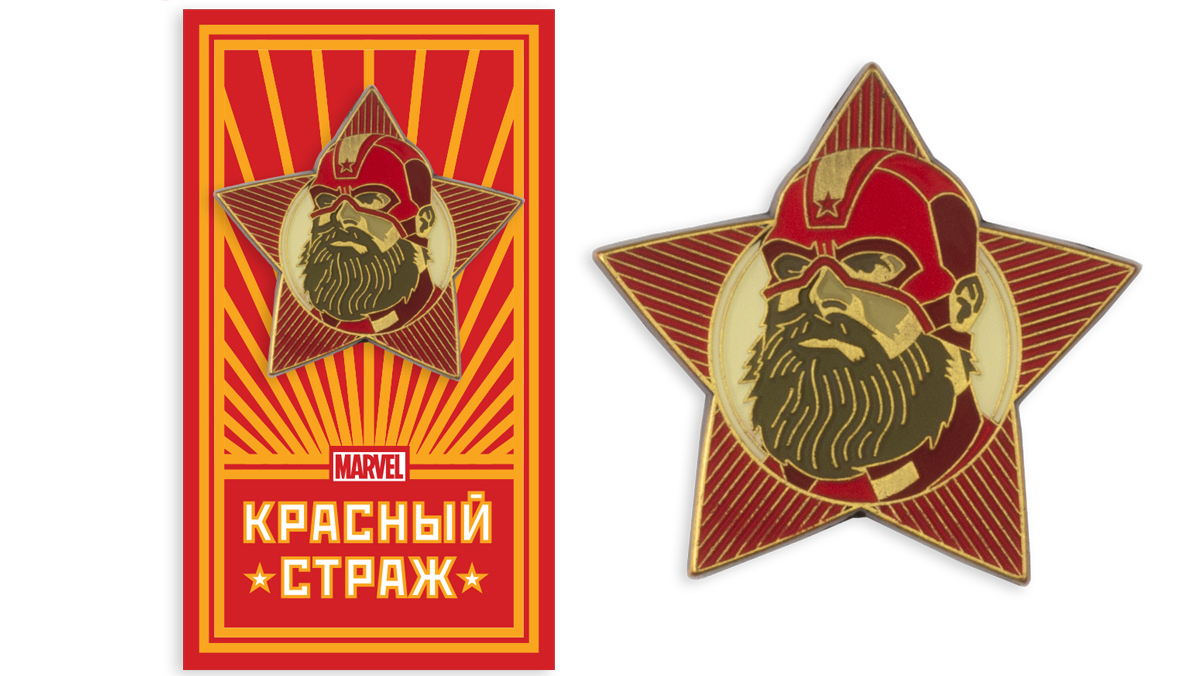 Mondo
Artwork by Matt Taylor / 1.18″ x 1.24″ soft enamel pin with an epoxy fill on antique gold metal, single post with red rubber clutch backing
Available as pre-order from July 9 until July 31 / $10