With the recent announcement of Disney's upcoming schedule post-Avengers: Endgame, it's the perfect time to start making a wish list of all the classic Mouse House films that we want to see fill the multiple "Live-Action Remake" spots. But we were immediately more concerned with the movies that we never want to see reimagined with a shiny CGI glaze. Some are cult-faves, others are movies too terrifying to see the light of day, and a few might incite an uncanny valley so deep you might not be able to come back from it. Without further ado, here are the nine movies we never ever want to see Disney remake.
The Rescuers
Disney's obsession with adapting their classic animal-centric cartoon properties means that this strange tale of espionage, love, and mice will likely end up on the slate. Do we really want to see some photorealistic mice making out with each other in old-timey clothes? Probably not. In the grand scheme of things, no one needs some bad cockney-accented rodents riding a terrifyingly authentic albatross to save an orphaned kid.
The Sword in the Stone
Honestly, this has less to do with the splendid and strange animated offering and more to do with the fact that Arthurian legend has been mined over and over again for big-budget live action films. We can't quite imagine, as fun as the original is, that Disney would be the ones to reinvent the wheel when it comes to the story of the Sword in the Stone.
The Black Cauldron
There is absolutely no way that the CGI-heavy aesthetic of the contemporary remakes would be able to do justice to this wonderfully weird story of a young pig herder who wants nothing more than to become a brave knight. It's not just the fact that the narrative is defiantly off-key, though, but also the fact that this is one of Disney's scariest films and would likely be hard to translate to live-action while keeping the necessary family-friendly rating.
Return to Oz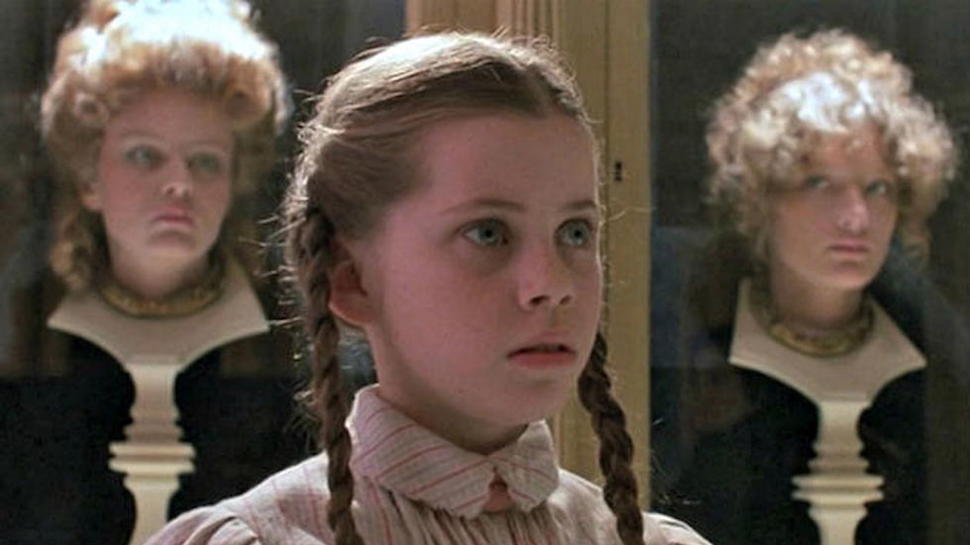 In the words of our very own Lindsey Romain, "If they remake Return to Oz, we riot!" One of the best and most original of any of Disney's live-action offerings, the 1985 sequel to Wizard of Oz is chilling, beautiful, and completely and utterly bonkers. Fairuza Balk shines as a depressed and desolate Dorothy who is languishing in a mental institute after being locked up for her Oz fantasies. That's the least dark part of this beautiful mess, which could never exist in 2019.
The Black Hole
After the massive impact of Star Wars, Hollywood was rife with rip-offs and Disney was not one to be left behind. The result is this slow burn B-movie classic that's the complete opposite of the bombastic blockbusters that the company makes today. The fact that the huge corporation now owns Star Wars means it's highly unlikely that they'd revisit their own knock-off, but even if they wanted to we'd warn against it, as this kid's oddity manages to somehow stand its ground alongside more thoughtful sci-fi classics like Logan's Run, Dark Star, and Soylent Green.
Mr. Boogedy
You've probably never seen this very low-budget haunted house family comedy from Disney's TV movie back catalog. That's a shame for you, because it's super weird and hilarious, but it's also completely perfect. You can't recreate the abject strangeness of '80s straight-to-TV movies, especially ones that feature a novelty joke salesman and his family trying to battle a scarred and spooky spirit named Mr. Boogedy. If you think that sounds weird, make sure you also check out the sequel: Bride of Boogedy.
Robin Hood
Let's face it, everyone had a crush on Disney's handsome animated fox version of Robin Hood. In the age of internet thirst culture and a smorgasbord of pop culture daddies, nobody needs some CGI animals trying to recreate the unintentionally attractive and furry-inspiring cartoon shenanigans of this classic 1973 Disney flick.
Darby O'Gill and the Little People
In case you haven't seen this OLD Disney flick, the studio had a spate of live-action movies in the '50s and '60s that were mostly completely terrible and this one is no exception. "A wily old codger matches wits with the King of the Leprechauns and helps play matchmaker for his daughter and the strapping lad who has replaced him as caretaker." The official description alone really sums up best why there's no need for a Darby O'Gill remake.
A Kid in King Arthur's Court
This not-very-good retelling of Arthurian lore is not only dated but was also already done far better in Joe Wright's The Kid Who Would Be King! So we definitely don't need to revisit this tale of a snarky '90s kid who gets sucked into Arthurian times after a big earthquake. Like the recently remade Race to Witch Mountain, this is one of Disney's many live-action missteps that can be left to the annals of time.
Images: Disney