Last year, the Japanese toy company MegaHouse released what it said was the world's smallest—official—Rubik's Cube. (Yes, it was tiny.) Now, the Nina Mall in Hong Kong has gone in the opposite direction and built the world's largest Rubik's Cube. This cube has a 67-square-foot face on each side. And it looks like it takes multiple people to move.
Guinness World Records posted the above video of the giant Cube to its YouTube channel. The organization notes on its site that the Cube is officially the largest of all time. Previously, lone British puzzle maker Tony Fisher held the title for largest Rubik's Cube. (He even built his entry, it seems, entirely on his own.)
In the video, a team of people assemble the gigantic plastic cube made of smaller—yet still big—plastic cubes in the middle of the 1,000-foot-tall Nina Mall in Hong Kong. Random players then come by, and with the help of three people at a time, begin swinging the Cube's wheeling sides, attempting to solve the timeless puzzle.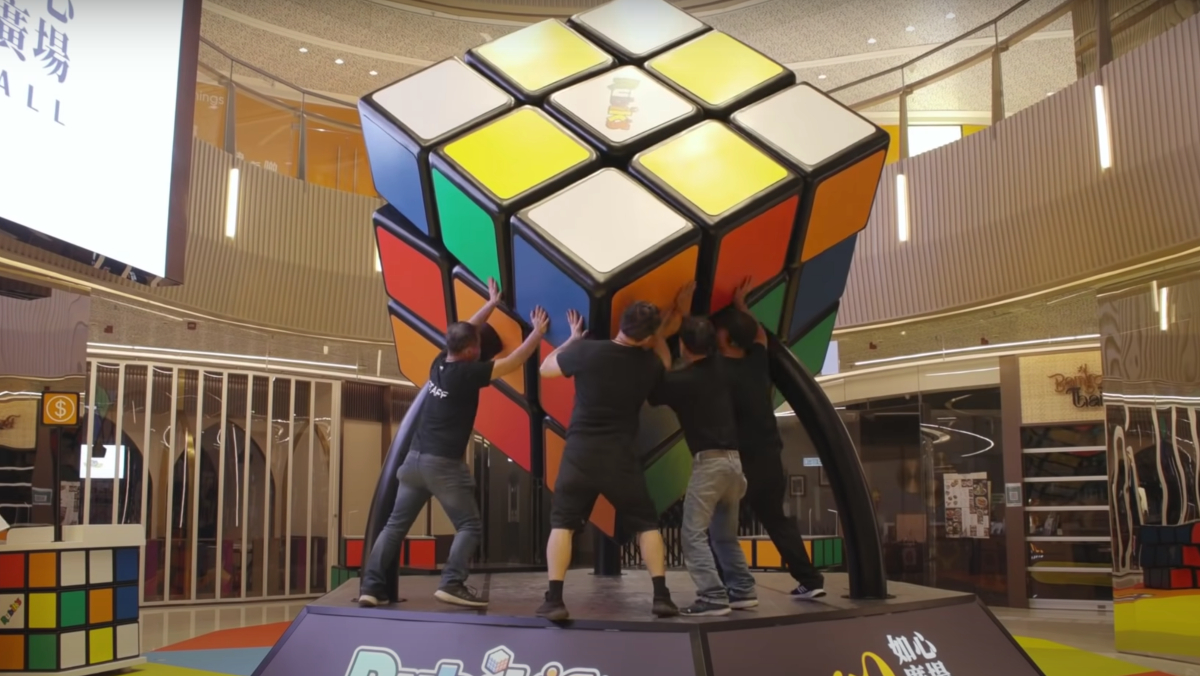 Guinness World Records
While it's fun to watch people solve the jumbo brain-teaser, the Cube's construction process is interesting in its own right. Guinness World Records shows that in the last minute of the video, providing us with yet another example of teamwork making the dream work.
Outside of up- or downsizing the puzzles, there have been a lot of developments in the Rubik's Cube community. Late last year, a university student solved three Rubik's Cubes while also juggling them… while also riding a unicycle! Plus, there's apparently a movie about the Cube headed for theaters at some point in the future. Although we imagine the film's screenwriters are going to have to come up with a pretty twisted plot line to please the puzzle's fans.
Feature image: Guinness World Records