Netflix's Dead to Me—a self-described "dark comedy"—earned recognition for its second season during the 2020 Emmy nominations. But the Television Academy also recognized the show's two leads, Christina Applegate and Linda Cardellini. The nomination of both female leads in a comedy show has been a rare occurrence since 1966, at which time the Emmys recognized Bewitched stars Elizabeth Montgomery and Agnes Moorehead.
In the years since, we've seen the same happen to Cathryn Damon and Katherine Helmond for Soap; Jane Curtin and Susan Saint James for Kate and Allie; Bea Arthur, Rue McClanahan, and Betty White for The Golden Girls; Marcia Cross, Teri Hatcher, and Felicity Huffman for Desperate Housewives; and Jane Fonda and Lily Tomlin for Grace and Frankie. That's only seven times that leading female comedy duos have been recognized on an awards level. And while it speaks to the underrepresented recognition of women duos in comedy, it also highlights their longevity.
From the days when Lucille Ball was commandeering laughs with Vivian Vance to Courtney Cox and Jennifer Aniston doing the same on Friends, comedy and the women involved in it has evolved significantly. Early performances relied largely on physical comedy, where pratfalls and loud jokes were signature staples of the art. By the time Montgomery and Moorehead gained attention for their work, it was becoming clear that comedy was shifting. It wasn't just about best friends or funny situations; it was about connection and relatability.
CBS
While Bewitched certainly served up plenty of goofy hijinks and physical comedy, it also showed how a women duo could make parts of your life comedic—like a mother-daughter relationship. Beneath the hexes cast on Samantha's husband Darrin or Endora's hobby of putting spells on mortals just for fun, the duo's comedy was always underlined with clear messages. Those messages were important ones, such as accepting differences in a relationship, learning from other viewpoints, and compromising on how we define our own happiness. When Montgomery and Moorehead were nominated for Emmys, it highlighted another important message: no one does it alone.
Over the years, women duos in the comedic landscape started to follow this pattern. While each actress was individually talented, it became almost impossible to look past the fact that their work together was what made them more powerful. Shows like Mary Tyler Moore with Moore and Valerie Harper and Laverne and Shirley with Penny Marshall and Cindy Williams took that connection one step further. They essentially drove home the "odd couple" status when it came to close friendship.
Mary and Rhoda were two sides of one coin: a driven business women who didn't care much about getting married and a department store worker who longed for a relationship. They were introduced as literal antagonists when competing for an apartment, but this quickly grew into a complex, layered relationship. Rhoda was always seen as more "unraveled" than the put-together Mary, but her storylines were no less funny or important. That meant the duo could play off each other easily, finding comedy that underscored genuine friendship and forward-driven stories like sexism, workplace politics, divorce, and gender equality.
Similarly, with Laverne and Shirley, the two roommates were as different as night and day. Laverne was street-smart and bossy, Shirley was more quiet and demure. The duo navigated comedy through life moments such as dating, their similar comedy styles quickly cementing a relationship between them. Laverne and Shirley weren't high profile business women or rich wives. They were adult women in working-class jobs, dreaming of finding love. Their quick wit transcended the physical comedy that was sometimes a staple of the series; their friendship was solid and true because their situations showed us women we could relate to.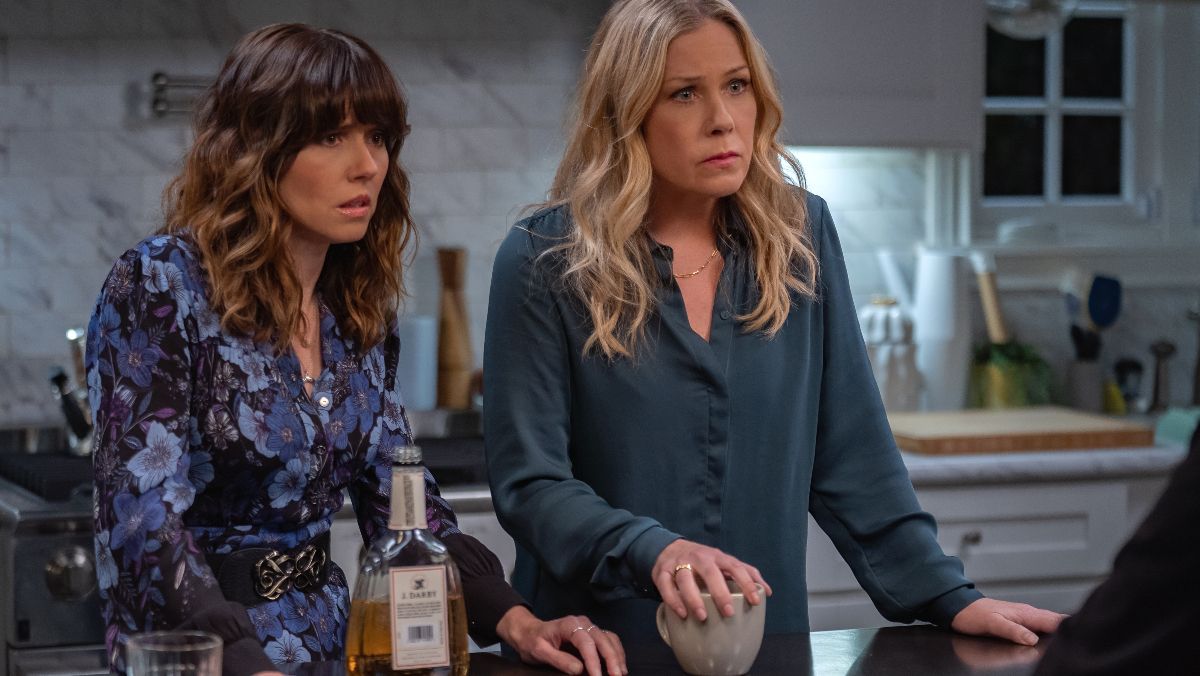 Netflix
When the Golden Girls premiered in 1985, audiences were used to variations of the female comedic duo. Four wisecracking friends with different personalities who commandeered laughs through their friendship and learned-life experiences? It was a bright light in the ever-evolving pop culture landscape, and a reminder that young women weren't the only ones we could identify with.
Amy Poehler and Tina Fey steered the world away from the notion that comedy was still a boy's club. Cultivating a strong personal friendship during their time together on Saturday Night Live, the two became the first female duo to co-anchor Weekend Update. After leaving SNL, took their friendship and talent to films, television, and even award shows. Relying on their easy comedic connection became so ingrained that even if they weren't both present in films they worked on together, you could still feel their dynamic.
The pop culture landscape began to explode with female comedic duos who kept pushing the boundaries of what was considered funny, smart, and relevant. Tia and Tamara's sibling relationship on Sister, Sister, for example, twisted the "odd couple" trope by highlighting two Black siblings who were separated at birth and reunited as teenagers who already had formed very unique personalities.
NBC
Rory and Lorelai's mother-daughter relationship on Gilmore Girls took the mother-daughter relationship to another level, showcasing the story of a young single mother whose relationship with her daughter was more like best friends than parent-child. That closeness—and unique bond—made their storylines interesting and fun when it came to comedic instances like family dinners and relationship situations.
And Abbi and Ilana's millennial friendship on Broad City was a melting pot of comedy influences that set up every comedic situation from toilet humor to bad dates to uncomfortable job interviews. With Jacobson and Glazer's heart and talent leading the series, it ultimately culminated in what many would consider the most realistic portrayal of what it feels like to navigate adulthood in the present day.
If we look back between the pratfalls and jokes and funny outfits or situations, there's one singular thread that connects these comedic duos across the years. It's an important part of why their longevity has endured and why it will continue to endure: the power of funny ladies working alongside each other to elevate the stories they're telling. In the case of Dead to Me, Jen and Judy's stories are more than the main focus of the narrative. They define each other's narrative, from their emotions to their entanglement in each other's lives. For as talented as the actors are, the show doesn't work with one actress. Just as there was no Samantha without Endora (literally) and no Abbi without Ilana, there is no Jen without Judy.
Featured Image: Netflix