In 2014 Taika Waititi and Jemaine Clement blessed us all with one of the funniest, silliest, bloodiest, and best vampire movies ever made. What We Do In The Shadows subverted the expectations of what a horror comedy could be, using a mockumentary style to explore the mundanities of everyday life in a vampire house swap.
This month we're getting an extension of that world in a new FX series written by Clement and featuring episodes directed by both the original creators. The new show focuses on a group of new bloodsuckers who live in a run down mansion in the gothic wilds of Staten Island. It might be hard to imagine a new roster of characters, but luckily the cast is comprised of some the best contemporary comedy talent, and to get you acquainted with the new housemates we've selected some of their previous, brilliant television work so you can get friendly with the nightwalkers before they debut on March 27.
Toast of London
Matt Berry is a joy and a blessing in any show and in What We Do In The Shadows he plays the lascivious vampire Lazlo. His work in Toast of London is probably some of his best known and for good reason. Here we see him as Steven Toast, a middle-aged and obnoxious actor who is consistently trying to stay afloat despite the fact his career and choices are usually terrible. Not that he would ever admit that though. This is a sitcom with a dark edge, a setup it shares with What We Do In The Shadows, and is a great showcase of Berry's talents.
Garth Marenghi's Darkplace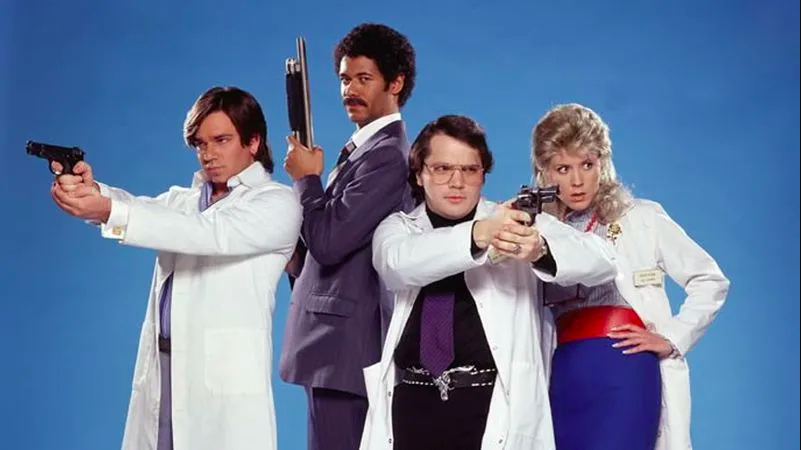 This 2004 cult classic foreshadows the mockumentary style of What We Do In The Shadows and features Berry as the actor Todd Rivers, a major player in an imaginary '80s sci-fi series called Garth Marenghi's Darkplace. It's a very meta show which is formatted as a look back on a cult series which never existed. Berry is brilliant and the supernatural nonsense of the pretend series at its center is a whole bunch of fun. Plus it shares a thematic thread with the faux reality and horror hijinx of What We Do In The Shadows.
Sirens
This British sitcom inspired the American series of the same name, but the original also happened to star Novak as Rachid (alongside Robb Stark himself, Richard Madden), one of the young, dumb, and full of… fun paramedics who make up this season. It's a heartfelt, crude and funny show which centers on the interior lives of the people who try to save lives while also trying to live their own. Novak shines as the ladies man who deals with death daily by, shall we say… sharing his love. It's a sterling performance and one that showed Novak was destined to be a lead, which of course he is in What We Do In The Shadows.
Stath Lets Flats
The third part of What We Do In The Shadows' core trifecta is Natasia Demetriou. The British comedian is probably best known for her standup but there was this comedy gem from last year in which she starred next to her real brother. As the title might hint, the show focuses on a completely useless letting (real estate) agent as he tries to establish a career under his father's shadow. Demetriou stars as his sister Sophie and showcased her comedy chops which should mesh perfectly with the tone of lWhat We Do In The Shadows.
The Office
You've probably already watched all of The Office (who hasn't?) but if you want to get a handle on the fourth vampiric flatmate then you might want to go back and check out the last three seasons, which starred Mark Proksch as Nate, Dwight's right hand man / office handyman. In What We Do In The Shadows Proksch plays Colin Robinson, an energy vampire who sucks the life out of anyone he talks too. It's a hilarious twist on a very recognizable character and a little nod to his televisual history.
The Magicians
The fifth and final housemate might not have any powers yet but he's hoping that he might get some soon, after all, Harvey Guillén's Guillermo has been Nandor the Relentless' familiar for an entire decade In The Magicians, Guillén had a stint as Royal Mapmaker Benedict Pickwick in the second and third series of the show. Though it's an entirely different vibe, the magical realism and fantasy of the show shares a little with What We Do In The Shadows and showcases exactly why Guillén was chosen as the human heart of the show.
Images: Syfy, Channel 4, NBC