Wes Anderson loves trains. In fact, he uttered those three beautiful words—"I love trains"—when describing his latest endeavor to Architectural Digest. No, we aren't referring to The French Dispatch , which debuts in US theaters in just a few weeks. Anderson, you see, teamed up with the British hotel company Belmond to design a delightful, perfectly-symmetrical train carriage.
Belmond
Anyone who's seen a Wes Anderson film knows his passion for this particular mode of travel. Train travel is all over his films. The Darjeeling Limited is largely set on a luxury train. The Wes Anderson brand of trains is certainly more luxurious than Amtrak. (Who luckily has their very own famous ambassador.)
Anderson designed one of the eleven cars on the British Pullman, a private luxury train that travels throughout the English countryside from London. (We first saw this at Design Taxi.) The Grand Budapest Hotel director designed the Cygnus carriage, which was first built in the '50s. (It also has a cinematic past as it appeared in the 1979 film Agatha starring Dustin Hoffman and Vanessa Redgrave.) Naturally, Anderson's carriage is pristine and like stepping into one of his films.
Belmond
It boasts a pink ceiling as a charming little pop against all the dark wood, but the monochromatic color of choice is green. The comfy-looking seats are upholstered in a whimsical green-patterned fabric, with the carpeting complementing with a different, also-busy design. The director told the company in a release that he jumped at the opportunity to design the car.
"I have often had the chance to invent train compartments and carriages in my movies. So I was very eager to make something new while also participating in the process of preservation which accompanies all the classic Belmond train projects. They are keeping something special alive. An endangered species of travel which is nevertheless very suited to our time."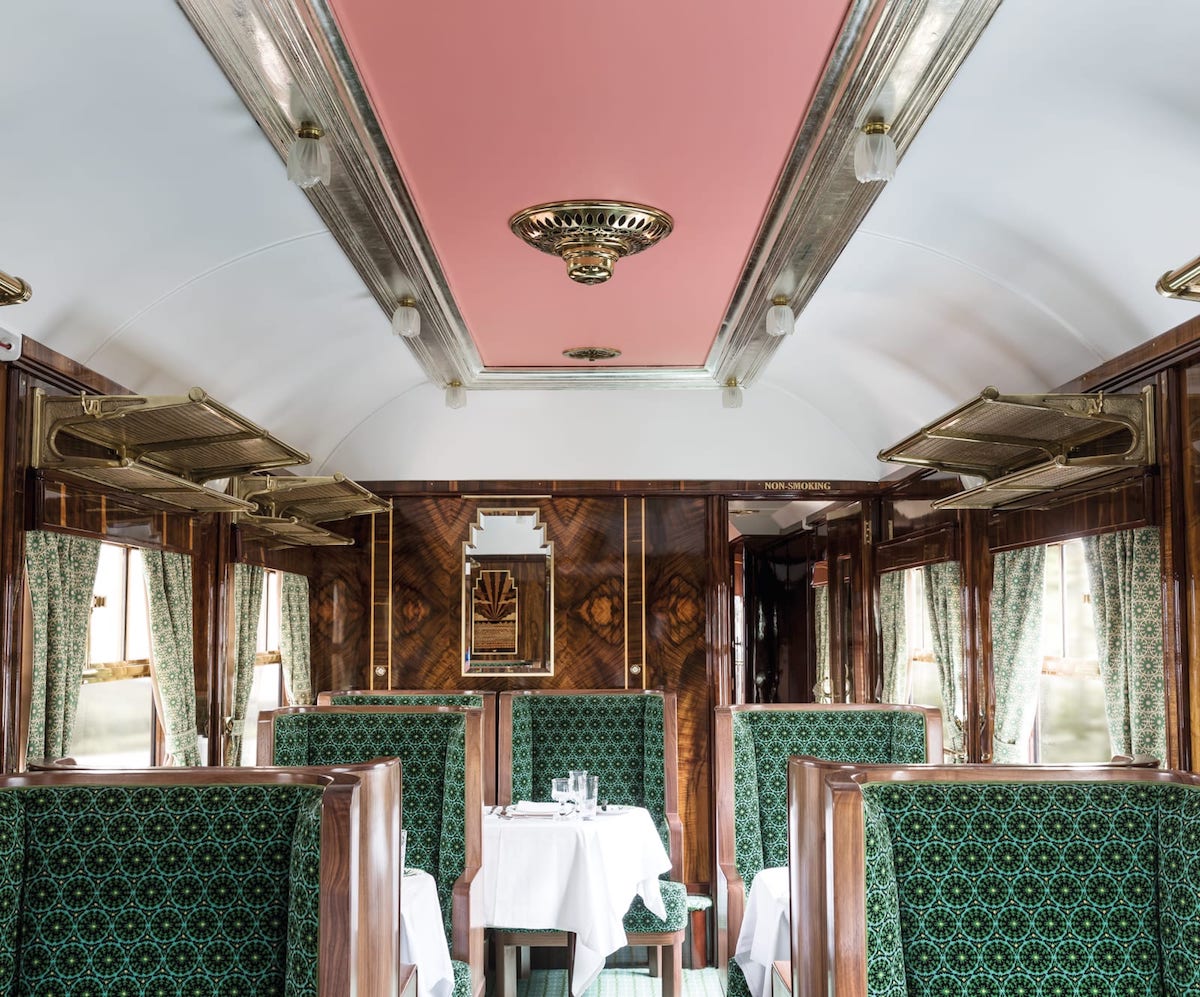 Belmond
Now, a trek through the English countryside in a Wes Anderson-designed train car certainly doesn't come cheap. In fact, the trips start at £400 —a.k.a. about $540. However, Belmond does have a few ideas of how to make the pricey trip worth it. One idea we love: a murder mystery lunch. Be still our crimes on a luxury train-loving hearts. Now we must book this absurdly expensive train experience. Certainly with the hopes that it inspires Anderson's next film.