A team of activists, scientists, and artists based in New York has turned the Metronome installment in Union Square into a "Climate Clock." As its name suggests, the Climate Clock counts down until the point at which worldwide disaster from climate change, according to many scientists, is inevitable. As of this writing, there is about seven years, 101 days, and 12 hours before the clock's "deadline" is reached.
Fast Company reported on the Climate Clock, which designer and artist, Gan Golan, and climate artist and activist, Andrew Boyd, created. The clock, originally installed in '99 by American artists Kristin Jones and Andrew Ginzel, is embedded in the facade of a building on the southeast corner of the square.
"We felt a monumental challenge like [climate change] needed something monumental in scale—a monument," Golan told Fast Company. "We wanted something that would bring public attention to the climate on a daily basis, so it's something that we can't ignore," Boyd added.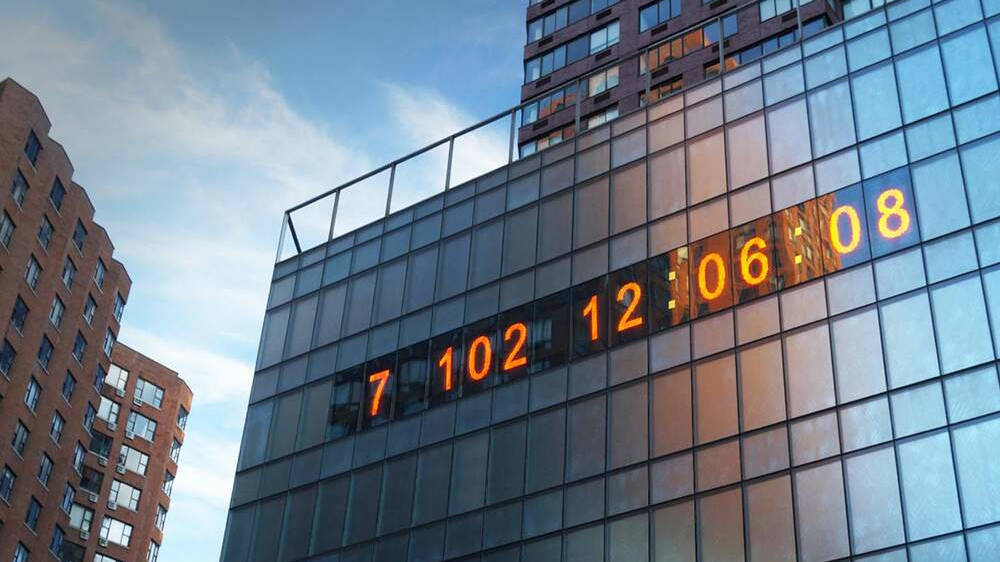 Zack Winestine/Climate Clock
The Climate Clock displays two numbers. The first, in red, counts down how long it will take—at current emission rates—to burn through humanity's so-called carbon budget; that is, the cumulative amount of CO2 emissions allowable before reaching a global warming of 1.5°C above pre-industrial levels. (The most recent Intergovernmental Panel on Climate Change report has determined that 1.5°C figure.)
The second number, which appears in green, tracks the growing percentage of civilization's energy currently supplied by renewable resources. The team behind the ClimateClock refers to this number as the "lifeline" for humanity. "Simply put, we need to get our lifeline to 100% before our deadline reaches 0," the team says on its site.
Moving forward, Boyd, Golan, and the other people involved with Climate Clock, want to have one of the installments in every major city in the world. The team has established a GoFundMe to help with that endeavor, although it seems determined to get its message out regardless.
"This is not meant to be static," Golan said of the Climate Clock. "This is not a statue just sitting there in our public environment," he added. "This is a dynamic message, and one that we hope people respond to so it becomes a catalyst for action."
What do you think about the Climate Clock project? Do you want one of these giant daily reminders to come to your city? Let us know your thought in the comments!
Feature image: Zack Winestine/Climate Clock