Toy Story 4 comes to theaters on June 21, but you don't have to wait that long to see your favorite characters. New collectibles, from action figures and dolls, to LEGO sets and interactive toys, have been announced ahead of the film's release, and they're enough to fill way more than a single toy chest.
LEGO Duke Caboom's Stunt Show

Our favorite new Canadian stuntman gets his very own set ($15.99) "featuring an adjustable ring of fire with attached ramp and two special Starter Brick plates," as well as "a buildable toy motorcycle, three stackable cans, two cars, and a stunt sign that can be knocked down" also comes with two mini-figs.
LEGO Buzz and Woody's Carnival Mania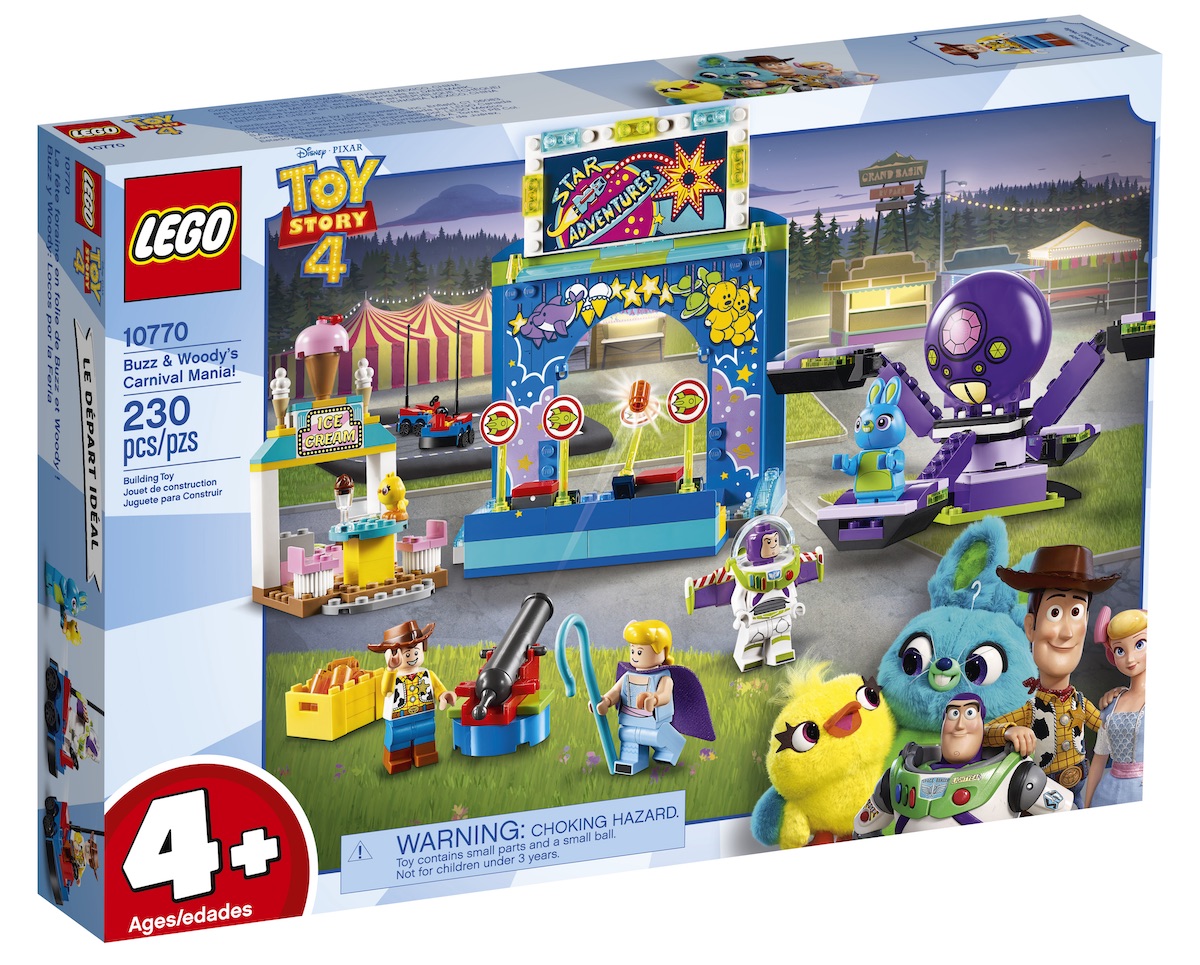 This carnival set ($49.99) will let you try your hand at a sharpshooting game, ride the Terrorantulus, drive bumper cars, and enjoying some ice cream with Woody, Buzz Lightyear, Bo Peep, and newcomers Ducky and Bunny.
LEGO Carnival Thrill Coaster
This coaster set ($19.99) is "specially designed to be fun and easy for preschoolers and smaller children." It includes three cars, six sturdy track sections, and a large entrance arch with spinning turnstile. There's also an ice cream wagon with balloon and pizza pie, Buzz Lightyear and alien mini-figs, along with an easy-to-use guide "that will also help your young carnival visitor understand the purpose of the building steps and grow their imagination and confidence."
Sheriff Woody with Interactive Drop-Down Action
This 16.5″ tall Woody figure from Thinkway ($69.99) responds to voice commands. Say, "Someone's coming!" or "Quiet. Go to sleep," when a human is nearby and Woody will freeze, drop, and switch to silent Toy Mode, collapsing just like he does in the movies. When the coast is clear he'll say, "Okay. No one's here," and he "comes back to life with interactive voice and actions." He even has a pull-string feature to hear his classic lines.
Epic Moves Bo Peep Action Doll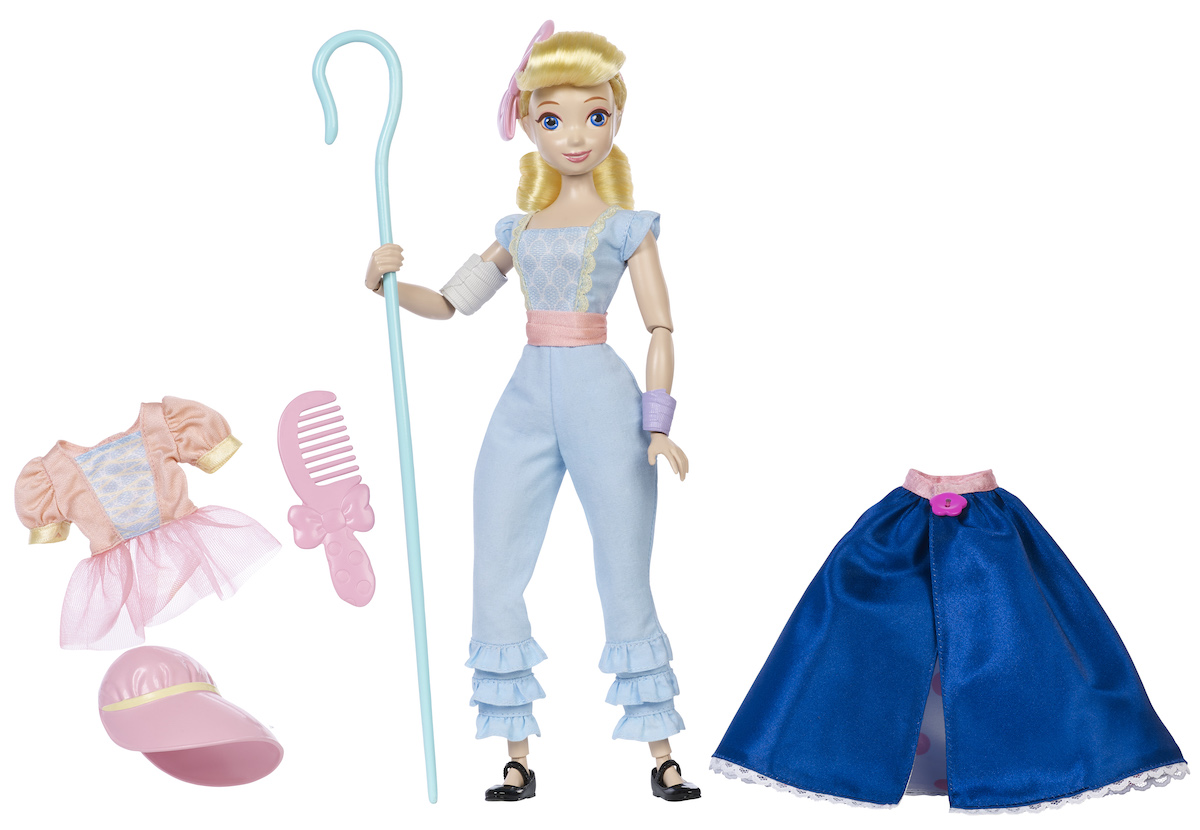 This Bo Peep action doll ($24.99) has 14 points of articulation and comes with multiple costume pieces and rooted hair.
Bunny Talking Plush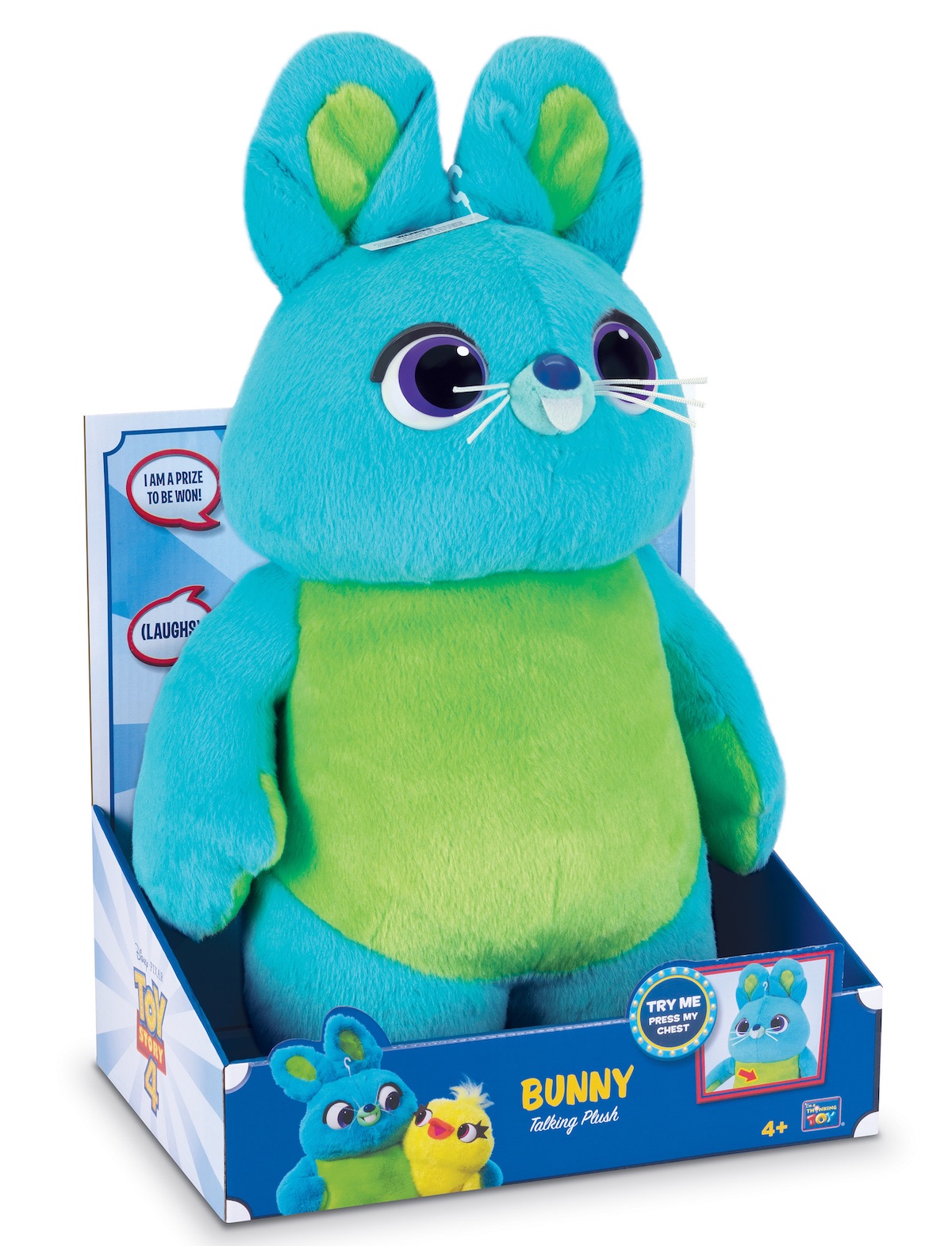 This 16″ "soft, huggable" plush doll ($49.99) featuring one half the new carnival prize duo joining the franchise has over 15 sayings when you squeeze his chest.
Ducky Talking Plush
Smaller than his Bunny plush counterpart at only 9″ tall, this talking Ducky ($29.99) also comes with 15 phrases you can hear by squeezing his soft fur middle.
Ultimate Walking Buzz Lightyear
This Buzz Lightyear figure from Mattel ($29.99) "features iconic design and sound effects with a unique speaking facial expression" not only walks forward, it includes sounds and wings deployment for the full Buzz experience.
Blast Off Buzz
Another Buzz Lightyear figure from Mattel ($19.99) also comes with lights and sounds, but when you squeeze his legs his "chest lights up, his wings pop out, and he assumes his iconic flying pose." Buzz also comes loaded with more than 20 phrases.
Jessie Interactive Talking Action Figure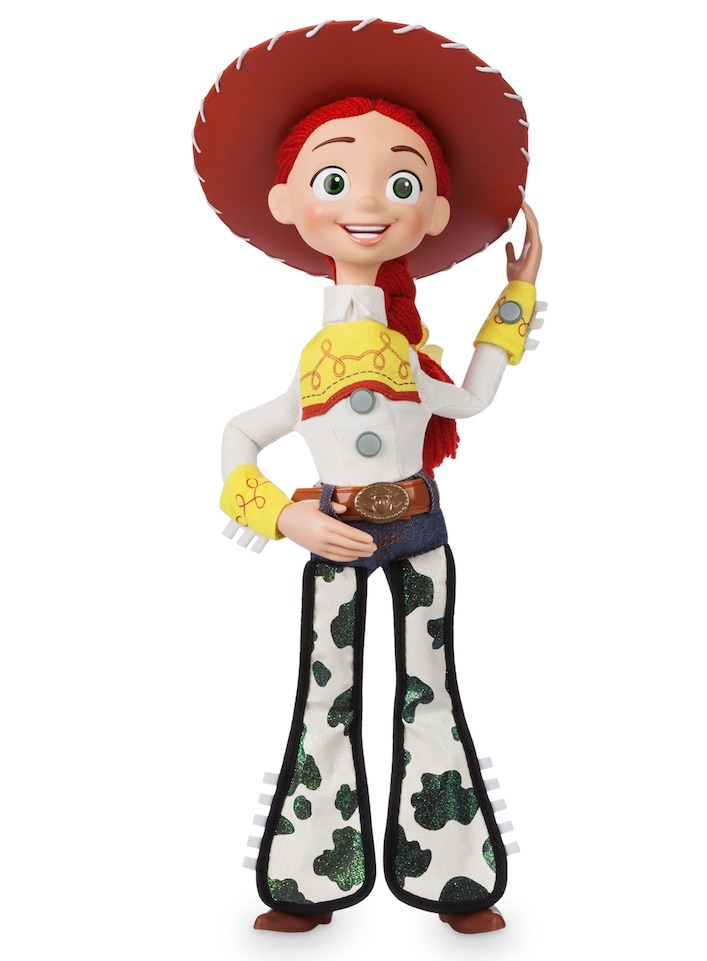 The best yodeling cowgirl in the toy chest gets her own interactive talking figure ($32.95). Jessie will have "plenty to say, especially when she detects another Toy Story interactive figure nearby," after she hits stores on May 31.
Buzz Lightyear Interactive Talking Action Figure
Jessie can talk to her fellow interactive figure, Buzz Lightyear ($32.95), who will also be available on May 31. He comes with more than 10 phrases and laser lights, and will also start to speak when he senses another interactive character nearby.
Friendship Scented Plush
You don't have to worry about winning two prizes to take home Ducky and Bunny. This scented plush combo ($19.99),"made with super soft fabrics," can be joined at the hands or separated for individual play! And the best part? They smell like cotton candy, just like any good carnival.
Buzz Lightyear Command Center
Buzz's Command Center from Jakks Pacific ($119.99), available this fall, has two different modes: upright "Launch mode" and horizontal "Flight mode." The console panel also converts into a desk for study time.
Toy Story 4 Mini Figures
Buzz, Woody, and Bo Peep are joined by lots of new faces in Mattel's line of "mini characters with stylized designs and expressions."
Toy Story Drop!
This free match-3 puzzle game from Big Fish Games for iOS and Android devices will let you "overcome larger-than-life obstacles as you match, drop, and clear hundreds of exciting puzzles" found in Andy's Room, Pizza Planet, and other famous locations from the franchise.
Buzz Lightyear Space Ranger Armor with Jet Pack
This fall Mattel will let your youngster go to infinity and beyond with their Buzz Lightyear Space Ranger Armor with Jet Pack ($49.99). The helmet lights up, the visor closes, and it plays iconic Buzz Lightyear sounds and character phrases, like "Prepare for lift off!" and "Cadet, watch my back!"
Action Figures
If you're looking for more traditional toys of your favorite characters, both old and new, Mattel has a line ($9.99 each) of 7″ action figures with authentic movie designs, including ones for Woody, Buzz, Jessie, Slinky, Rex, Bo Peep, Ducky, Bunny, Forky, and Duke Caboom.
Funko POPS!, Keychains, Mystery Minis, and More
Funko announced a whole line of new collectibles for Toy Story 4, including a POP for our favorite new toy experiencing the ultimate existential crisis, Forky.
Hopefully for our wallets sake they don't make a Toy Story 5 for at least a few years.
Featured Image: Just Play/Funko