In 1935, National Allied Publications released New Fun Comics—the spark that would become the raging pop culture inferno DC Comics. Since then, the home of Superman, Batman, and Wonder Woman has changed the world. Now, Oscar-winning screenwriter John Ridley (who wrote 12 Years a Slave and Three Kings) is putting in the work to reshape how we see the stories that have made DC Comics what it is today through the eyes of some of its most famous heroes. Alongside artists Giuseppe Camuncoli and Andrea Cucchi, Ridley breaks new ground with the transgressive and experimental series The Other History of the DC Universe.
The beginnings of The Other History
Each of the five issues centers on a different character of color and reconsiders the era through their eyes. As you can imagine, distilling the 80-plus years of history through the eyes of only a few characters was no easy feat. "Who can I possibly choose? Who should I choose? What stories do I want to tell?" Ridley pondered. "At first it was a little difficult, because it's one thing to pitch a concept and it's another thing to actually get in and make that concept work."
But after the book's initial announcement in January 2018, and the flurry of enthusiasm to follow, it all became far more real. "It was really kind of diving back and being more specific," Ridley explained. "So leading with Jefferson Pierce was easy because Black Lightning was so impactful to the DC Universe. The first Black hero to have his own series. He came out in my very formative years."
The oversized first issue from DC Black Label has garnered rave reviews and is clearly filling a niche in the market that has been overlooked. For years, DC has sidelined many of its heroes of color. Here, they're recontextualizing the comic book universe through their gaze.
DC Comics
A DC power couple
After diving into the '70s with Black Lightning, issue two centers on the same era, centering one of comics' original Black characters: Mal Duncan a.k.a. Herald. But he's not alone. The story follows Duncan and his wife Karen Beecher, the hero better known as Bumblebee. "I really wanted a young couple of color who were in love," Ridley said. "And because that first issue is kind of heavy, I thought it would be nice to have—it's kind of like The Newlywed Game—two partners and they're telling you the same story but contradicting each other. It's fun. They're a young, committed couple of color. And I don't think we see enough of that in entertainment in general."
The inclusion of Mal is particularly exciting. "When I was growing up I always thought that Mal was a poorly used character," Ridley told us. "He was Herald, he was Hornblower, he was Guardian, and he was just Mal. Every year he went through a reinvention."
The juxtaposition between Mal's lack of identity and the definitive and decisive nature of Karen struck Ridley as incredibly interesting to explore. "I thought they did a pretty good job with Karen. She's brilliant, she's a STEM genius. She decided to become Bumblebee because she was tired of the way that other characters were treating her partner."
DC Comics
Ridley continued, "She knew who she wanted to be. She wanted to be Bumblebee. She created a costume. She was in right away. So for me looking at Mal, it was not necessarily about being a corrective and saying, 'Okay, well, I'm going to get him right,' but rather embracing a young Black man who really had trouble fitting in. And it was hard for him, to a degree, for his girlfriend to, out of the gate, know what she was going to do. She was about it. She picked an identity and she created a costume that could literally fly. I thought it was a really rich relationship. Jefferson Pierce was very dogmatic and knew what he wanted to do and was like, 'I'm going to be Black Lightning, let's do this.' But Mal, he didn't, really. He had such a hard time figuring himself out."
Heroes through the decades
Katana a.k.a. Tatsu Yamashiro takes centerstage in issue three. Ridley based her story on the real history of the US as well as the fictional DC Universe. "She arrived to the comic book space in the '80s," Ridley explained. "It was a time when America was particularly xenophobic towards Japanese nationals and Japan as a nation. And I just thought it was very interesting that this woman who was a mother who lost her family was arriving to America in the 1980s."
DC Comics
Ridley continued, "Moving to the '90s. Renee Montoya, who is just a terrific character. Started as a beat cop in Batman: The Animated Series and has become one of the most durable characters. Latinx, LGBTQ, in the police department, became The Question. I just thought there was so much there. The right character, the right time, the right perspectives for what we wanted to try to accomplish with The Other History of the DC Universe."
The final story ties the threads up by adding a familial tie to the reimagining of canon. "We bring it all back home with Annisa Piece, Jefferson's daughter," Ridley explained. "The next generation. A young black woman also from the LGBTQ community. But also I have kids about her age and sometimes I think about the things that I've accomplished but wonder, 'Was I a good father? Was I a good role model?' And at some point they go from being young children to young adults and you have to let them be who they are. So I just thought she was the perfect way to round out the story."
DC Comics
As the title hints, the series takes vital moments from the DC Universe and tells them from a new perspective. And Ridley's character choices reflect that. "You go from the '70s to the '80s to the '90s to the early 2000s. So a part of picking these characters was picking out a real timeline," Ridley said. "How do we see the evolution of heroes from generation to generation, from decades and decades? Different perspectives, different individuals, and they're all adding to the fabric of the DC Universe. So that's how we ultimately arrive to these characters. I think that all of them have so much to say and so much to offer."
Feeling the impact
But Ridley knows just how big a prospect the five-issue miniseries is, and the weight that his choices wield. "This is DC mythology. These are characters that, even if they weren't on the A list in the DC Universe, they're beloved," Ridley said. "Black Lightning had a TV series. Katana was in Suicide Squad. Renee Montoya was in the Harley Quinn movie. So the fact that all of a sudden I want to use them in the DC Universe is not some little thing. This is not something that is going to go quietly. This is something that was going to—however I executed it—cause conversation, engage people, and get commentary on social media."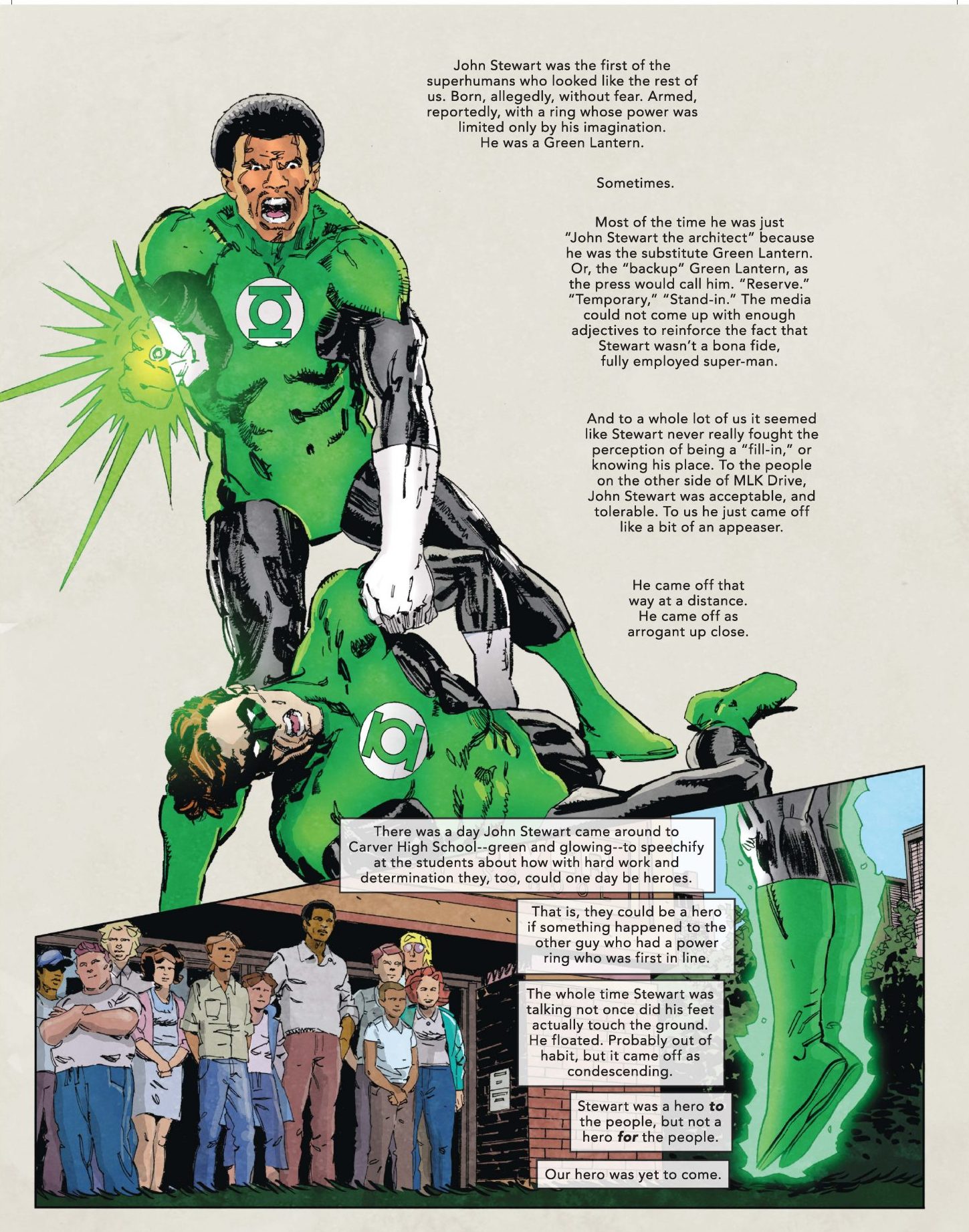 DC Comics
Ridley was right. But rather than inspiring anger or vitriol, the first issue of the book has instead become a smash hit. The high concept and unique execution, as well as the focus on voices of color, made for the story 2020 needed. At The Hollywood Reporter, critic Richard Newby stated, "If the series lives up to its first issue, the Oscar winner's new project could be remembered alongside genre-defining moments such as 'Watchmen' and 'The Dark Knight Returns.'"
This response has blown Ridley away. "This is not like a book that any of us have ever worked on before. So to get that kind of support, to get that kind of enthusiasm, to get the responses that we've gotten… you forget the downsides and there's only the upside."
Now that first issue has released, Ridley has a clear vision for what he wants the audience to take away from The Other History of the DC Universe. "What I truly want them to get is hope," Ridley shared. "We're living through tough times. There are moments in the book that are very frank, very real. I'm not one to pull punches. But at the same time, we all strive to achieve. All kinds of people from all kinds of backgrounds, and that these books can and should be stories of hope is really important to me. The other thing that I hope that people get in a more fundamental sense is inspiration. I truly hope that there are individuals from any background who get inspired to get involved, to tell their stories, and be part of this fabric."