Hey you guys! If you're an adventurer at heart, but don't have quite the same energy to go on treasure hunts like you did as a kid, Funko Games has you covered. Soon you'll be able to find gold right at your kitchen table. The company has announced its newest title, The Goonies: Never Say Die.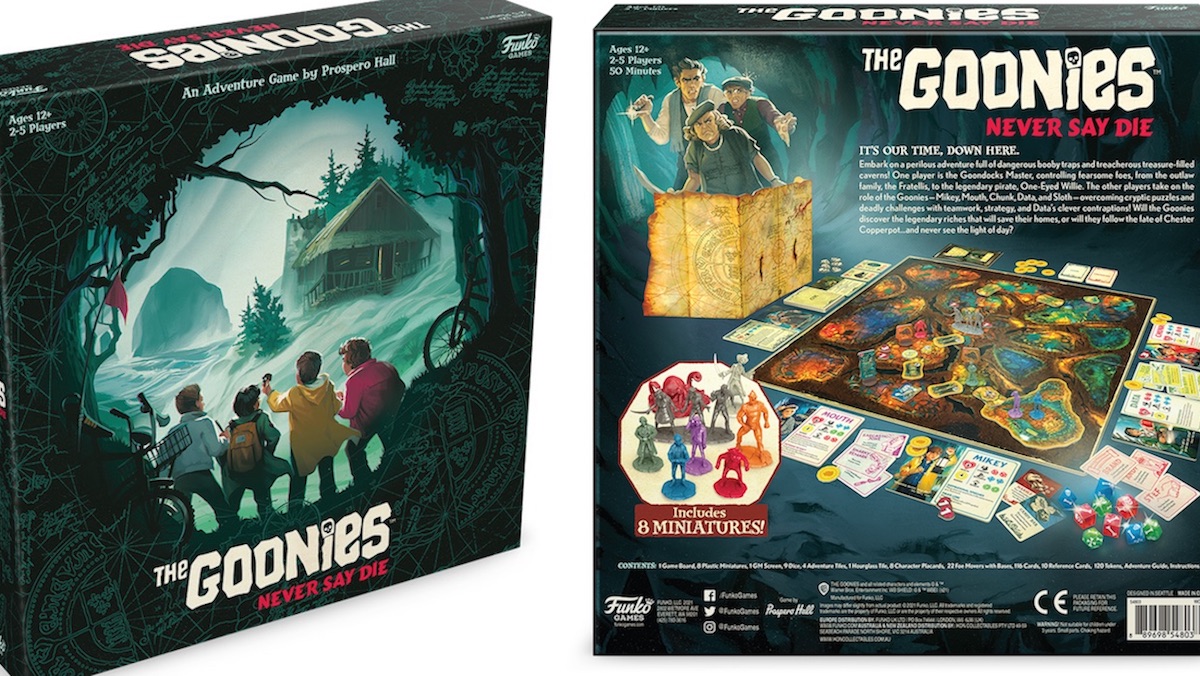 Funko Games
Head back to the '80s this summer with the new "story-driven strategy game" from Prospero Hall design studio. They've turned the beloved film into an action-packed tabletop journey with nine different quests to play through, some entirely original. But with all the characters you know and love. (Along with some you love to hate.) From Funko Games:
"Embark on a perilous adventure full of dangerous booby traps and treacherous treasure-filled caverns! One player is the Goondocks Master, controlling fearsome foes, from the outlaw family, the Fratellis, to the legendary pirate, One-Eyed Willie. The other players take on the role of the Goonies — Mikey, Mouth, Chunk, Data, and Sloth — overcoming cryptic puzzles and deadly challenges with teamwork, strategy, and Data's clever contraptions! Will the Goonies discover the legendary riches that will save their homes, or will they follow the fate of Chester Copperpot… and never see the light of day?"
Funko Games
In The Goonies: Never Say Die, players either win or lose as a team. The Goondocks Master either wins or loses individually. Designed for ages 12 and up and two to five players, it has an expected runtime of 50 minutes.
It also features eight sculpted miniatures: Mikey, Mouth, Chunk, Data, Sloth, the Giant Octopus, the Fratellis, and One-Eyed Willie. It also comes with an illustrated game board "that changes from adventure-to-adventure" as you play. The nine custom dice are "inspired by the pirate gems" seen in the movie. And it also features four adventure tiles, one hourglass tile, eight character placards, 22 foe movers with bases. 116 cards, 10 reference cards, 120 tokens, and an adventure guide. And play is even inspired by "classic adventure games of the '80s," for another nice touch of authenticity.
Funko Games
You can pre-order the game at Target ($34.99) now. It sails into stores early this summer. Which is the perfect time for older fans of The Goonies. When the weather gets warm we much prefer to relax with a pretend adventure than go exploring ourselves.