The Goonies captured the imaginations of kids everywhere when it debuted in 1985. Its characters went on the kind of adventure many of us dream about. And now you can embark on a peril-filled journey of your own… without leaving the comfort of your home. Funko Games' The Goonies: Never Say Die puts players into the world of The Goonies with roleplaying fun. In fact, if you've had an itch to try roleplaying but you're not sure where to start, this is the game for you.
Allow the one and only Becca Scott to show you the ropes in the below installment of How to Play.
So, one player is the Goondocks Master, who controls the enemies. The rest of the players take on the role of Goonies. It's all about teamwork and strategy. You can be Mikey, Mouth, Chunk, Data, or Sloth. The game takes two to five players total. Eight miniatures come with the game. They depict the characters listed above as well as the Giant Octopus, the Fratellis, and even One-Eyed Willie himself. Get a look at the stunner of a board below; it emulates the movie's iconic caverns. And the Goondocks Master's screen looks like one heck of a treasure map.
That gameboard can change depending on how you play, too. Players can go through nine different adventures that include original stories not in the film. You'll roll custom dice that look like pirate gems and look for legendary riches. But you don't have to actually go spelunking to feel the spark of chasing treasure. Just come prepared to solve puzzles and outthink your opponents (a.k.a. the Goondocks Master).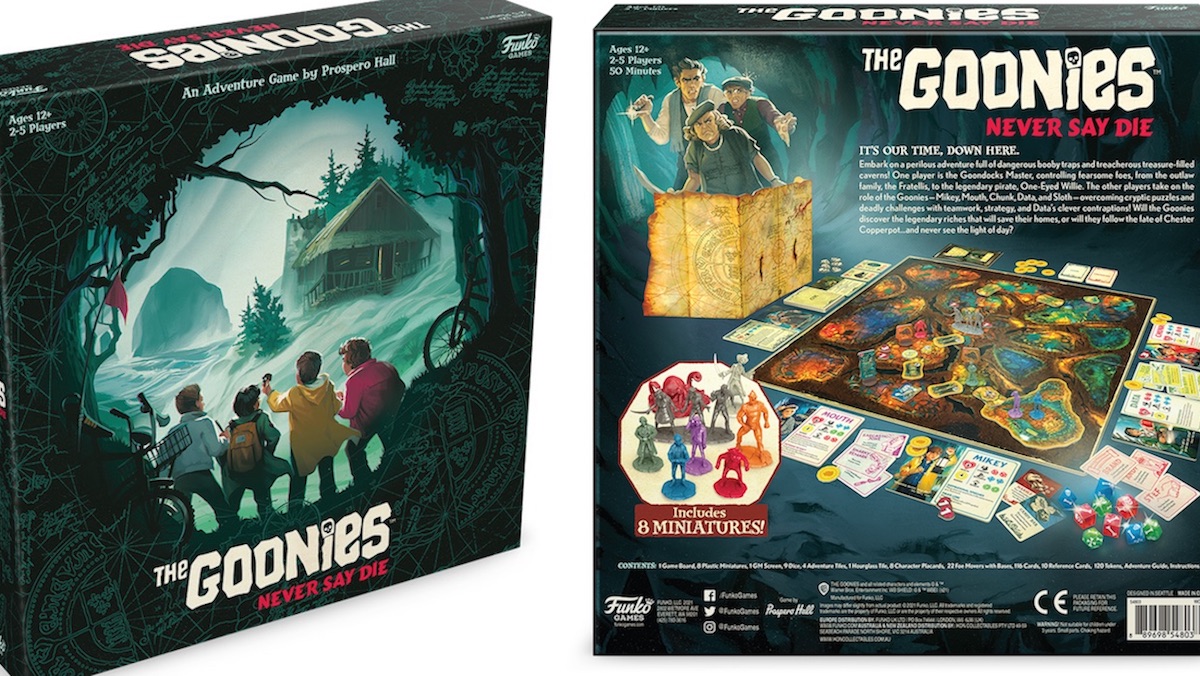 Funko Games
The Goonies: Never Say Die is available now exclusively from Target. It's the perfect game for the summer, so invite your best pals over and remember to stay focused on the loot.