A new ride at a major theme park is always cause for excitement. A new entire land? Now we are so happy, we do the dance of joy! Universal Studios Hollywood will officially unveil Super Nintendo World in February, but Nerdist got to take a look at the gorgeous new area along with a small group of outlets last week. VP of Universal Creative Jon Corfino took us on a guided tour of the land, which may be relatively small in terms of square footage but is massive when it comes to theming and immersion.
When I say "immersion," I mean it. As soon as guests walk through the entry pipe and see a bit of classic Nintendo-style castle bricks, they come out into a huge circular plaza with height making up for any width. Everywhere you look, you'll see familiar characters, images, and lettering. You'll see a Spiky on top of one mountain and a walking Koopa Troopa on top of another. And yes indeed, Bowser's castle looms the largest, because of course it does.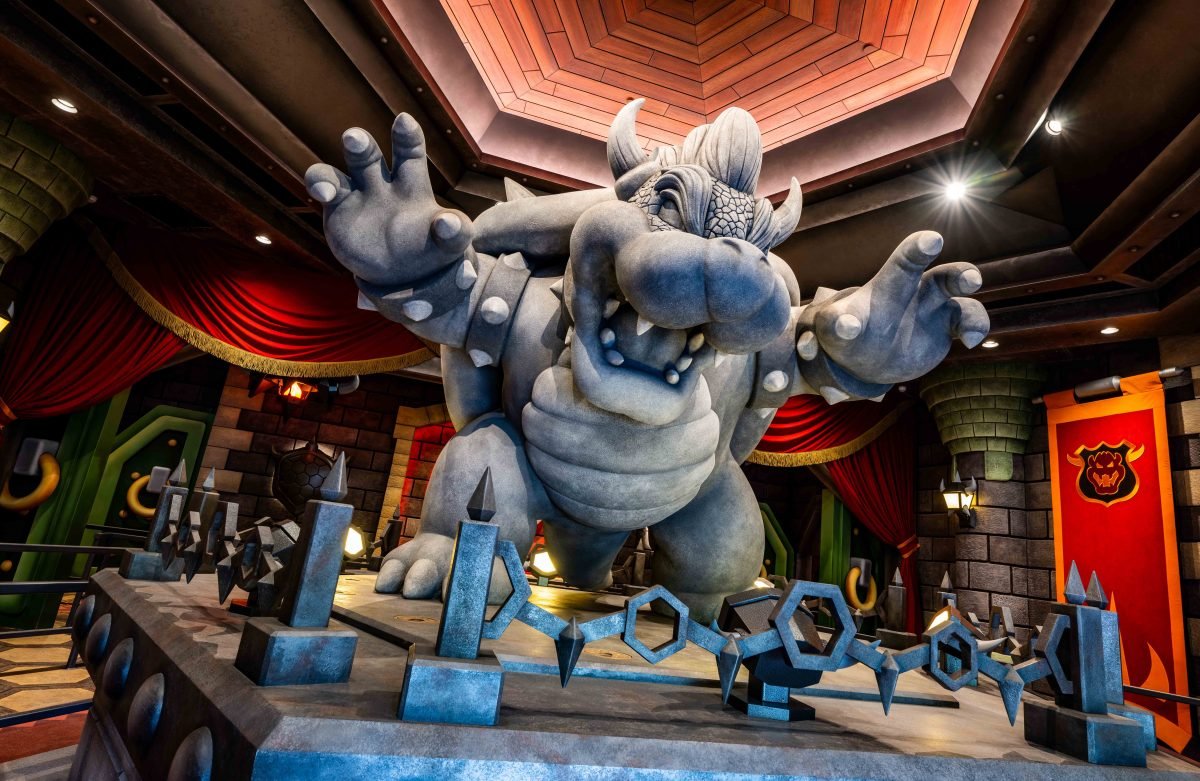 Like the Wizarding World area, Super Nintendo World is AR compatible. Any guest who wishes to take part in the "game" of it can purchase a Power-Up wristband that will keep your score as you move around the area. You can hit question blocks and POWs and the world will react to you. Throughout the hallways you'll find little M-emblazoned circles that if you tap with your wristband will light up with an 8-bit rendering of a character. (We saw Luigi and Bowser in our tour.)
The land also has interactive elements called Power-Up Band Key Challenges. These include things such as a crank where you have to be faster than a goomba; or a timing game where you have to bounce a Koopa Troopa; or a rhythm game where you have to keep a piranha plant from waking up and eating you. Each of the animatronic elements involved is enormous and makes you—and especially the younger members of your party—feel like you are indeed inside a Nintendo game.
Click To View Gallery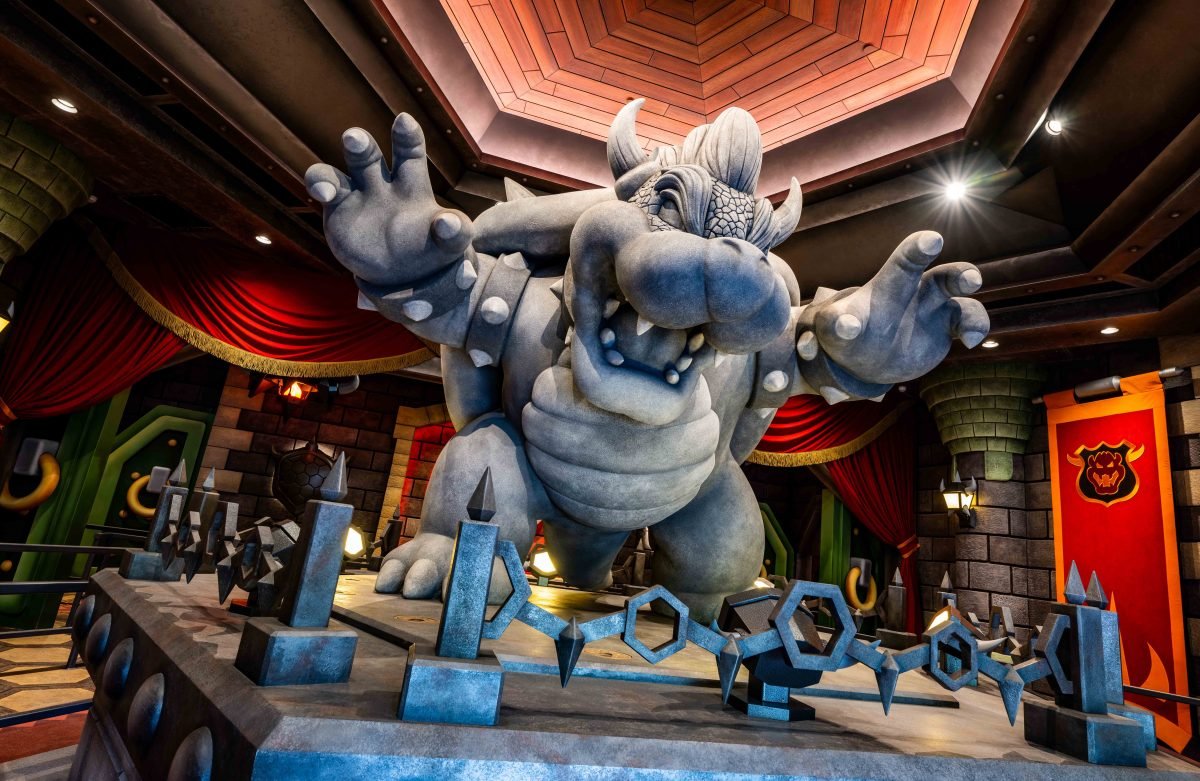 The largest of these interactive elements will, of course, be the augmented Mario racing ride, Mario Kart: Bowser's Challenge. While we didn't get to go on the ride, Corfino told us it will involve racers wearing goggles and getting into go karts. As the ride goes around the track, you'll see various things from inside the game in your goggles. The goal is to shoot shells (just by looking) and get the highest score. Guests will see things in any direction, making it unlikely to have the exact same experience as someone else. Corfino said he'd ridden the ride 200 times for testing and just the day of the tour got his high score.
In addition to the ride and the challenges, Super Nintendo World also has the required gift shop (called 1 Up Factory), and an eatery (called Toadstool Cafe).
We cannot wait to return once the land is fully operation and get immersed in Super Nintendo World. The land will open at Universal Studios Hollywood on February 17, 2023.
Kyle Anderson is the Senior Editor for Nerdist. You can find his film and TV reviews here. Follow him on Instagram and Letterboxd.