We're old enough to remember when a fireworks show set to John Williams' Star Wars music was the pinnacle of geekdom. But as cool as those are, they're nothing compared to modern nighttime drone shows. And we've just seen a Star Wars-themed one that will blow you away like a Death Star without an energy shield.
At an Oakland Athletics game on August 28, fans in The Oakland RingCentral Coliseum witnessed a first-of-its-kind Major League Baseball drone show. Produced by Sky Elements, the light show utilized some two hundred drones flying in formation. And it transported everyone in the stadium to the galaxy far, far away. You can check out the full video for the show right here.
The show features familiar Star Wars iconography. First, there's the iconic Star Wars title, in the classic opening crawl text style. There are also lightsabers crossed in battle, and a Death Star. Even R2-D2 makes an appearance. Master Yoda shows up too, brandishing his lightsaber just like in Revenge of the Sith.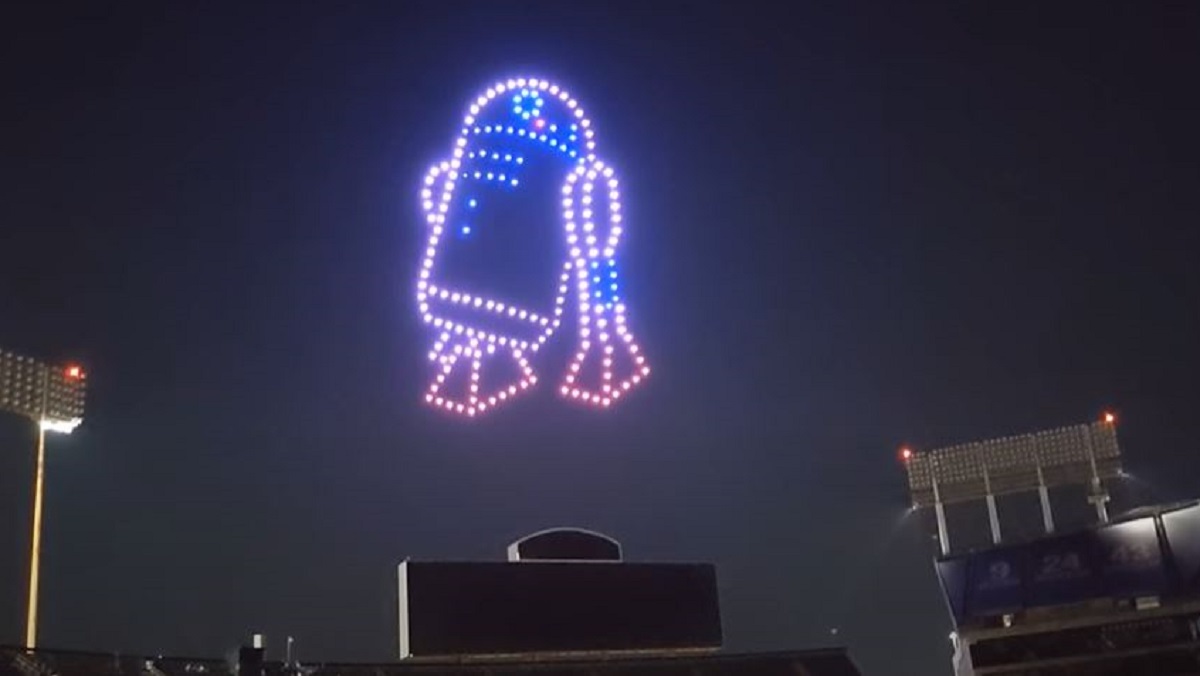 John Williams' classic score accompanies all these amazing visuals. It begins with the Star Wars opening fanfare, with the words Star Wars: Episode II: Drone Invasion on the big screen. " Princess Leia's Theme" follows this up as the words "Star Wars" rise above the crowd. Then, we hear snippets from "The Battle of Yavin," "March of the Resistance," "Duel of the Fates," and of course, " The Imperial March." And it all ends with Figrin D'an and the Modal Nodes' groovy tune from Mos Eisly Cantina.
Of course, there are also a lot of non-Star Wars moments sprinkled throughout. The Oakland A's symbol gets a moment, as well as the team logo. In one very cute moment, a baseball bat appears, only to knock a Death Star out in a home run. And overall, this Star Wars drone show qualifies as a home run to us. Hopefully, this is the first of many. Take note, Disney theme parks!