When you think of big sci-fi franchises with wildly popular toy lines, you probably think Star Wars over Star Trek. And historically, that's usually true. Except in the 1990s. Back in the decade when Star Wars was mostly dormant and Trek ruled the airwaves and cinemas, Playmates Toys created a line of action figures that spanned four TV series and eight feature films. And they were wildly successful.
Now, Playmates has the Star Trek license once more, and is releasing a fresh wave of toys, based on Treks both old and new. And many come in nostalgic retro-style packaging. You can check out images of Wave One right here:
Just in time for Star Trek II: The Wrath Of Khan's 40th anniversary this year, comes three five-inch, 1:14 scale figures of Admiral Kirk, Captain Spock, and Khan Noonien Singh. Each of these comes in nostalgic packaging, reminiscent of the '90s toys.
The main trio from Star Trek: The Next Generation, Captain Picard, Commander Riker, and Lt. Commander Data, also arrive in five-inch, 1:14 scale. You'll want to "make it so" and get these on your shelf as soon as possible.
Hitting warp factor 9 to the present day, Playmates has their first modern Star Trek figures. Star Trek: Discovery's Science Officer Michael Burnham, and Commander Saru arrive in five-inch scale, in new Star Trek Universe blister cards.
And what is Star Trek without a starship? Playmates will offer up an Original Series starship Enterprise replica ship. It measures 18-inches in scale, with lights, sounds and phrases. I will also arrive in nostalgic '90s style packaging.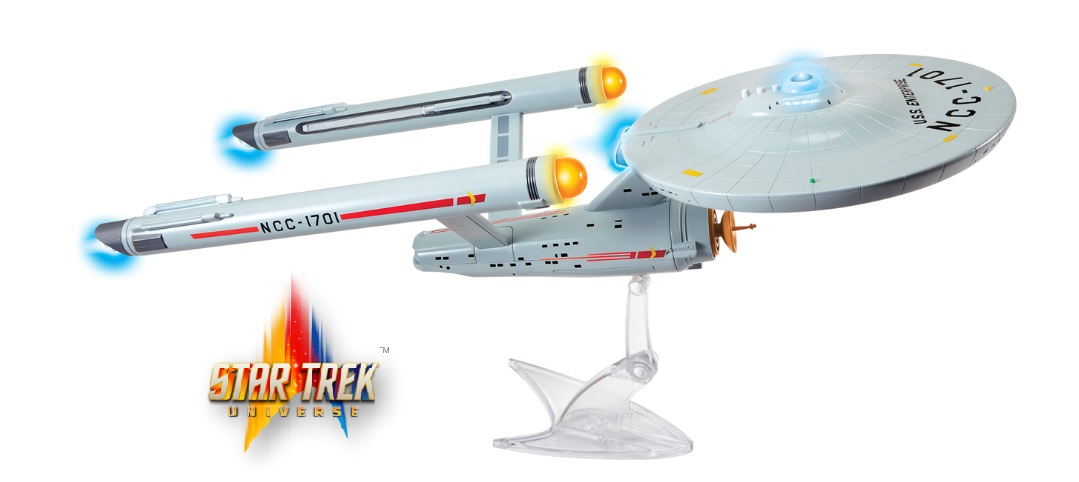 Finishing things off is another Original Series favorite, the Starfleet standard issue phaser, with lights and sounds, nostalgic packaging.
And these are just the beginning. Starting in 2023, Playmates will offer even more toys. Some from new series like Strange New Worlds and Picard, and no doubt classic Trek shows like Deep Space Nine, Voyager, and Enterprise. Not to mention the thirteen Star Trek feature films. It's a good time to be a Trekker. The Playmates Star Trek Universe collection will be available online in July 2022, and in stores this fall.