SpongeBob Squarepants has been on the air for a long, long time. The beloved animated kids' series premiered on Nickelodeon way back on May 1, 1999. Ever since, it has been a pop culture juggernaut. The show, currently on its 13th season, has had 275 episodes (and counting). It has also spawned plenty of video games, featured films, and spinoffs. With a reservoir of content that deep, many quotes, scenes, and characters have been turned into memes. From a tired SpongeBob getting out of his chair to leave a bad situation, to a mocking SpongeBob calling out "vErY gOdD iDeAs," the series is an endless source for the internet's favorite currency. So it's only fitting you can now trade them in with the all-new Monopoly SpongeBob SquarePants Meme Edition.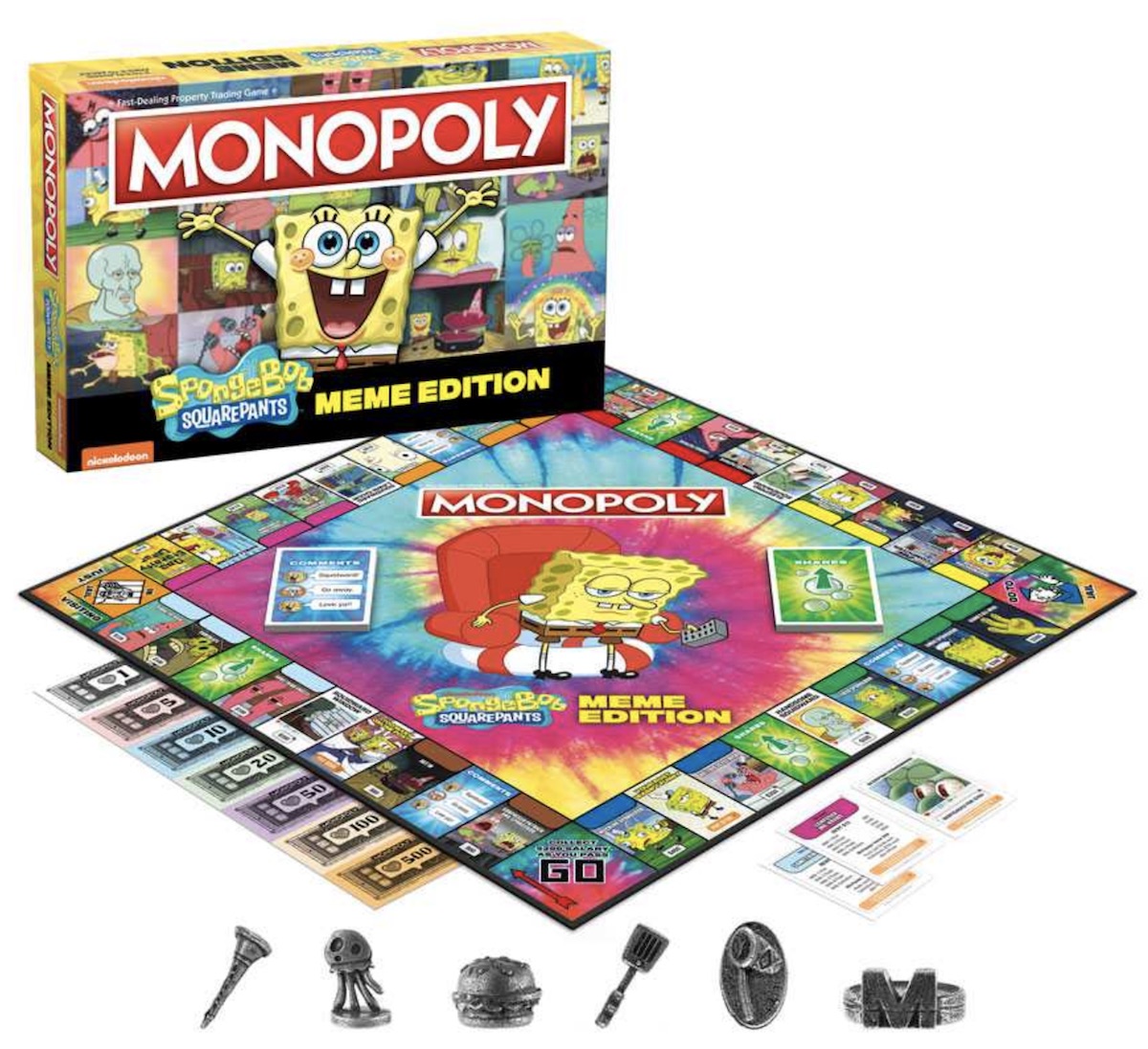 The Op
The Op's newest Monopoly version features the denizens of Bikini Bottom. But you won't buy and sell the Krusty Krab or Squidward's house in this game. You'll dabble in digital "dollars." This is a celebration of SpongeBob Squarepants memes. From the game's official description:
Monopoly SpongeBob SquarePants Meme Edition is a hilarious twist on the classic, letting players buy, sell, and trade the most internet-famous images of characters from Nickelodeon's animated series. Capitalize on properties to channel 'Savage Patrick,' or make like 'Mocking SpongeBob' as you pay rent. Set down a lawn chair for the wholesome mishaps behind Comments and Shares cards (instead of Community & Chest cards) and stack up as many Likes (aka $$) as you can to bankrupt your Bubble Buddies and win!
The Op
Designed for ages eight and up, the game ($39.99) plays two to six players. It has an expected runtime of an hour plus. Along with a very colorful, very funny board, you'll also get: six tokens, 28 title deed cards, 16 shares cards, 16 comments cards, custom money, 32 houses renamed posts, 12 hotels renamed collections, and dice.
You will also get rewarded for all the time you have spent in life watching SpongeBob Squarepants. As well as all those hours making memes based on the show. But the best part is that, whether you win or lose, you'll know exactly what meme to send your opponent after the game.
Featured Image: The Op