If you're ever a competitor on Netflix's Floor Is Lava and need a teammate, you should look for a gymnast. Olympic champion, Simone Biles, shows that the class of athlete is fantastic at barely touching the ground—during every one of her routines. A fact that is made crystal clear in the unbelievable slow-mo video below.
Colossal picked up on the Simone Biles slow-mo video, which media and political communications consultant, Timothy Burke, recorded and slowed. Burke posted the "extreme slow motion" video to Twitter, where it now has nearly five million views.
In the clip, the most decorated American gymnast in history—with 30 Olympic medals in total, 19 of which are gold—demonstrates her masterful triple-double; that is, a sequence of moves consisting of three twists performed during two somersaults. And while the move looks like an incredible feat in regular speed, in slow motion, it looks like it defies the laws of physics.
Here is a physics paper explaining exactly how she accomplishes this conversion of angular velocity to linear velocity. https://t.co/vWcU8yrozD

— Timothy Burke (@bubbaprog) June 5, 2021
As Biles performs the sequence—perhaps the most difficult gymnastic routine on the ground—she spends most of her time in the air. The sequence of moves begins with a roundoff into a handspring, which looks impressive as a combo on its own. That's only the "easy" part of the routine, however. With the triple-double, the 4'8″ Biles launches over nine feet into the air, while simultaneously nailing the twists and somersaults.
Along with the slow-mo video, Burke also posted a physics paper outlining Biles' incredible sequence. The paper, which carries the title, "Simone Biles: defying the laws of physics?" breaks down the kinds of torque and velocity Biles must achieve for the triple-double. The paper's quite complex, of course, but it's intuitive enough to imagine that Biles pushes her body to its very limits. Which makes her a fantastic source of inspiration, especially for contestants on Floor Is Lava season two.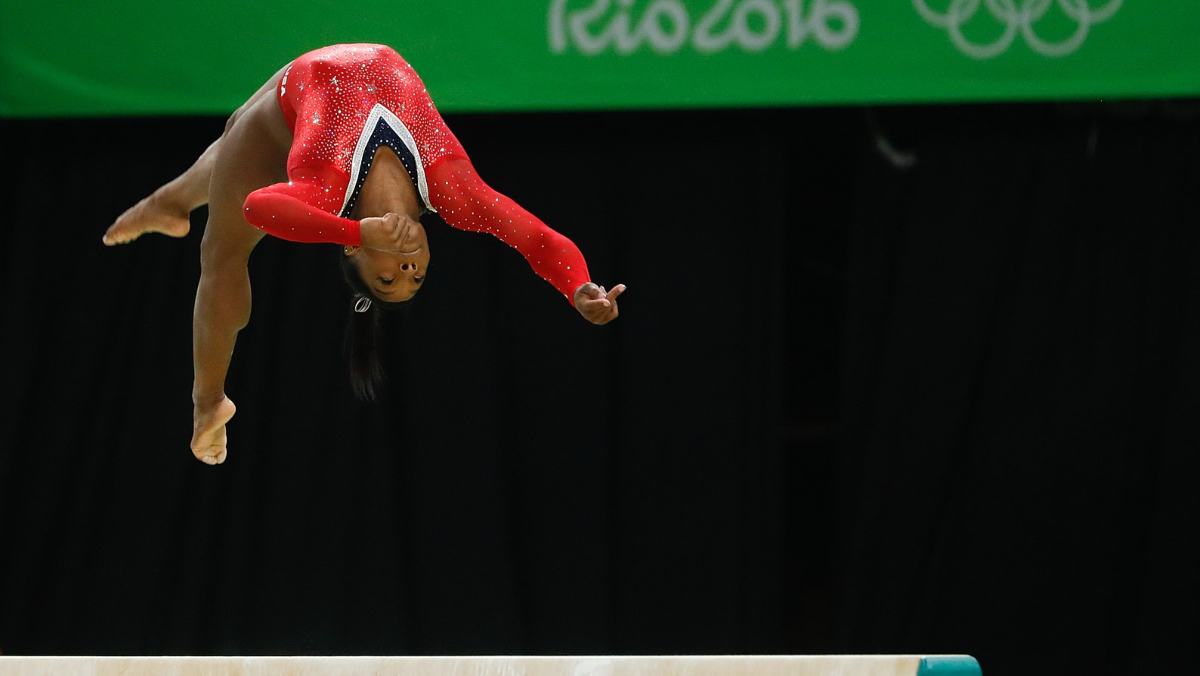 Fernando Frazao / Agencia Brasil
Feature image: Fernando Frazao / Agencia Brasil