The Boys season three is full of weird, shocking, gross, and very NSFW content. We took on the task of curating it here at Nerdist, and it was quite the task indeed. In fact, there were so many wild moments that we had to split up our coverage by chopping the season in half. For all of the WTF moments in episodes one through four, head over to our original post. And, if you're here for the last half of bloody, funny, and game-changing hits, then look below for all the big moments from The Boys episodes five through eight.
Jump to: Episode 5 // Episode 6 // Episode 7 // Episode 8
Episode 5 – "The Last Time to Look on This World of Lies"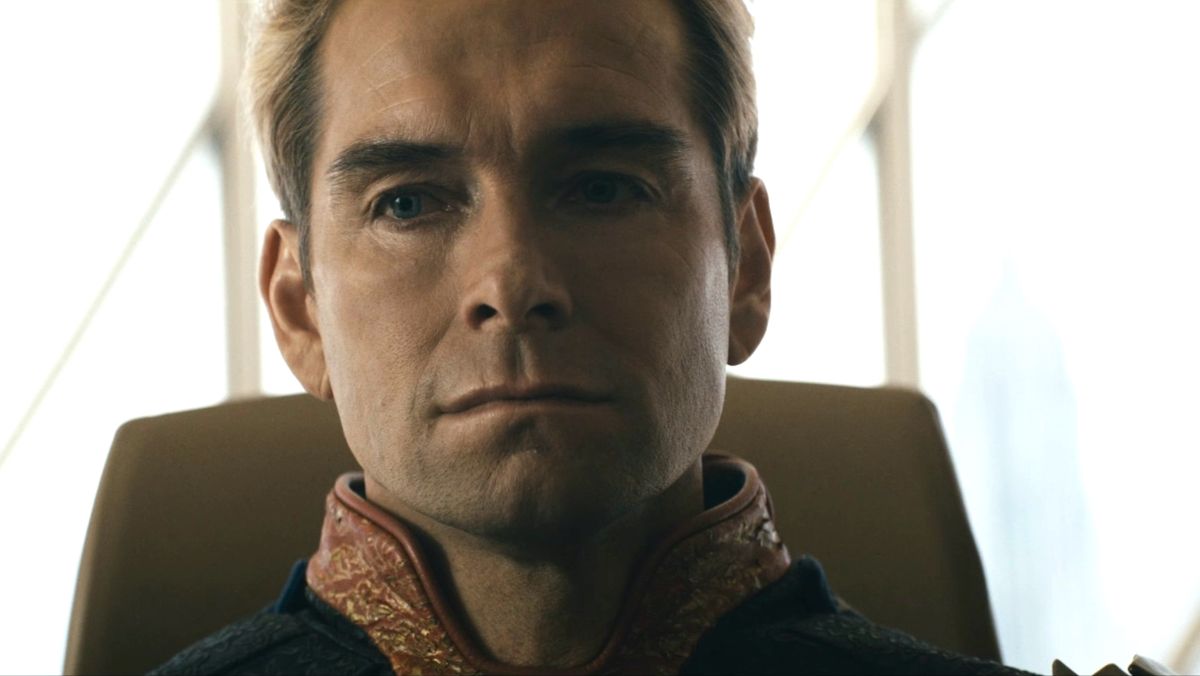 Homelander's Very Bad Board Meeting
Homelander leads his first board meeting, and it predictably goes very wrong due to his fragile ego. He treats one woman, Maureen, terribly for simply asking a question about numbers for the earnings call because he feels threatened. Like Stan warned, he knows nothing and will screw this up. And this idiot put Deep in charge of crime analytics. Just bad all around.
Maeve and Butcher's Late Night Romp
Butcher continues to break his supe-hating boundaries by having sex with Maeve. He's in a very interesting place right now, saying he wants all supes (good and bad) to die yet clearly having feelings for Maeve and continuing to use temporary powers to his advantage.
Kimiko Loses Her Powers
She's overjoyed to be rid of the powers that she never asked for, hoping to live a normal life. And it seems she wants to live it with Frenchie after she kisses him. This leads into the musical moment that the show has been teasing on social media for a while…and I love it.
Blue Hawk's "Supe Lives Matter" Moment
He is the epitome of a person wielding power over people he fundamentally hates. Blue Hawk says he isn't racist yet that's what he is, and he proves it at the apology meeting A-Train sets up in his predominantly Black community. He makes jokes about being "canceled," and his apology turns into a disaster when he's rightfully called out for being terrible. Oh, and he says "Supe Lives Matter" and calls them ingrates. Blue Hawk seriously injures several people right in front of A-Train, truly angering him and showing him how awful things are from a non-selfish perspective. His brother Nate ends up seriously injured as a result, paralyzing him.
Welcome to the City, Soldier Boy
Oh my. Soldier Boy makes it back to the city somehow and hears a song on the radio that triggers him. He has a flashback and, just like we saw in the last episode, bright light shoots from his chest. But this time, it's bigger and takes down an entire city block. Good times.
Homelander Fighting Cancel Culture…and People Like It
Well, doesn't this sound familiar. A white guy gets on TV as though he is being oppressed in some way when he's the culprit of mess. It causes a rift between MM and his ex-wife's new boyfriend—who is a white man—because he's buying into it and encouraging his daughter to watch. Big yikes all around.
Everything About The Legend
He's wild as hell. The Legend, The Boys' Stan Lee parody, casually offers Hughie cocaine in the middle of conversation, is a friend of Soldier Boy, and admits to hating his kids. And apparently, Butcher led to him losing his leg. But he does have the information that helps get them one step closer to catching up with Soldier Boy.
Maeve Calls Homelander Out…and Gets Kidnapped
Calling him a paranoid malignant narcissist is a spot-on observation. But, of course, he knows that she's been involved with Butcher (in more ways than one). And he sends in people to cart her off to who knows where. The plot thickens.
Kimiko's Dance Break
It is so pure. She imagines her life with her man, Frenchie, music, and a fun dance number in the hospital. This lighthearted and wacky moment is the best, feeling both in line with and completely out of place during this dark season. But it's only fleeting with Frenchie leaving her room confused and not returning after Nina nabs him. Poor Miko is alone.
Crimson Countess and Sir Cums-A-Lot 779
Crimson Countess has an interesting second job doing sex work on a live feed. She's got some beads to stick, well, you know where on camera while a customer (played by Seth Rogen) is doing his own thing. His session of pleasure gets stalled when Butcher, Hughie, and MM break in and disturb the moment. Very awkward. Also, $19.50 a minute is a pretty good rate.
Butcher Betrays MM for Soldier Boy
We knew Butcher wasn't simply trying to help MM take down Soldier Boy. He disables MM and offers Crimson Countess (who betrayed Soldier Boy) to the recently reactivated hero. This is in exchange for Soldier Boy helping him and Hughie with killing Homelander. This sets up an even greater divide with Hughie and Butcher teaming up with Soldier Boy while MM and Starlight are hurt and betrayed.
Episode 6 – "Herogasm"
"Imagine" Once Again
The Deep has some…not so deep things to say about the state of the world. And, he brings together celebrities and fellow Seven members alike to cure the ailments of society by singing a song together. Off key. For no reason. Their video is an obvious parody of that terrible "Imagine" celebrity sing-along during the beginning stages of COVID. The clip includes a few celebrity faces like Ashton Kutcher, Mila Kunis, Kumail Nanjiani, and more.
Noir's Great Escape
Noir finds out that Soldier Boy is back and he quickly skips town. As we saw, Soldier Boy is set on finding and killing his ex-comrades, so Noir leaving is understandable. The wild part is him ripping a tracking device out of his arm and then tossing it to a lady in the elevator. We cannot imagine why people work at Vought.
Ashley's A-Train Meltdown
Ashley is not a very good person. But she does make some points when she loses it on A-Train. He's understandably upset about his brother and wants something to be done. Ashley quickly reminds him of the death and carnage he's left behind for her to clean up while he hit the party scene. She rightly says A-Train's never cared about the Black community nor getting hurt until it hit close to home. And, uh, she also rips out another chunk of her hair.
Homelander's Mirror Conversation
Homelander's continuous unraveling is something to behold. But, for one moment, we get to see a part of him that's actually human. He has a convo with the "evil" part of himself, who chastises him for being weak and desiring love. Homelander admits that Stan Edgar was right about him not being ready to lead Vought and his deeply insecure nature. This doesn't atone his great villany but it's a wild scene to watch.
Soldier Boy's Bill Cosby Admission
Soldier Boy missed out on so much. He still thinks Bill Cosby is "America's dad" and even admits to hanging out with him. He says Bill knew how to pour a "strong drink." There are no further words to say about this…
Herogasm
This is the big WTF moment of this episode and season. Everyone ends up descending on the twins' house during the 70th annual Herogasm. The "event" is rather disturbing with a mix of super beings and sex workers being subject to the former's twisted desires. Of course, Soldier Boy founded it and Frenchie wants to see it in person but doesn't get the chance. There's so much going on here that it's hard to concentrate on the plot development. The Deep gets oral sex from an octopus, the man with the very long penis, butts, and body part abound. Poor MM inadvertently gets into the mix Love Sausage's…love sausage nearly touching him, a man brushing body fluid on him, and getting sprayed with ejaculate.
Kimiko's Bloody Escape
Kimiko once again shows off how great she is with an escape. She doesn't even have her powers but she manages to help both her and Frenchie get away from Nina and company. We wish them nothing but love and happiness by the end of this season.
A-Train's Revenge
A-Train exacts revenge against Blue Hawk. He finds him at Herogasm after the explosion by Soldier Boy and drags him face down along the road. The speedster does this despite warnings that his heart could explode. We see him collapse afterward and are left to wonder what will happen to A-Train.
Episode 7 – "Here Comes A Candle to Light You to Bed"
Soldier Boy Loves Cleaning Ladies
While Butcher and Hughie try to get some information from The Legend, Solider Boy is busy entertaining the cleaning crew. And by that, we mean a self-pleasure session for three. He says they are "delicious but dry" and…yeah. Don't make eye contact, Hughie.
Homelander Wants Maeve's Eggs
Homelander is holding Maeve hostage in a concrete room. He reveals that he wants to have superhero offspring and will harvest her eggs to do so. This is disturbing and eerie, even for him.
Soldier Boy Maimed Noir
We finally get the full backstory of what happened during that attack. Soldier Boy was predictably terrible to all the members of The Payback. Soldier Boy beat Noir terribly for wanting an acting career and later maimed him while the Payback were trying to subdue him. Terrible.
Butcher's Sordid Past
We discover more about Butcher than we've ever known before after he ends up under Mindstorm's spell. He left his brother with his abusive father and did not return, leading his brother to die by suicide from desperation. It's even clearer why Butcher's latched onto Hughie now.
The Deep's Open Bedroom
Welp, it looks like the Deep will be swimming solo. He is in bed with his wife Cassandra and wants to, uh, spice things up by bringing someone else in. She's down for it… until she realizes that it is an octopus. Watching him being… sucked by one is enough to make her leave him behind. We know that Cassandra is the brains of their relationship so things will go downhill for him soon.
A Nun and a Priest Attack
Hughie is ready to help a nun and a priest whose vehicle appears disabled by the road. He is aghast when Soldier Boy is ready to kill them because they are probably under Mindstorm's influence. And he's right, which Hughie realizes when the woman tries to take a bite out of him. Soldier Boys shoots both of them and is like "ehhh moving on."
Homelander's Got Milk
Homelander milks a cow to calm himself and then drinks the milk. Straight up out of the tin. No pasteurization or anything. What's wrong with this man?
A-Train's Gotta New Heart
A-Train didn't die. But he might wish he did. Ashley reveals that Blue Hawk's heart is in A-Train's body and he will get back to work ASAP. He's confused and shocked as Ashley suggests he do a movie that leans into some horrible stereotypes. Yikes.
Starlight's Gotcha Moment
We love when Homelander gets outsmarted. And Starlight is staying two steps ahead of him this season. She sneakily gets him to admit several of his crimes via her live page and escapes with Kimiko's Compound V. It's a shocker because honestly, he should have seen it coming.
MM Finally Punches Todd
Todd's been under our skin all season long. He's the classic case of a white guy who will date a Black woman yet buy into bigoted rhetoric. MM reaches a breaking point with him after discovering Todd took his daughter to a Homelander rally. Not only is Homelander very bad but, with Soldier Boy on the loose, she could have been hurt. He punches Todd to the ground and it's what he deserves.
Compound V24 Is Fatal?!
Oh sh*t. We knew that Compound V24 would have some consequences. Starlight reveals that after a few doses it become fatal, which isn't good for Hughie and Butcher. Of course, Butcher chooses to withhold this from Hughie and says they need more. Smh.
Solider Boy and Homelander Are Father and Son?!
Insert record scratch here. What the f*ck?! Soldier Boy drops this big news on Homelander and we are aghast. What does this mean for the future? Check out what Eric Kripke tells us.
Episode 8 – "The Instant White-Hot Wild"
Ryan Goes with Homelander
The entire exchange is intense. But honestly we cannot be mad at Ryan. He is a kid seeking parental love, even more so after Butcher seemingly rejected him. Homelander speaks to this and Ryan leaves with him, which will certainly set off a chain of very bad things in season four.
Starlight Supporters vs. Homelander Lovers
Things are spiraling out of control with the humans of this universe. They are divided between the two supes, leading to some fighting and eventually a person dying at the hands of Homelander. (More on that later.)
A-Train Is All Alone
A-Train goes to visit his brother and gets the biggest gut punch of his life. He's rejected for being a sellout (true) and his actions leading to his brother becoming paralyzed (true). Sure, A-Train is not a good person but we might have felt slight sympathy for him for a second. Just one second.
Homelander Kills Noir
Poor Noir. Out of the many terrible things Homelander does in just this episode alone, this one stings. He kills ole boy because he's salty about his secret dad. Shameful.
The Cringe Shaming of Ashley
Sure, Homelander is terrible to the Deep and A-Train during his "I care nothing about you all for real" meeting. But the way he forces Ashley to show her hair loss for no reason is plain cruel. She's not a great person but that's still so uncalled for.
Soldier Boy Rejects Homelander and Ryan
Homelander pulls up to the big Vought Tower battle with what he thinks is a secret weapon: Ryan. He gives a heartfelt spiel to Father Soldier Boy about how they can be one big evil family. For a moment, everyone else is hella nervous that they will team up and become a super killer duo. But they shouldn't have been. Soldier Boy loves no one and he berates Homelander for being weak. It's both dark and hilarious.
Maeve's Big Sacrifice
Maeve spares everyone's life by pouncing on Soldier Boy and flying with him out of the window. Of course, she doesn't die from the big explosion due to her powers. But that's the last time those powers will protect her. Like Kimiko, Maeve loses her powers. But she doesn't want them back, electing to "die" publicly so she can go have a happy life with her girlfriend. We love to see it.
Homelander Kills a Protestor
This is no good, very bad indeed. Not only does Homelander live to evil another day, he's got Ryan in tow with him. He introduces a group of supporters (using that word loosely) to Ryan and one Starlight fan throws a drink at Ryan. Of course, that's an idiotic thing to do to any kid. But to a kid of a man who has super powers and kills people? Yeahhhh. Homelander lasered his head off and the crowd cheered for it. Season four will be a f***king mess.
Well, there you have it. So many shocking, wild, and WTF The Boys moments went down in season three. We cannot wait to see how they up the ante in season four.