Looks like we're getting a sneak peek at Guillermo del Toro's Scary Stories to Tell in the Dark this weekend. Lionsgate and CBS Films announced that the film adaptation of the truly terrifying children's book will hit theaters August 9, 2019.
But that's not all! along with the tease, "This Sunday will be scary," we got our first look at the poster and it is…. bone-chilling.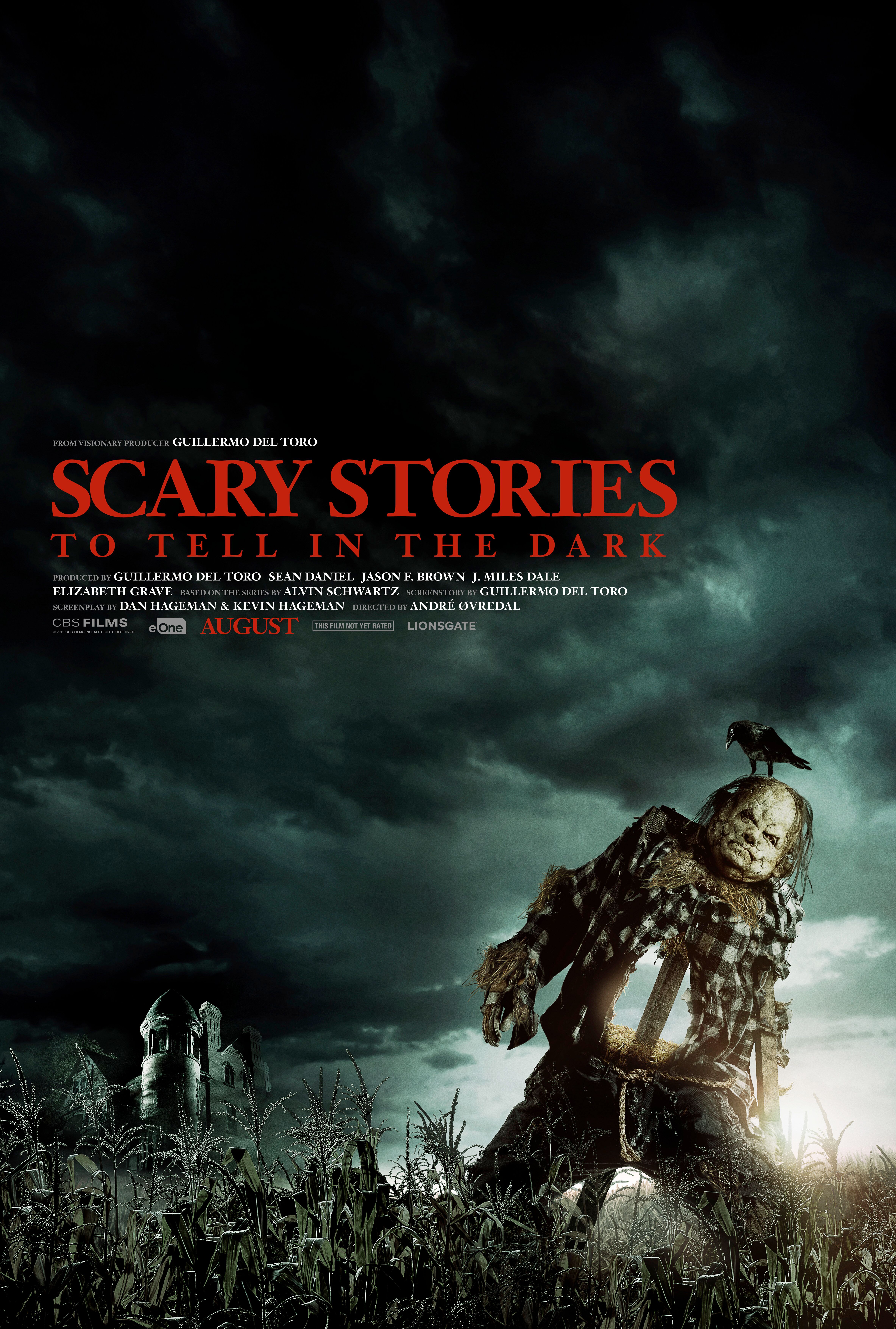 Nononononononooooo!! There are so many horrible levels to this image, and all of them are sending us back in time to reading the original urban legends and having nightmares about those cursed illustrations.
So not only will we be seeing something from this movie on Super Bowl Sunday, we also know that the film will at the very least double down on the look and feel of the books. Lionsgate also released a synopsis.
Inspired by one of the most terrifying children's book series of all time, SCARY STORIES TO TELL IN THE DARK follows a group of young teens who must solve the mystery surrounding sudden and macabre deaths in their small town.
If you're thinking about rereading the books before the movie, we've got just the show for you! Join Maude Garrett, Amy Vorpahl, and Rachel Heine for a spooky ladies night episode of Alpha Book Club, where we revisit our childhood fears, tell ghost stories, and try to explain to our lovely Australian c0-host why we loved these books so much.
[mpx_video type="alpha" guid="_k6ZhzJSJcrWD66Npva12BUuW3olPu6u"]
Original Report
This may not be the best news for you if you were scarred for life after borrowing Scary Stories to Tell in the Dark from your elementary school library–seriously, why was it there in the first place?! But if you loved being scared out of your mind as you read about the girl with the green ribbon, the hook-handed killer, that massive rat a couple adopted thinking it was a chihuahua, and other spooktacular characters, then you'll be thrilled to hear more about the forthcoming film adaptation–which started filming on Monday.
Roll'em!
First day of shooting on #scarystoriestotellinthedark from @RealGDT pic.twitter.com/ThJVdmGVti

— Gary Deocampo (@gdeo) August 27, 2018
Helmed by André Øvredal, who previously directed Trollhunter and The Autopsy of Jane Doe, Scary Stories to Tell in the Dark will follow a group of teens as they seek to find the cause of a series of horrifying deaths. As was announced earlier, Guillermo del Toro is producing the movie and cowriting its screenplay. He and the crew will draw inspiration from all three books in the series.
[mpx_video type="editorial" guid="30841bde4c09587a533bd809007d39c2ad5b596f"]
The announced cast list includes Austin Abrams of The Walking Dead, Wayward Pines' Michael Garza, Gabriel Rush (a Wes Anderson favorite), Austin Zajur, and Natalie Ganzhorn. Zoe Colletti's casting was previously publicized, so we're looking at a squad of six teens. That's only one fewer than IT, and with a higher percentage of girls, so thumbs up there. According to Øvredal, the cast will "help [us] realize the most terrifying adaptation that we could conceive." This is something I'm not going to say no to.
Production begins on the movie this week, and there's no set U.S. release date yet. Fingers crossed we'll get it in time for next Halloween.
Which stories are you hoping will pop up in the movie? Let us know in the comments!
Images: HarperCollins