Tiffany & Co.'s new collaboration with Pokémon gives a whole new meaning to the idea of "shiny Pokémon." Sure, we all love a shiny version of our favorite Pokémon. Maybe they're pink and not blue this time, or maybe they have a cool new look. But Tiffany's shiny Pikachu (and friends) take things to a much different level, a diamond, silver, and gold level. And we're not just talking about the game versions here. We're talking about Tiffany Pokémon necklaces that collectively cost nearly $20,000 and individually are a pretty penny as well. In case you have a little bit of spare cash lying around to catch 'em all, Tiffany's Pokémon collection is now open. But like the best rare catches and events, it will only be here for a short time and its timer is already ticking down. Let's take a closer look at these wild Pokémon jewelry creations.
The Tiffany & Arsham Studio & Pokémon Capsule Collection
The full name of this collection is actually The Tiffany & Arsham Studio & Pokémon Capsule Collection. The Pokéjewels come courtesy of contemporary artist, Daniel Arsham. They actually have a pretty cool vision behind them. A release shares that the Tiffany x Pokémon collection is "designed in Arsham's 'Future Relics' aesthetic, where he reimagines everyday objects as archaeological discoveries from an imagined future. The collection is inspired by Arsham's exhibition in Japan, A Ripple in Time, which features a variety of Pokémon works of art meant to evoke the passage of time." That's quite a story for these jewels to tell.
What Is Available to Buy in This Collection?
The jewelry collection highlights six Pokémon: Pikachu, Charmander, Squirtle, Jigglypuff, Cubone, and Mew. We feel this makes for an interesting array of choices—Cubone especially doesn't always feature as a series mascot. But he sure looks nice in silver and diamond. Mew, hands down, would be my choice to feature if I got to wear expensive Pokémon jewelry from Tiffany & Co.
In all, the Tiffany & Arsham Studio & Pokémon Capsule Collection features three styles of jewelry. A release notes, "There are pendants with one Pokémon each and a station necklace with six Pokémon, all crafted in oxidized sterling silver with diamond accents. Additionally, a Pikachu pendant in 18k yellow gold with diamonds is offered in a small size." Excitingly, if you venture to get the 18k Yellow Gold with Diamonds Pikachu pendant (the most expensive available item), then you will also receive a Poké Ball in Tiffany Blue.
What Does The Tiffany Pikachu Pendant and Other Pokémon Jewelry Cost?
Click To View Gallery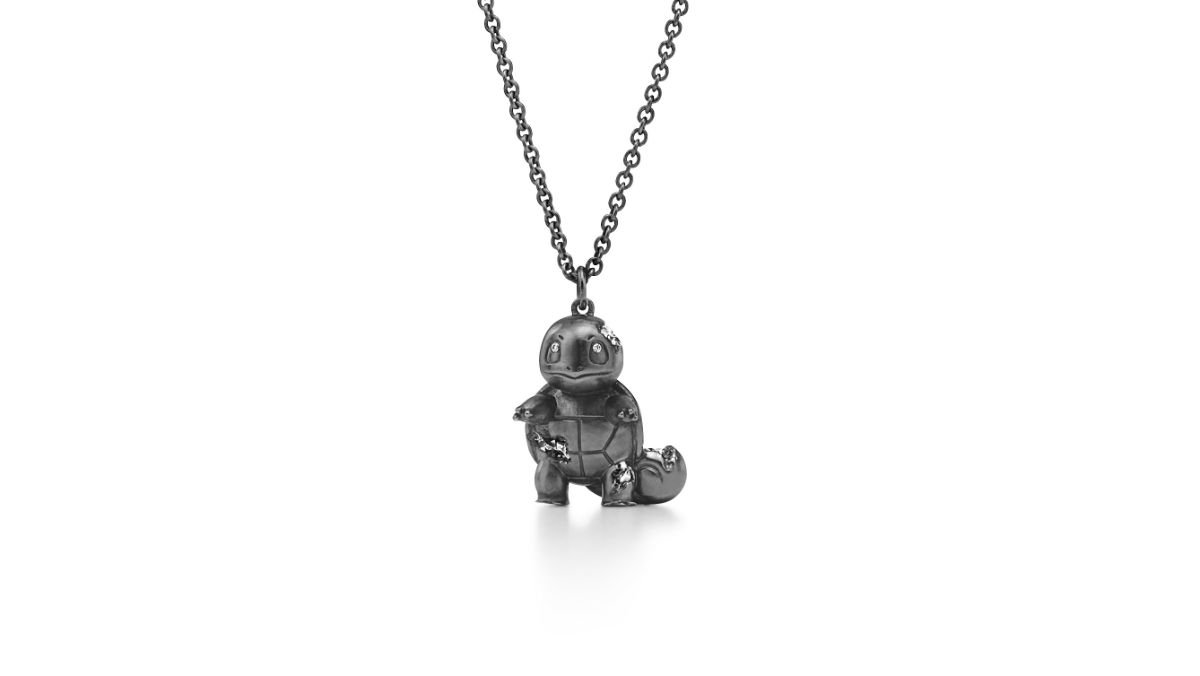 Honestly, Tiffany should just sell their Poké Balls individually. If there's one thing we know, it's that folks love a collectible Poké Ball. And that way, there might actually be an affordable item in the line-up. As it stands, here's what everything costs in this Tiffany x Pokémon collaboration. The Pikachu pendant in gold costs $9,190. The individual silver and diamond pendants cost $1,290 each. And the necklace with the full set of Tiffany Pokémon pendants cost $7,190.
Hopefully, being a Pokémon Master pays… Otherwise, we'll just stick to the normal kinds of shiny Pokémon for now. This Pokémon jewelry collection is now on sale at Tiffany & Co.'s website. We don't know if these rare catches will return a second time.