Poké Balls have always been one of the most iconic parts of the Pokémon franchise. They have represented Pokémon from its inception to the present day. One has to simply glimpse that red, white, and black ball, and they know the reference. Even if they've never played the games or watched the show. The Poké Ball is just that important in our pop-cultural world. So it's no surprise real-life trainers want to own their own real-life Poké Balls. Thus, in 2020, The Pokémon Company teamed up with British prop makers The Wand Company to produce the first-ever die-cast Poké Ball replicas. And happily, we've been getting more and more new options every year.
2023's New Poké Ball Replicas
New this year from The Wand Company will be replicas of Pokémon's Love Ball, Dive Ball, Net Ball, and the Luxury Ball. The first of these Poké Balls to release will be the Love Ball, first introduced in Pokémon Gold and Pokémon Silver. You can take a look at this gorgeous collectible below. The other three Poké Balls will follow throughout the year.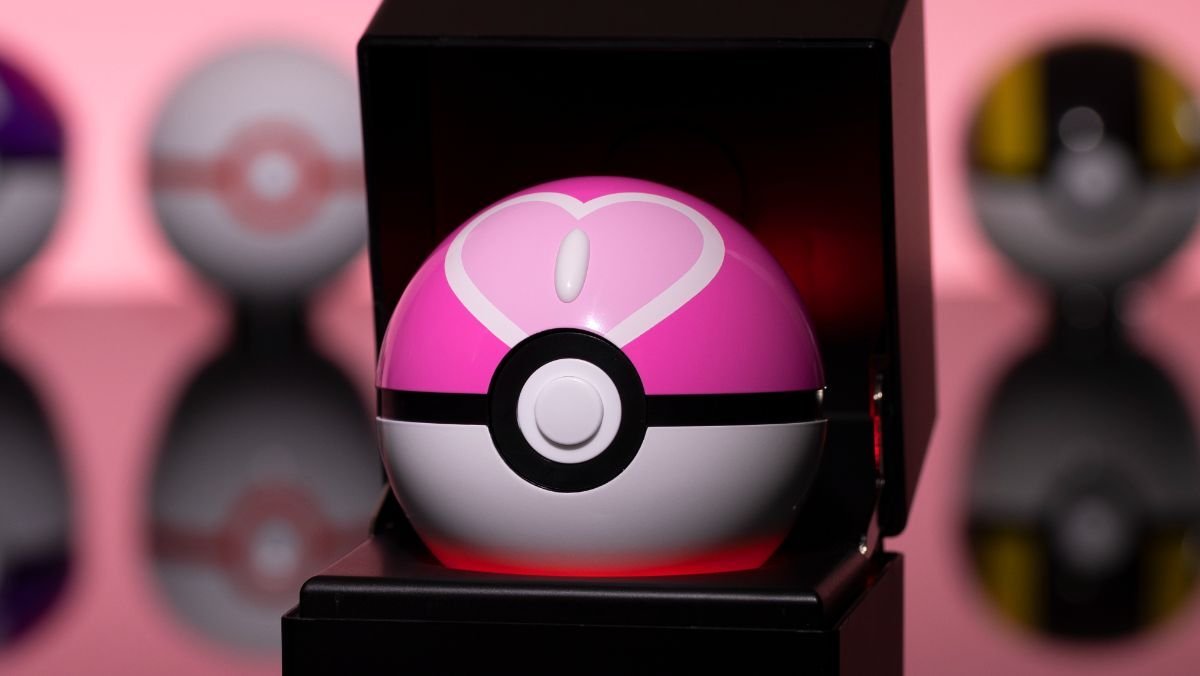 The Love Ball will be available to order for one month through The Pokémon Center store and will then become available at other retailers.
More About These Official Real-Life Poké Balls
These offical Poké Ball replicas began with just the standard red and white ball, over the last few years, The Wand Company has made ten different types of Poké Ball models available for purchase, and counting.
And these replicas, which glow when near a person's hand, do indeed look like a properly shiny curio. One that could catch everyone's attention on your shelf. The case itself also glows. Lifting the lid of the case raises the ball up for display, which is a fun, active touch. Especially considering the fact that owners, sadly, should not actually throw this Poké Ball. It probably will also not work like on Pokémon if tossed at your cat. Your cat will not shrink, like Pokémon Legends: Arceus taught us all Pokémon are able to do to fit into their Poké Ball. Instead, it will just be very unhappy.
Available Types of Poké Ball Replicas
The Wand Company has been incredibly busy. Right now, you can buy many different varieties of these Poké Ball replicas, with more coming every year. On offer as of now are real-life versions of the Master Ball, Great Ball, Ultra Ball, Dusk Ball, Premier Ball, Heal Ball, Friend Ball, Quick Ball, and Cherish Ball.
Click To View Gallery
Of course, if you want to go old-school, a replica of the original Poké Ball is always available for you to buy.
All of the other accouterments common for collectibles also come with these Poké Balls. The balls each have a unique authentication hologram, for example. As well as a stainless steel display ring. The UK-based Wand Company is most famous for the electronic Harry Potter-like wand it produced in 2009. The Wand Company's Pokémon products, while not as capable as its wand, still boast the ability to glow when in the presence of a hand. The glow—which emanates from the ball's button—also strengthens when it's actually held. Which makes it sort of like Sting from Lord of the Rings. Only instead of glowing around orcs, it does so when near humans. Useful, if you ask us.
These Poké Ball replicas can be purchased at select retailers. And typically they cost about $99.99. A hefty price, but if you love Pokémon, Koffing up the bucks feel worth it. Take a Chansey on it, we like to say.
Originally published on November 30, 2020. Additional reporting by Matthew Hart.