Crime dramas and police procedurals often feel like a dime a dozen. Insert an intriguing case, troubled protagonist, colorful and suspicious side characters, and a bleak setting and voila, there's a TV show. It's not necessarily a bad formula considering how many people gravitate towards this type of programming. However, the genre could stand to examine humanity and common horrors through an alternative lens.
Enter The Long Call, ITV's groundbreaking drama based on Ann Cleeves' mystery novel of the same name starring Ben Aldridge and Pearl Mackie. The gripping four-part drama following DI Matthew Venn's return to his small-town religious roots. He teams up with his work partner (Mackie's DS Jen Rafferty) to solve a puzzling murder. And, we were fortunate to speak with Mackie about how the show pushes boundaries, Jen's journey, and much more.
Of course, we won't give away any major spoilers for U.S. viewers who have yet to stream it on Britbox. The above trailer gives you just enough to hook you into checking it out. While Matthew is The Long Call's main character, Jen Rafferty makes for a formidable and intriguing sidekick. She's certainly miles different from Mackie's previous role as Doctor Who's beloved Bill Potts, a curious young woman prime for time and space travel.
Jen is a single mom of two fresh out of an abusive relationship with her children's father. She leaves London to head to Devon, a small (and noticeably white) area where she feels out of place. Her story is hauntingly familiar for many women. We also balance home responsibilities, grapple with personal trauma, and endure the stresses of a male-driven workplace. For example, we see Rafferty's subordinate be overtly misogynistic towards her, an issue that Mackie felt the show handled in an accurate manner.
BritBox
"Sadly, we're still in a world where this is prevalent for women," Mackie says to Nerdist. "It's the constant digs and undermining her work and her choices with DC Ross basically saying, 'I'm a man, so that means that I can do whatever I want, and that means if I want to take the piss out of you, then I totally can.' I really enjoyed it when Matthew hears it and immediately shuts it down. There was part of me when I was reading the script like, 'oh, I feel like maybe Jen should be standing up for herself,' but I think reality is if she stood up for herself at the very, very beginning, you'd kind of be like, 'I don't know how realistic that is.'"
Mackie affirms that these situations often happen and catch women off guard. Perhaps they don't feel safe or confident to respond, especially those who have been in an abusive situation like Jen. Of course, misogyny is only one of a few social ills that The Long Call tackles. Its murder mystery interweaves strict religious sects and the subjugation of women, sexual consent, and homophobia, among other things.
The latter is a crux in Matthew's story as a married gay man whose family and community ostracized him years prior. The British series breaks ground as the first one to feature a gay male detective as its lead. Breaking outside of the hetero TV norms is nothing new for Pearl Mackie. She made history on Doctor Who as the first openly gay companion and feels fortunate to be a part of two major TV shifts.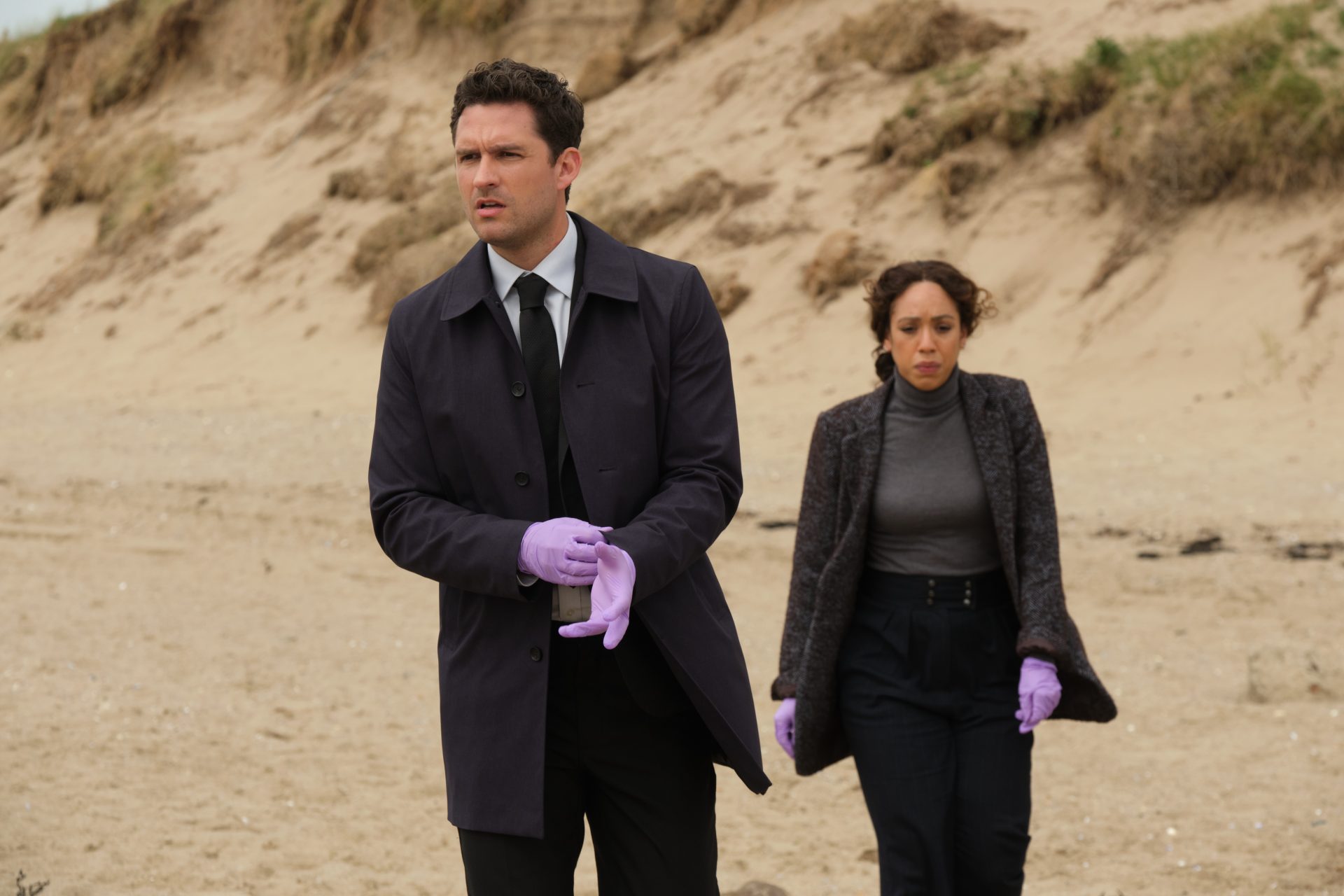 BritBox
"It's quite amazing," gushes Mackie with a smile. "Especially as a member of the LGBTQ+ community myself. I recently came out as bisexual in 2020. I feel like it's so important to show queer stories in a way that is truthful, nuanced, and human and I think the representation is just key anyway. For me as a young Black woman, when I was growing up, there was no one on TV who looked like me, but also, now as a queer person, to be part of these stories that people can see and relate to and recognize their own experiences is great…I think it's the job of shows like Doctor Who particularly, to reflect the world and the changing times, and I think the fact that ITV and BritBox are doing that with The Long Call is brilliant."
As far as we know, The Long Call's story is complete. But if the series were to return and carve its own path beyond the source material, Pearl Mackie would be happy to see more expansion to Jen's story. There's certainly a lot more to uncover, from her relationship with her children to her unique perspective as a Black woman detective whose past fuels her desire to help others. In the series, Jen often hints at feeling othered but there's not a lot of exploration into this.
For now, Mackie is currently filming the period drama Tom Jones where she portrays a maid who, like her, is of mixed race. As expected, she couldn't reveal many details; however, she did open up about what she might do in the future if she transitions behind the camera.
"There's a lot of stories about inner city London that portrays many elements of it that I understand and recognize, but I think there's a lot of stuff within those elements, particularly in Black stories that are very violent and very extreme," Mackie affirms. "There's a place for [shows like] Top Boy because it's great and quite groundbreaking in terms of people's view of Britain, but I think there's room for other Black stories. There can be shows where we just get to exist casually."
She gets into the nitty gritty of what she wants to see, saying, "I'd like to tell stories about being Black and being bisexual because that's quite misrepresented in the world, particularly in television and there's a lot of stereotypes that we need to break. TV and film is a good way to do that. If we are trying to break away from stereotypes and tell stories about our own experiences, then often we are the best people to tell them because we have lived them. I would like to do some writing or directing at some point in my career, but I'm focusing on acting at the moment to get a bit more experience and gather more knowledge."
In the meantime, catch Pearl Mackie's brilliant performance as Jen Rafferty on The Long Call, currently streaming on BritBox.