Good news! You don't have to light the beacons of Gondor to get news across the kingdom anymore. Instead, you can use a Lord of the Rings stamp to send a message… If you're in New Zealand anyway. But you may want to buy some anyway, just to look at them. In news we first saw on GameSpot, NZ Post has released a brand new set of commemorative Lord of the Rings stamps. And these Lord of the Rings stamps are truly nothing short of breathtaking.
NZ Post
NZ Post Head of Stamps and Collectables Antony Harris shares that these stamps come in celebration of The Lord of the Rings: The Fellowship of the Ring's 20th anniversary. He adds that 2001's original run of The Lord of the Rings stamps proved to be immensely popular. This inspired NZ Post to circle back to the idea. Artists Sacha Lees, who worked on the films and on the original stamps, created the designs.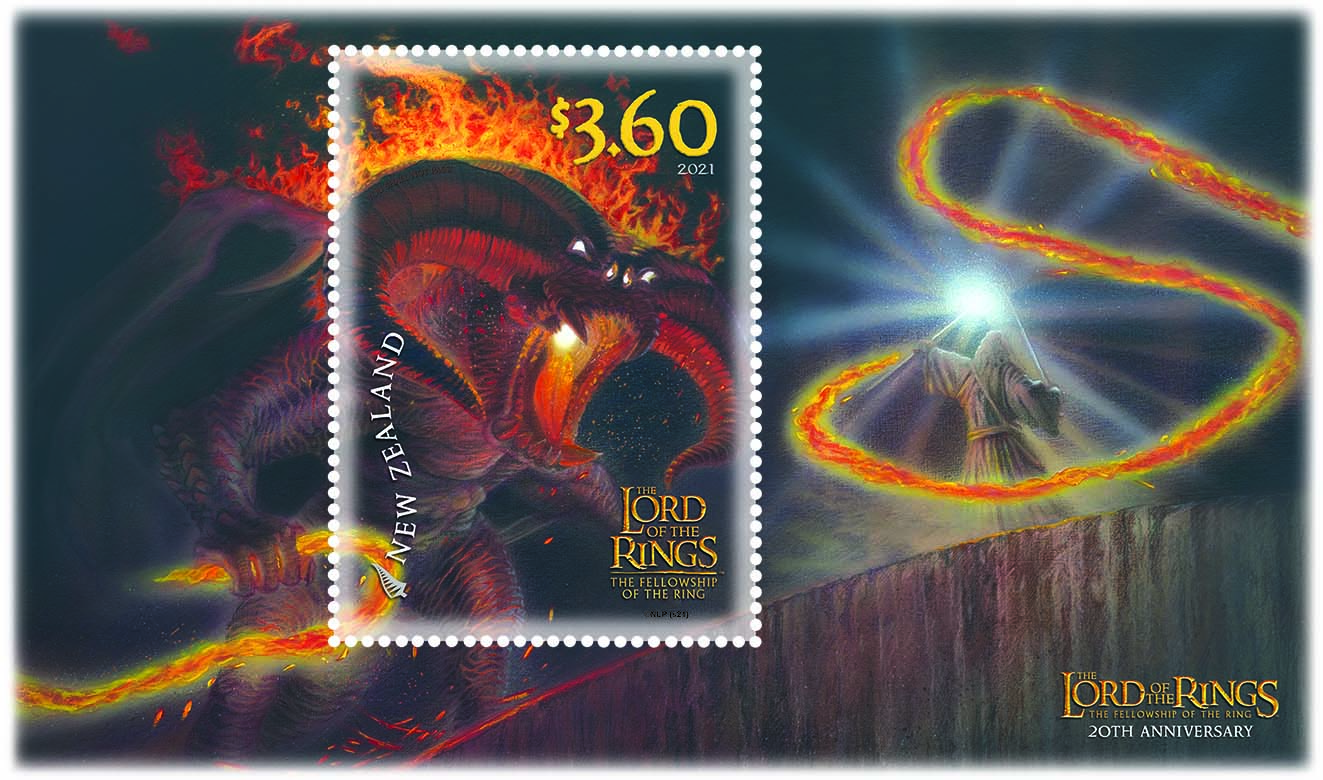 NZ Post
Harris shares:
Sacha has hand painted the stamp artwork, which depict favourite characters and scenes from The Fellowship of the Ring, such as Gandalf in Hobbiton, the hobbits in the Prancing Pony and Arwen rescuing Frodo, and epic scenes such as Gandalf's battle with the Balrog and the Fellowship canoeing through the Gates of Argonath.
These scenes jump off the page, or rather, the stamp. Each one of them exquisitely captures a moment from the first Lord of the Rings film. Beyond that, they successfully evoke the sense of adventure and emotion that is at the heart of the franchise. These Lord of the Rings stamps bring the viewer right into the story. We can sense the fear the hobbits face as the Nazgul looms over them. The quiet peace of the shire jumps right out at us. And the Gates of Argonath leave our mouths hanging open. Not bad for a set of stamps! Much like hobbits, they may seem unassuming, but they can really pack a punch!
NZ Post
In making these Lord of the Rings stamps, New Zealand Post also honors the impact the movies have had on the country. Harris shares, "These stamps acknowledge that this iconic film is now a significant component of New Zealand history, culture, and identity." A truly lovely homage. These stamps are now available. More collectibles, such as legal tender coins, are set to release between October and December.
For those curious, here are the original Lord of the Rings stamps. The current run of Lord of the Rings stamps, sheets, first-day covers, and more are available on NZ Posts' website.
As we look forward to Amazon's new Lord of the Rings series, it's incredible to look back at the legacy of the franchise.