As usual, we will touch on a plot detail or two below, which means you are officially entering spoiler territory. You've been warned, friends.
THE QUESTION: THE DEATHS OF VIC SAGE #1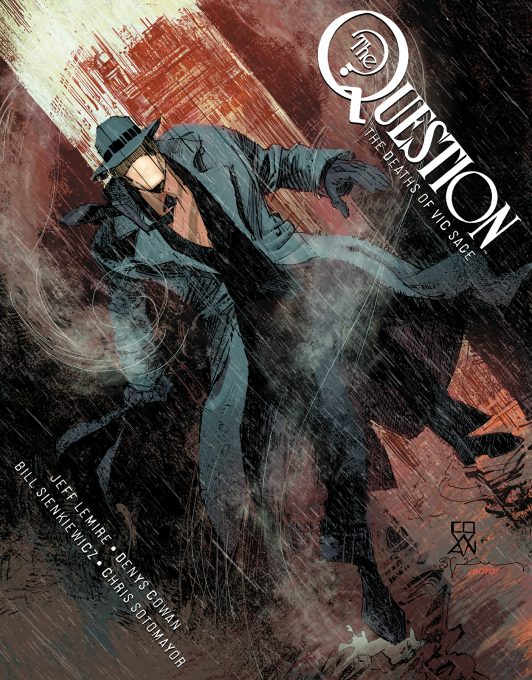 DC Comics
Written By: Jeff Lemire
Art By: Denys Cowan and Bill Sienkiewicz
Colors By: Christ Sotomayor
Letters By: Willie Schubert
This is the sort of series that you jump into based solely on the cover. It's about the Question. Check. It's written by Jeff Lemire. Check. With art from Denys Cowan and Bill freaking Sienkiewicz. Check and holy crap check. This thing is an instant buy, obviously. You've already bought a copy at this point and you are holding this beauty in your hands and marveling at the unique design and awesome artwork. It's gorgeous and the fact that Denys Cowan is doing a Question series is something that literally everybody should be excited about. Jeff Lemire crafts a twisted and dark tale that will mess with your head in all the best ways. The Question: The Deaths of Vic Sage is a trip that reads both like a throwback to a classic era of DC Comics and a big step forward into a strange new frontier. It's a brand new flavor of cake with a thick layer of nostalgia frosting.
OLYMPIA #1
Image Comics
Written By: Tony Pires and Curt Pires
Art By: Alex Diotto
Colors By: Dee Cunniffe
Letters By: Micah Myers
Olympia is a bold, striking, and sincere love letter to the comic book medium. Curt Pires developed the story for this series with his father, the late Tony Pires, and the book is as much a tribute to Tony as it is to comic masters like Jack Kirby. Structurally, Olympia is a comic book within a comic book, which makes for some delightfully meta moments. The story follows Elon, a kid who avoids his complicated life by retreating into the world of comic books. His favorite is a series called Olympia, a Fourth-World-inspired cosmic adventure series that stars a superhero god who also happens to magically appear in the real world right in front of Elon. There's a whole host of bad guys chasing the cosmic Olympian down, which leads to some epic action and a startling cliffhanger. It's fun, weird, and heartfelt stuff that you can't help but love.
Alex Dotto and Dee Cunniffe produce some stunning pages in this issue, from the opening pages that are overflowing with energy and Kirby Krackle to the details of Elon's life as a troubled kid who doesn't feel like he belongs anywhere. Olympia is wonderfully told, impeccably paced, and uniquely beautiful. Don't skip out on this series, folks.
HEARTBEAT #1
BOOM! Studios
Written By: Maria Llovett
Art By: Maria Llovett
Colors By: Maria Llovett
Letters By: Andworld Design
Maria Llovett caught a lot of folk's attention with Faithless, the dark erotic series she did with Brain Azzarello. Every bit of praise heaped on her work in that book was absolutely deserved; it was clear that she is a singular talent with a fluid and sexy style that is in a class all its own. Her new series, Heartbeat—which she writes, illustrates, and colors—is nothing short of a masterpiece. It's haunting and poetic while still feeling deeply personal a human. No plot description or summary could possibly do this comic justice, you simply have to see it and experience it. There's graceful energy on the pages of Heartbeat that draws you in and won't let go. It's spellbinding stuff and proof that Maria Llovet is one of the most important creators in the comic book world right now.
ABSOLUTE CARNAGE #5
Marvel Comics
Written By: Donny Cates
Art By: Ryan Stegman with JP Mayer and Jay Leisten
Colors By: Frank Martin
Letters By: VC's Clayton Cowles
Donny Cates and Ryan Stegman are not pulling any punches with the finale of Absolute Carnage. This has been the most gnarly and visceral event series Marvel has ever produced and that's exactly what we love about it. Cates' prowess as a superhero writer is on full display here, as he juggles the larger Marvel Universe while still keeping the story focused in the world of Venom and Carnage. Stegman was born to draw this book, there's no doubt about it. His art oozes and drips with awesomeness and the book feels like it is constantly in motion. We won't spoil this issue here, but it's safe to say that Cates and Stegman stick the landing with this one and we sincerely hope these two keep pumping out awesome Marvel books together. More carnage, please.
Okay, kiddos, that's it for us this week! Sound off in the comments on your favorite comics hitting shelves!
Featured Image: DC Comics
 PREMIER PUBLISHERS

BOOM! STUDIOS

JUL191338	EMPTY MAN TP MANIFESTATION (C: 0-1-2)	$14.99
SEP191278	FIREFLY #11 CVR A MAIN GARBETT	$3.99
SEP191279	FIREFLY #11 CVR B PREORDER QUINONES VAR	$3.99
SEP198457	FIREFLY #11 FOC SLINEY VAR	$3.99
JUL191342	GRASS KINGS TP VOL 02 (C: 0-1-2)	$17.99
SEP191265	HEARTBEAT #1 (OF 5) CVR A LLOVET (MR)	$3.99
SEP198459	HEARTBEAT #1 (OF 5) FOC ANDOLFO VAR (MR)	$3.99
JUL191324	LUMBERJANES ORIGINAL GN VOL 02 SHAPE FRIENDSHIP (C: 0-1-2)	$14.99
SEP198461	ONCE & FUTURE #3 (OF 6) (2ND PTG)	$3.99
SEP191281	ONCE & FUTURE #4 (OF 6)	$3.99
SEP191292	SOMETHING IS KILLING CHILDREN #3	$3.99
SEP198462	SOMETHING IS KILLING CHILDREN #3 FOC MARTIN VAR	$3.99
SEP191308	STEVEN UNIVERSE ONGOING #34 CVR A PENA (C: 1-0-0)	$3.99
SEP191309	STEVEN UNIVERSE ONGOING #34 CVR B PREORDER CHAU VAR (C: 1-0-	$3.99

DARK HORSE COMICS

JUL190374	ART OF BRAVELY SECOND END LAYER HC (C: 0-1-2)	$39.99
JUL190347	ART OF STAR WARS JEDI FALLEN ORDER HC (C: 0-1-2)	$39.99
SEP190281	COUNT CROWLEY RELUCTANT MONSTER HUNTER #2 (OF 4)	$3.99
JUL190413	DISNEY FROZEN HERO WITHIN TP (C: 1-1-2)	$10.99
SEP190313	DISNEY FROZEN TRUE TREASURE #1 (OF 3) CVR A KAWAII STUDIO (C	$3.99
SEP190314	DISNEY FROZEN TRUE TREASURE #1 (OF 3) CVR B RENIERI (C: 1-0-	$3.99
JUL190414	DISNEY SNOW WHITE AND SEVEN DWARFS TP (C: 1-1-2)	$12.99
MAY190257	DISSIDENT X TP (C: 0-1-2)	$29.99
SEP190239	HAZEL & CHA CHA SAVE CHRISTMAS TALES UMBRELLA ACADEMY CVR A	$4.99
SEP190240	HAZEL & CHA CHA SAVE CHRISTMAS TALES UMBRELLA ACADEMY CVR B	$4.99
JUN190379	HP LOVECRAFTS AT MOUNTAINS OF MADNESS TP VOL 02 (C: 1-1-2)	$19.99
SEP190266	MASK I PLEDGE ALLEGIANCE TO THE MASK #2 (OF 4) CVR A REYNOLD	$3.99
SEP190267	MASK I PLEDGE ALLEGIANCE TO THE MASK #2 (OF 4) CVR B HARREN	$3.99
SEP190269	NEIL GAIMAN AMERICAN GODS MOMENT OF STORM #7 CVR A FABRY (MR	$3.99
SEP190270	NEIL GAIMAN AMERICAN GODS MOMENT OF STORM #7 CVR B MACK (MR)	$3.99
SEP190289	STEEPLE #3 (OF 5) CVR A ALLISON	$3.99
SEP190290	STEEPLE #3 (OF 5) CVR B ROCHE & BURCHAM	$3.99
SEP190285	STRAYED #4 (OF 5) CVR A DOE	$3.99
SEP190286	STRAYED #4 (OF 5) CVR B SCALERA	$3.99
JUL190392	USAGI YOJIMBO 35 YEARS OF COVERS HC (C: 0-1-2)	$39.99
SEP190311	WITCHER OMNIBUS TP VOL 01 (C: 0-1-2)	$24.99

DC COMICS

JUN190561	ABSOLUTE NEW FRONTIER 15 ANNIV ED HC	$99.99
AUG190643	ADVENTURES OF THE SUPER SONS TP VOL 02 LITTLE MONSTERS	$16.99
AUG190596	AQUAMAN #54 CARD STOCK VAR ED YOTV	$4.99
AUG190595	AQUAMAN #54 YOTV ACETATE	$3.99
SEP190473	BATMAN #83	$3.99
SEP190474	BATMAN #83 CARD STOCK VAR ED	$4.99
SEP190447	BATMAN GIANT #2	$4.99
AUG190604	BATMAN SUPERMAN #4 CARD STOCK VAR ED YOTV	$4.99
AUG190603	BATMAN SUPERMAN #4 YOTV ACETATE	$3.99
AUG190647	BATMAN THE 1989 MOVIE ADAPTATION HC DLX ED	$19.99
SEP190437	BATMAN WHITE KNIGHT PRESENTS VON FREEZE #1	$5.99
SEP190438	BATMAN WHITE KNIGHT PRESENTS VON FREEZE #1 VAR ED	$5.99
AUG190649	BOOKS OF MAGIC 30TH ANNIVERSARY DLX ED HC	$29.99
AUG190648	BOOKS OF MAGIC NEW EDITION TP	$19.99
APR190588	DARK KNIGHTS METAL BATMAN THE RED DEATH STATUE	$90.00
MAY190538	DC BOMBSHELLS BLACK CANARY SEPIA VAR STATUE	$125.00
AUG190650	DCEASED HC	$29.99
AUG190658	DEATH OF SUPERMAN THE WAKE TP	$16.99
SEP190528	DIAL H FOR HERO #9 (OF 12)	$3.99
SEP190535	DOLLAR COMICS LUTHOR #1	$1.00
APR190538	DOOM PATROL THE BRONZE AGE OMNIBUS HC	$125.00
SEP190490	FLASH FORWARD #3 (OF 6)	$3.99
SEP190491	FLASH FORWARD #3 (OF 6) VAR ED	$3.99
SEP190446	GREEN LANTERN #85 FACSIMILE EDITION	$3.99
SEP190454	HE MAN AND THE MASTERS OF THE MULTIVERSE #1 (OF 6)	$3.99
SEP190455	HE MAN AND THE MASTERS OF THE MULTIVERSE #1 (OF 6) VAR ED	$3.99
SEP190460	INFECTED SCARAB #1	$3.99
SEP190502	JUSTICE LEAGUE #36	$3.99
SEP190503	JUSTICE LEAGUE #36 VAR ED	$3.99
AUG190667	JUSTICE LEAGUE ODYSSEY TP VOL 02 DEATH OF THE DARK	$16.99
SEP190525	LUCIFER #14 (MR)	$3.99
SEP190510	METAL MEN #2 (OF 12)	$3.99
SEP190511	METAL MEN #2 (OF 12) VAR ED	$3.99
APR190560	NEW TEEN TITANS OMNIBUS HC VOL 04 (RES)	$99.99
AUG190624	NIGHTWING #66 CARD STOCK VAR ED YOTV	$4.99
AUG190623	NIGHTWING #66 YOTV ACETATE	$3.99
SEP190466	QUESTION THE DEATHS OF VIC SAGE #1 (OF 4) (MR)	$6.99
SEP190467	QUESTION THE DEATHS OF VIC SAGE #1 (OF 4) VAR ED (MR)	$6.99
AUG190628	SUPERGIRL #36 CARD STOCK VAR ED YOTV	$4.99
AUG190627	SUPERGIRL #36 YOTV ACETATE	$3.99
AUG190683	SUPERMAN HC VOL 02 THE UNITY SAGA THE HOUSE OF EL	$29.99
SEP190515	SUPERMANS PAL JIMMY OLSEN #5 (OF 12)	$3.99
SEP190516	SUPERMANS PAL JIMMY OLSEN #5 (OF 12) VAR ED	$3.99
AUG190632	TEEN TITANS #36 VAR ED YOTV	$3.99
AUG190631	TEEN TITANS #36 YOTV ACETATE	$3.99
SEP190538	TITANS BURNING RAGE #4 (OF 7)	$4.99
SEP190539	WONDER WOMAN COME BACK TO ME #5 (OF 6)	$4.99

DYNAMITE

SEP191080	CHASTITY #3 CVR A NODET (MR)	$3.99
SEP191081	CHASTITY #3 CVR B GARZA (MR)	$3.99
SEP191082	CHASTITY #3 CVR C MAINE (MR)	$3.99
SEP198439	VAMPIRELLA #5 CASTRO FOC BONUS VAR	$3.99
SEP191137	VAMPIRELLA #5 CVR A DODSON	$3.99
SEP191138	VAMPIRELLA #5 CVR B MARCH	$3.99
SEP191139	VAMPIRELLA #5 CVR C DALTON	$3.99
SEP191140	VAMPIRELLA #5 CVR D GUNDUZ	$3.99
SEP191141	VAMPIRELLA #5 CVR E COSPLAY	$3.99
SEP198440	VAMPIRELLA #5 HETRICK FOC BONUS VAR	$3.99

IDW PUBLISHING

MAY190666	AFTER THE SPRING HC STORY OF TUNISIAN YOUTH (C: 0-1-2)	$21.99
FEB190656	BIG HERO 6 THE SERIES #1 CVR A GURIHIRU (RES) (C: 1-0-0)	$3.99
SEP190650	CANTO #6 (OF 6) CVR A ZUCKER	$3.99
SEP190715	DISNEY COMICS AND STORIES #8 CVR A FRECCERO (C: 1-0-0)	$5.99
MAY190667	EVE STRANGER #4 (OF 5) CVR A BOND	$3.99
SEP190662	GLOW VS THE BABYFACE #1 CVR A FISH	$3.99
SEP190663	GLOW VS THE BABYFACE #1 CVR B GOUX	$3.99
NOV180698	JOE HILL THE CAPE FALLEN HC (C: 0-1-2)	$19.99
APR190626	MARVEL ACTION BLACK PANTHER #6 CVR A FLOREAN (C: 1-0-0)	$3.99
AUG190735	MY LITTLE PONY FEATS OF FRIENDSHIP #3 CVR A FLEECS (C: 1-0-0	$3.99
AUG190736	MY LITTLE PONY FEATS OF FRIENDSHIP #3 CVR B JUSTASUTA (C: 1-	$3.99
AUG190800	STAR TREK DISCOVERY AFTERMATH #3 (OF 3) CVR A HERNANDEZ	$3.99
MAY190653	SUPERMAN SILVER AGE SUNDAYS HC VOL 02 1963 - 1966 (C: 0-1-2)	$49.99
SEP190626	TMNT URBAN LEGENDS #19 CVR A FOSCO	$3.99
SEP190627	TMNT URBAN LEGENDS #19 CVR B FOSCO & LARSEN	$3.99

IMAGE COMICS

AUG190172	CROWDED #10 CVR A STEIN BRANDT & FARRELL	$3.99
AUG190173	CROWDED #10 CVR B STERLE	$3.99
SEP190057	EXCELLENCE TP VOL 01	$16.99
SEP190187	FARMHAND #11 (MR)	$3.99
SEP190037	HEART ATTACK #1 (MR)	$3.99
AUG190190	ICE CREAM MAN #16 CVR A MORAZZO & OHALLORAN (MR)	$3.99
AUG190191	ICE CREAM MAN #16 CVR B RAE (MR)	$3.99
AUG190076	KILL OR BE KILLED DLX ED HC (MR)	$49.99
AUG190079	LITTLE BIRD FIGHT FOR ELDERS HOPE HC (MR)	$29.99
SEP198325	MARKED #1 2ND PTG (MR)	$3.99
SEP190201	MARKED #2 CVR A HABERLIN & VAN DYKE (MR)	$3.99
SEP190202	MARKED #2 CVR B HABERLIN & VAN DYKE (MR)	$3.99
SEP190108	MIDDLEWEST TP BOOK 02 (MR)	$16.99
SEP190047	OLYMPIA #1 (OF 5) CVR A DIOTTO & CUNNIFFE	$3.99
SEP190048	OLYMPIA #1 (OF 5) CVR B WARD	$3.99
SEP190207	OUTER DARKNESS #12 (MR)	$3.99
SEP190073	POSTAL DELIVERANCE TP VOL 01 (MR)	$14.99
SEP190210	PRETTY VIOLENT #4 (MR)	$3.99
SEP190213	SFSX SAFE SEX #3 (MR)	$3.99
AUG190225	WEATHERMAN VOL 2 #5 CVR A FOX (MR)	$3.99
AUG190226	WEATHERMAN VOL 2 #5 CVR B ROBINSON (MR)	$3.99
AUG198093	WEATHERMAN VOL 2 #5 CVR C JOHNSON (MR)	$3.99

MARVEL COMICS

SEP190821	2099 ALPHA #1	$4.99
SEP190823	2099 ALPHA #1 A ADAMS 8-PART CONNECTING VAR	$4.99
SEP190824	2099 ALPHA #1 BOGDANOVIC VAR	$4.99
SEP190790	ABSOLUTE CARNAGE #5 (OF 5) AC	$4.99
SEP190794	ABSOLUTE CARNAGE #5 (OF 5) CHRISTOPHER ACTION FIGURE VAR AC	$4.99
SEP190799	ABSOLUTE CARNAGE #5 (OF 5) HOTZ CONNECTING VAR AC	$4.99
SEP190793	ABSOLUTE CARNAGE #5 (OF 5) LAND VAR AC	$4.99
SEP190795	ABSOLUTE CARNAGE #5 (OF 5) RON LIM VAR AC	$4.99
SEP190802	ABSOLUTE CARNAGE CAPTAIN MARVEL #1 AC	$4.99
SEP190803	ABSOLUTE CARNAGE CAPTAIN MARVEL #1 BRADSHAW CODEX VAR AC	$4.99
SEP190925	AERO #5	$3.99
SEP190859	AMAZING MARY JANE #2	$3.99
SEP198001	AMAZING SPIDER-MAN #31 2ND PTG OTTLEY VAR AC	$3.99
SEP190818	AMAZING SPIDER-MAN #34 2099	$3.99
SEP190820	AMAZING SPIDER-MAN #34 A ADAMS 8-PART CONNECTING VAR 2099	$3.99
SEP190819	AMAZING SPIDER-MAN #34 FERRY 2099 VAR 2099	$3.99
SEP191007	AMAZING SPIDER-MAN EPIC COLLECT TP COSMIC ADVENTURES NEW PTG	$39.99
SEP190786	ANNIHILATION SCOURGE ALPHA #1	$4.99
SEP190789	ANNIHILATION SCOURGE ALPHA #1 OLIVETTI VAR	$4.99
SEP190788	ANNIHILATION SCOURGE ALPHA #1 RON LIM VAR	$4.99
SEP190897	AVENGERS #26	$3.99
JUL191090	AVENGERS ENDGAME ART OF MOVIE HC SLIPCASE	$50.00
SEP190918	CAPTAIN AMERICA #16	$3.99
SEP190919	CAPTAIN AMERICA #16 YOON 2099 VAR	$3.99
SEP190911	CAPTAIN MARVEL #12	$3.99
SEP190914	CAPTAIN MARVEL #12 DODSON 2099 VAR	$3.99
SEP190913	CAPTAIN MARVEL #12 INHYUK LEE CONNECTING VAR	$3.99
SEP190946	CONAN THE BARBARIAN #11	$3.99
SEP190835	DEADPOOL #1	$4.99
SEP198002	DEADPOOL #1 BALDEON VAR	$4.99
SEP190840	DEADPOOL #1 BLANK VAR	$4.99
SEP198003	DEADPOOL #1 CHRISTOPHER VAR	$4.99
SEP190836	DEADPOOL #1 FINCH VAR	$4.99
SEP190839	DEADPOOL #1 GOMEZ MARY JANE VAR	$4.99
SEP198004	DEADPOOL #1 LAND VAR	$4.99
SEP198111	DOCTOR DOOM #1 2ND PTG LARROCA VAR	$4.99
SEP190781	EXCALIBUR #2 DX	$3.99
SEP190783	EXCALIBUR #2 MCKONE 2099 VAR DX	$3.99
SEP190831	FANTASTIC FOUR 2099 #1	$4.99
SEP190832	FANTASTIC FOUR 2099 #1 RON LIM VAR	$4.99
SEP190941	GWENPOOL STRIKES BACK #4 (OF 5)	$3.99
SEP190895	IMMORTAL HULK #27	$3.99
SEP190896	IMMORTAL HULK #27 RANEY 2099 VAR	$3.99
AUG191149	IMMORTAL HULK TP VOL 05 BREAKER OF WORLDS	$15.99
SEP191008	IRON MAN EPIC COLLECTION TP GOLDEN AVENGER NEW PTG	$39.99
SEP190991	JOURNEY STAR WARS RISE SKYWALKER ALLEGIANCE TP VOL 01	$15.99
SEP190992	JOURNEY STAR WARS RISE SKYWALKER ALLEGIANCE TP VOL 01 DM A V	$15.99
SEP190993	JOURNEY STAR WARS RISE SKYWALKER ALLEGIANCE TP VOL 01 DM B V	$15.99
SEP190994	JOURNEY STAR WARS RISE SKYWALKER ALLEGIANCE TP VOL 01 DM C V	$15.99
SEP190905	KING THOR #3 (OF 4)	$3.99
SEP190903	LOKI #5	$3.99
SEP190904	LOKI #5 NAUCK 2099 VAR	$3.99
SEP190784	MARAUDERS #2 DX	$3.99
AUG191161	POWER MAN AND IRON FIST EPIC COLLECTION TP DOOMBRINGER	$39.99
SEP190902	PUNISHER KILL KREW #5 (OF 5)	$3.99
AUG191153	PUNISHER TP VOL 03 STREET BY STREET BLOCK BY BLOCK	$15.99
SEP191009	SILVER SURFER EPIC COLLECTION TP WHEN CALLS GALACTUS NEW PTG	$39.99
SEP198294	SPIDER-MAN #2 (OF 5) 2ND PTG PICHELLI VAR	$3.99
SEP190861	SPIDER-MAN VELOCITY #4 (OF 5)	$3.99
SEP190863	SPIDER-VERSE #2 (OF 6)	$3.99
SEP190953	STAR WARS #75	$4.99
SEP190954	STAR WARS #75 CHRISTOPHER ACTION FIGURE VAR	$4.99
SEP190956	STAR WARS #75 LAND VAR	$4.99
SEP190955	STAR WARS #75 SPROUSE GREATEST MOMENTS VAR	$4.99
AUG191160	STAR WARS AGE OF RESISTANCE TP VILLAINS	$17.99
AUG191158	STAR WARS TP VOL 12 REBELS AND ROGUES	$15.99
SEP190928	STRIKEFORCE #3	$3.99
SEP190908	TONY STARK IRON MAN #18	$3.99
SEP190909	TONY STARK IRON MAN #18 KERSCHL 2099 VAR	$3.99

COMICS & GRAPHIC NOVELS

SEP191665	51HUNDRED TP (RES)	$16.99
SEP192278	ANGELS OF DEATH EPISODE 0 GN VOL 03 (C: 0-1-2)	$13.00
SEP191508	ARCHIE & FRIENDS TRAVEL #1	$2.99
SEP191494	ARCHIE MARRIED LIFE 10 YEARS LATER #4 CVR A PARENT	$3.99
SEP191495	ARCHIE MARRIED LIFE 10 YEARS LATER #4 CVR B BURCHETT	$3.99
SEP191496	ARCHIE MARRIED LIFE 10 YEARS LATER #4 CVR C TUCCI	$3.99
AUG191601	BADASS #1 CVR A	$3.99
AUG191602	BADASS #1 CVR B	$9.99
AUG192078	BATTLECATS VOL 2 #6	$3.99
SEP192247	BEASTARS GN VOL 03 (C: 1-1-2)	$12.99
SEP191838	BIG COUNTRY SC GN (MR)	$17.95
SEP192009	BLADE RUNNER 2019 TP VOL 01 WELCOME TO LOS ANGELES (MR)	$16.99
AUG192562	BLANK CANVAS SO CALLED ARTISTS JOURNEY GN VOL 03 (C: 0-1-0)	$13.99
SEP192068	BLOODSHOT (2019) #3 CVR A SHALVEY	$3.99
SEP192069	BLOODSHOT (2019) #3 CVR B JOHNSON	$3.99
SEP192070	BLOODSHOT (2019) #3 CVR C LAMING	$3.99
JUN192036	BLOODSHOT SALVATION DELUXE EDITION HC (C: 0-1-2)	$49.99
AUG191817	CAPTAIN CANUCK TP VOL 02 THE GAUNTLET (RES) (C: 0-0-1)	$16.99
AUG192008	CARMEN SAN DIEGO HC GN VOL 02 FISHY TREASURE CAPER (C: 0-1-0	$21.99
APR191362	CASPER THE FRIENDLY GHOST TP VOL 01 HAUNTED HIJINKS	$19.99
JUL191526	CAVEWOMAN APEX PREDATOR CVR A MASSEY (MR)	$3.99
JUL191527	CAVEWOMAN APEX PREDATOR CVR B MASSEY (NET) (MR)	$PI
JUL191529	CAVEWOMAN APEX PREDATOR CVR D ROOT (NET) (MR)	$PI
SEP192250	CHILDREN OF WHALES GN VOL 13 (C: 1-1-2)	$12.99
AUG191597	COOKIE & KID #4 (OF 6)	$3.99
AUG192565	CORNERED MOUSE DREAMS OF CHEESE GN VOL 01 (MR) (C: 0-1-0)	$13.99
SEP192098	CULT CLASSIC CREATURE FEATURE #2 (MR)	$3.99
SEP192096	CULT CLASSIC RETURN TO WHISPER TP (RES) (MR) (C: 0-1-2)	$17.99
AUG191847	CURSED HERMIT GN (C: 0-1-0)	$20.00
JUL191505	DARK TALES FROM VOKESVERSE 2 #1	$4.99
JUL191506	DARK TALES FROM VOKESVERSE 2 #1 LTD ED CVR	$9.99
SEP192281	DEATH MARCH PARALLEL WORLD RHAPSODY GN VOL 08 MANGA (C: 0-1-	$13.00
APR191685	DF STAR WARS AGE OF REBELLION HAN SOLO #1 SGN DODSON	$29.99
AUG191606	DOG EATERS #2	$3.99
SEP192384	DONT TOY WITH ME MISS NAGATORO GN VOL 01 (C: 0-1-0)	$12.95
SEP192107	EDISON BEAKER CREATURE SEEKER YR GN VOL 02 LOST CITY (C: 0-1	$10.99
SEP192108	EDISON BEAKER CREATURE SEEKER YR HC GN VOL 02 LOST CITY (C:	$17.99
SEP192323	FAIRY TAIL 100 YEARS QUEST GN VOL 02 (C: 1-1-0)	$10.99
SEP192282	FOR THE KID I SAW IN MY DREAMS HC VOL 03 (C: 0-1-2)	$17.00
AUG191818	FOURTH PLANET TP VOL 01 DIES IRAE (RES)	$16.99
SEP192131	GFT 2019 ARMED FORCES APPRECIATION CVR A REYES	$5.99
SEP192132	GFT 2019 ARMED FORCES APPRECIATION CVR B MCCOY	$5.99
SEP192133	GFT 2019 ARMED FORCES APPRECIATION CVR C DIPASCALE	$5.99
SEP192134	GFT 2019 ARMED FORCES APPRECIATION CVR D SALONGA	$5.99
SEP192324	GLEIPNIR GN VOL 05 (MR) (C: 1-1-0)	$12.99
AUG191515	GOON BUNCH OF OLD CRAP TP VOL 02 AN OMNIBUS	$29.99
AUG192416	HANGER MANGA GN VOL 03 (C: 0-1-2)	$12.99
SEP192361	HARUKANA RECEIVE GN VOL 05 (MR) (C: 0-1-0)	$12.99
SEP191414	HASHTAG DANGER TP VOL 01 PANIC ON DINOSAUR MOUNTAIN (MR) (C:	$17.99
SEP192284	HONOR STUDENT AT MAGIC HIGH SCHOOL GN VOL 10 (C: 1-1-2)	$13.00
SEP192326	IM STANDING ON MILLION LIVES GN VOL 04 (MR) (C: 1-1-0)	$10.99
SEP191869	INFINITY 8 #16 (MR)	$3.99
JUL192093	INVADER ZIM TP VOL 08	$19.99
SEP192285	IS WRONG PICK UP GIRLS DUNGEON FAMILIA LYU GN VOL 05 (C: 1-1	$13.00
SEP192286	KAGEROU DAZE GN VOL 13 (C: 1-1-2)	$13.00
SEP192288	KAKEGURUI TWIN GN VOL 04 (C: 0-1-2)	$15.00
SEP191370	KILLSWITCH #2 (MR)	$3.99
OCT181537	KIM AND KIM TP VOL 03 OH S#!T ITS KIM & KIM (MR)	$16.99
SEP191673	LADY DEATH RULES HC VOL 02 (MR)	$34.99
SEP191672	LADY DEATH RULES TP VOL 02 (MR)	$19.99
SEP192245	LEVIUS EST GN VOL 01 (C: 1-1-2)	$12.99
SEP191948	MACHINE GIRL #1 CVR A	$3.95
SEP192365	MAGICAL GIRL SPECIAL OPS ASUKA GN VOL 08 (MR) (C: 0-1-0)	$12.99
SEP192101	MONEY SHOT #2 (MR)	$3.99
SEP192291	MONSTER WRESTLING VOL 02 (C: 0-1-2)	$13.00
AUG191877	MOOMIN DLX HC LARS JANSSON ED SLIPCASE (RES) (C: 0-1-2)	$69.95
SEP192103	NECROMANCERS MAP #4	$3.99
SEP192248	NO GUNS LIFE GN VOL 02 (C: 1-1-2)	$12.99
SEP191661	NO ONES #6	$3.99
SEP191666	NORTHGUARD TP VOL 01 SEASON 01 AURORA DAWN (RES)	$14.99
APR191358	PELLUCIDAR TERROR AT EARTHS CORE TP	$19.99
SEP192294	PHANTOM TALES OF THE NIGHT GN VOL 02 (C: 0-1-2)	$15.00
AUG191819	PITIFUL HUMAN LIZARD TP VOL 01 FAR FROM LEGENDARY (NEW PTG)	$19.99
SEP191667	PITIFUL HUMAN LIZARD TP VOL 02 SEASON 02 STILL PATHETIC (RES	$19.99
SEP191929	POORLIER DRAWN LINES (C: 0-1-0)	$15.00
SEP192063	RAI (2019) #1 CVR A RYP	$3.99
SEP192064	RAI (2019) #1 CVR B RYP	$3.99
SEP192065	RAI (2019) #1 CVR C POLLINA	$3.99
SEP192066	RAI (2019) #1 CVR D BLANK SKETCH	$3.99
SEP192067	RAI (2019) #1 CVR E #1-10 PRE-ORDER BUNDLE	$3.99
SEP192249	RAN & GRAY WORLD GN VOL 05 (C: 1-1-2)	$14.99
AUG191826	REGIMENT TRUE STORY OF SAS GN VOL 01 (C: 1-1-0)	$15.95
SEP192257	REQUIEM OF THE ROSE KING GN VOL 11 (C: 1-1-2)	$9.99
AUG191827	RETURN TO ALDEBARAN GN VOL 01 EPISODE 1 (C: 0-1-1)	$15.95
SEP191462	RISE OF THE TYRANT VOL 01 #2 (OF 4) (C: 0-0-1)	$3.99
SEP192078	ROKU #2 (OF 4) CVR A KALVACHEV	$3.99
SEP192079	ROKU #2 (OF 4) CVR B DEKAL	$3.99
SEP192080	ROKU #2 (OF 4) CVR C CHARRETIER	$3.99
SEP191506	SABRINA TEENAGE WITCH TP VOL 01	$14.99
SEP192015	SECRET LIFE OF PETS VOL 2 #2	$3.99
SEP192331	SEVEN DEADLY SINS GN VOL 35 (C: 1-1-0)	$10.99
SEP192277	SEVEN LITTLE SONS DRAGON GN COLLECTION OF 7 STORIES (C: 0-1-	$15.00
SEP191662	SHAPES #1	$3.99
SEP191872	SHOWS END #4 (OF 5)	$3.99
SEP191886	SOME STRANGE DISTURBANCES GN (MR) (C: 0-1-0)	$9.99
JUL191604	SOULFIRE DESPAIR #1 SDCC 2012 CVR	$14.99
SEP191517	SOULFIRE VOL 8 #6 CVR A FORTE	$3.99
SEP191518	SOULFIRE VOL 8 #6 CVR B RENNA	$3.99
SEP191875	STRANGE PLANET HC (C: 0-1-0)	$14.99
JUL191548	STRONG BOX BIG BAD BOOK OF BOON #4 (OF 8)	$3.99
JUN191806	SUPERIOR AOC #1 CVR F LENTICULAR	$19.99
AUG192243	TANK GIRL #8 CVR A PARSON	$3.99
AUG192244	TANK GIRL #8 CVR B VIRGIN STAPLES	$3.99
AUG192245	TANK GIRL #8 CVR C KANE	$3.99
AUG191708	UNHOLY ARGENT VS ONYX #3 (MR)	$5.99
AUG191726	UNHOLY ARGENT VS ONYX #3 BLOWN AWAY (MR)	$5.99
AUG191727	UNHOLY ARGENT VS ONYX #3 BLOWN AWAY NUDE (MR)	$7.99
AUG191718	UNHOLY ARGENT VS ONYX #3 DEADLY BEAUTIES (MR)	$5.99
AUG191719	UNHOLY ARGENT VS ONYX #3 DEADLY BEAUTIES NUDE (MR)	$7.99
AUG191711	UNHOLY ARGENT VS ONYX #3 FEMME FATALE (MR)	$5.99
AUG191713	UNHOLY ARGENT VS ONYX #3 FEMME FATALE ENTICE NUDE (MR)	$7.99
AUG191712	UNHOLY ARGENT VS ONYX #3 FEMME FATALE NUDE (MR)	$7.99
AUG191728	UNHOLY ARGENT VS ONYX #3 KILLER BODY (MR)	$5.99
AUG191729	UNHOLY ARGENT VS ONYX #3 KILLER BODY NUDE (MR)	$7.99
AUG191720	UNHOLY ARGENT VS ONYX #3 KNOCK OUT (MR)	$5.99
AUG191722	UNHOLY ARGENT VS ONYX #3 KNOCK OUT ENTICE NUDE (MR)	$7.99
AUG191721	UNHOLY ARGENT VS ONYX #3 KNOCK OUT NUDE (MR)	$7.99
AUG191709	UNHOLY ARGENT VS ONYX #3 NUDE (MR)	$7.99
AUG191738	UNHOLY ARGENT VS ONYX #3 POV (MR)	$5.99
AUG191739	UNHOLY ARGENT VS ONYX #3 POV NUDE (MR)	$7.99
AUG191715	UNHOLY ARGENT VS ONYX #3 STUNNING (MR)	$5.99
AUG191716	UNHOLY ARGENT VS ONYX #3 STUNNING NUDE (MR)	$7.99
AUG191730	UNHOLY ARGENT VS ONYX #3 WRAP (MR)	$5.99
AUG191731	UNHOLY ARGENT VS ONYX #3 WRAP NUDE (MR)	$7.99
SEP192246	URUSEI YATSURA GN VOL 04 (C: 1-1-2)	$19.99
AUG191680	WARRIOR NUN DORA #2 BATTLE READY	$5.99
AUG191674	WARRIOR NUN DORA #2 FEUDAL AGE	$5.99
AUG191678	WARRIOR NUN DORA #2 MIDDLE AGES	$5.99
AUG191677	WARRIOR NUN DORA #2 NAPOLEONIC ERA	$5.99
AUG191670	WARRIOR NUN DORA #2 REGULAR	$5.99
AUG191676	WARRIOR NUN DORA #2 TIMELESS	$5.99
AUG191673	WARRIOR NUN DORA #2 UNLEASHED	$5.99
AUG191679	WARRIOR NUN DORA #2 VICTORIAN ERA	$5.99
AUG191675	WARRIOR NUN DORA #2 VIKING AGE	$5.99
AUG191672	WARRIOR NUN DORA #2 WORLD WAR II	$5.99
AUG191671	WARRIOR NUN DORA #2 WRAP	$5.99
JUL191500	WIDOW PROGENY #1 AM ENCORE ED (MR)	$4.99
JUL191501	WIDOW PROGENY #2 AM ENCORE ED (MR)	$4.99
JUL191502	WIDOW PROGENY #3 (RES) (MR)	$4.99
JUL191503	WIDOW PROGENY #3 PSYCHO 70S CVR (RES) (MR)	$9.99
SEP191512	WORLD OF ARCHIE JUMBO COMICS DIGEST #94	$7.99
SEP191406	YOU ARE OBSOLETE #3	$3.99