When one sets out to fight evil, they should always look their best. I don't make the rules. As The Witcher activity heats up in December, BlackMilk clothing is launching a new The Witcher collection designed to help you do precisely this. The collection comes in collaboration with CD PROJEKT RED. And let me tell you, neither monsters nor errant mages stand a chance against this powerful fashion.
BlackMilk shares that the line celebrates "this renowned video game franchise set in the universe created by Andrzej Sapkowski in his series of books." And it features "more than 35 printed and designer pieces drawing on the world of The Witcher and its most famous characters, including Geralt of Rivia, Yennefer of Vengerberg, Triss Merigold, and the bard Dandelion." The line is very clever. It subtly weaves in nods and allusions to characters and events that will please even the most die-hard The Witcher fans. But it also does so in such a way that for those not in the know, the fannish nature of the clothing may go unnoticed. We love an inside joke with our fandom.
The Witcher BlackMilk collection also features a variety of items, including bodysuits, overalls, dresses, robes, and more. (Yes, we said robes. We know we need fashion robes, stat.) Every fan can find their perfect quest attire and ideal Witcher fashion with so many options.
We can't preview the whole collection, given it includes 35 pieces in total. But we can help you dip your toe in the bathtub. Here are some of our favorite The Witcher fashions.
Geralt Armour Velvet Long Sleeve Bodysuit
BlackMilk shares, "A witcher is always well protected. This chainmail armor print, complete with Geralt's iconic School of the Wolf medallion, will keep you safe on all of your monster-hunting adventures."
We don't know how protected this will keep you, but it sure will keep you stylish.
Team Yen Shooter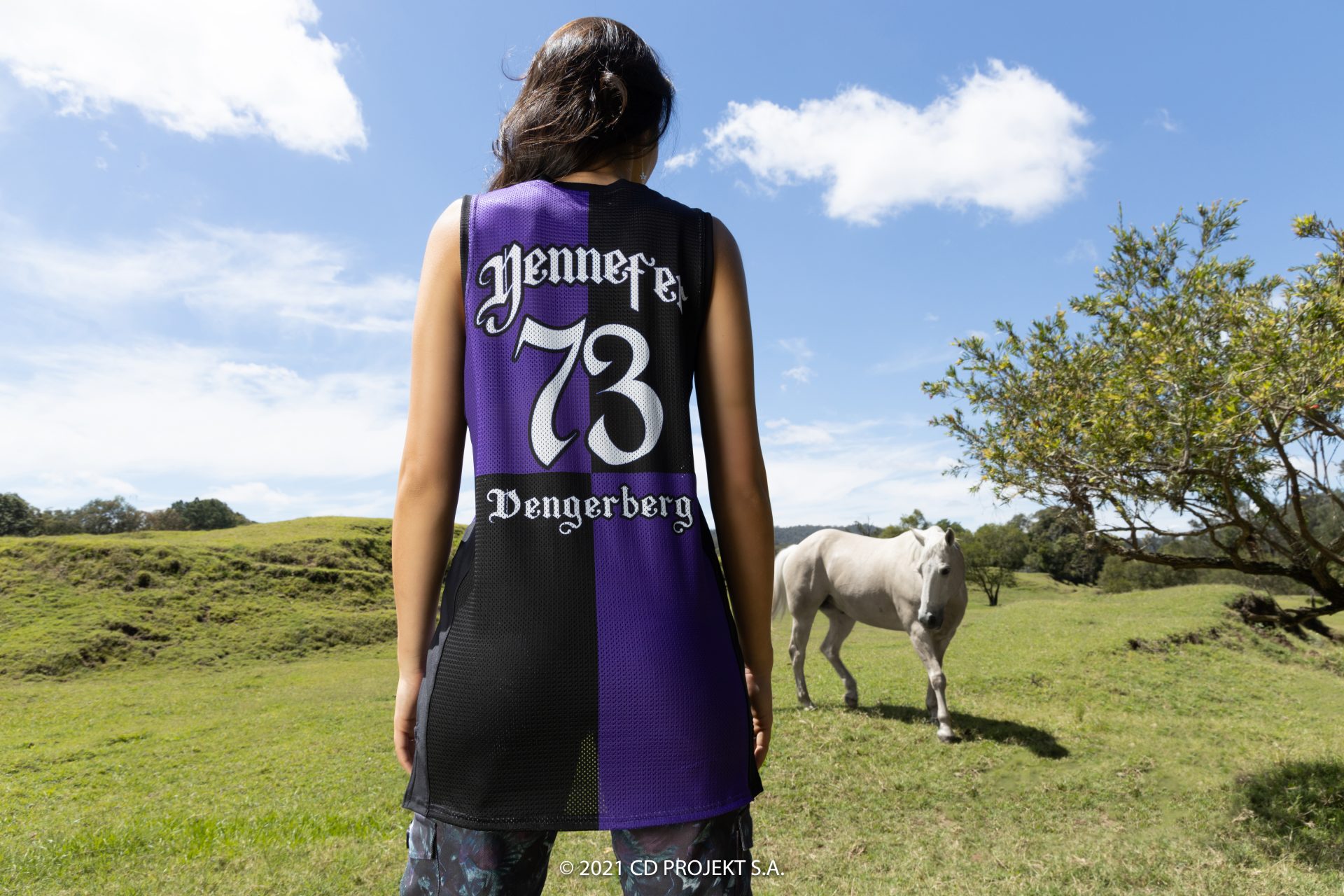 "Who is your favorite sorceress?" BlackMilk asks, "Whether you're Team Triss or Team Yen, you can rep your choice with this sporty Shooter."
We love a subtle jersey, and the font on this one slays us.
Butterfly Spell Short Overalls
According to the brand, "This pretty artwork was inspired by the Triss: Butterfly Spell card in GWENT: The Witcher Card Game, depicting a powerful spell cast by sorceress Triss Merigold. It's perfect for those who want a more subtle way to celebrate their love for The Witcher universe – or even those who just like to wear a cloud of fluttering butterflies all over their bod."
You had us at overalls. And these ones are just beautiful. Again, low-key fandom fashion, and we are here for it.
Triss Merigold Slinky Playsuit
The brand shares, "This stunning print is based on the beautiful colors and filigree patterns of Triss Merigold's alternative outfit from The Witcher 3: Wild Hunt."
This playsuit really brings the magic of the franchise to life. It feels modern but fantastical, all at once. A sleek vision of The Witcher world.
School of the Wolf Robe
We said "fashion robe," didn't we? BlackMilk notes, " Kaer Morhen is home to the witchers of the School of the Wolf, known as prolific monster slayers – and amongst its most notable members is Geralt of Rivia. This robe celebrates the School's iconic emblem alongside the magical signs used by the witchers who trained there."
The Witcher x BlackMilk Collection
The Witcher x BlackMilk collection has many other pieces for you to explore. Including, yes, a celebration of our favorite bard. You can take a full look here starting right now. Make your wishlists now because the collection drops on December 13 at 4 pm ET/1 pm PT (the 14 at 7 am AEST).