In the age of streaming, Netflix has largely remained steadfast in two things: no ads and full season drops. But the time has come for Netflix to make some serious changes. In a Q1 shareholder letter, the streaming platform acknowledged it lost subscribers for the first time in a decade. It lost 200,00o in Q1 and is on track to lose up to 2 million by the end of Q2. But in the company's Q1 2022 Earnings Interview, which is on YouTube, executives announced the subscription shake-up. Netflix is officially adding an ad-supported tier. And according to a new report, it could arrive by November of 2022. Recently we learned that this ad-tier may not include all of Netflix's content and features and more about what it could cost.
Jump to: Timeline // Features // Cost // Subscription Plans // Password Sharing
Netflix's Ad-Supported Plan Gets Early Arrival
This is a stark change of pace, considering co-founder and co-CEO Reed Hastings—a long holdout on ad-support plans—indicated the new subscription would arrive in a year or two. During Netflix's Earnings Interview in April 2022, Hastings admitted the company needed to embrace ads in one way or another in order to make money.
Hastings said:
One way to increase the price spread is advertising on low-end plans and to have lower prices with advertising. Those who have followed Netflix know that I've been against the complexity of advertising and a big fan of the simplicity of subscription. But as much as I'm a fan of that, I'm a bigger fan of consumer choice. Allowing consumers who would like to have a lower price and are advertising-tolerant get what they want makes a lot of sense. So, that's something we're looking at now, we're trying to figure out over the next year or two. Think of us as quite open to offering even lower prices with advertising as a consumer choice.
In an internal memo, which we first heard about at The New York Times, Netflix revealed plans to roll out the new ad tier plan during the last three months of 2022. But then, according to Deadline, Netflix shifted its schedule slightly, hoping to have an ad tier by the early part of 2023. Now, however, it seems like Netflix is back to its original plain, the platform aims to release its ad tier in November of 2022. A report by Variety notes that Netflix has not confirmed this report. However, sources indicate Netflix hopes to realise its ad-supported tier before Disney+ launches its ad subscription options in December. The ad-supported tier option will roll out in only a few markets at first, but Netflix has not mentioned which ones.
Still, this is a remarkable timeline shift for the company, given the long-time reluctance of the company. However, Netflix still isn't offering specifics. So at this point, we don't know much about the new price point, other than it'll be a cheaper offering. Currently, Netflix's current price models boast different features—from video quality to the number of devices available.
It seems like Netflix may be on track, though, because they recently announced they'd be partnering with Microsoft to bring this ad tier to life. Netflix COO Greg Peters shares in a release,
In April, we announced that we will introduce a new lower-priced ad-supported subscription plan for consumers, in addition to our existing ads-free basic, standard, and premium plans. Today we are pleased to announce that we have selected Microsoft as our global advertising technology and sales partner… It's very early days and we have much to work through. But our long-term goal is clear: More choice for consumers and a premium, better-than-linear TV brand experience for advertisers. We're excited to work with Microsoft as we bring this new service to life.
What Will Netflix's Ad-Tier Include?
Those who are interested in Netflix's ad-supported tier will be interested to know that it may not include all of Netflix's content. Making Netflix's licensed shows and movies available on an ad-tier will require further discussions.
Per Deadline, Co-CEO and Chief Content Officer Ted Sarandos recently shared:
Today, the vast majority of what people watch on Netflix, we can include in the ad-supported tier. There's some things that don't and we're in conversations with the studios on, but if we launched the product today, members in the ad-tier would have a great experience. We will clear some additional content but certainly not all of it but don't think it's a material holdback for the business.
Additionally, a tech blogger, Steve Moser, recently discovered a line of code in Netflix's app that seems to indicate not all of Netflix's features will be included in the ad-supported tier. Reportedly, the code reads, "Downloads available on all plans except Netflix with ads." That sounds ominous.
For now, we'll have to wait and see to find out exactly what Netflix content and features will make it onto an ad-supported tier.
What Will Netflix's Ad-Tier Cost?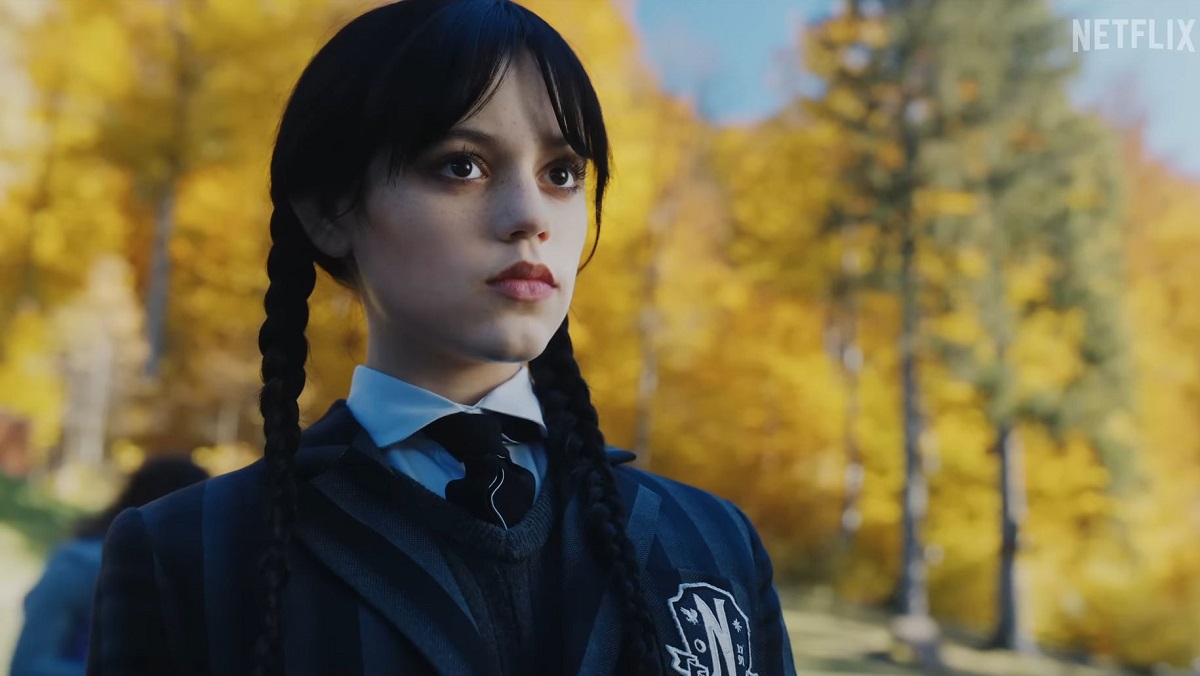 According to a new report from Bloomberg, we may now know the cost of Netflix's ad subscription tier. According to the article, Netflix will make the cost of its ad plan $7-9. This is interesting because right now, the cheapest ad-free plan costs $9.99. Perhaps other features will enhance the ad offering, or perhaps Netflix's other subscription plans might see a rise in subscription cost, in the vein of Disney+. Only time will tell.
In addition, the report noted that Netflix aims to put about four minutes of ads per hour of content. The ads will play before and after a movie or show, but not during. Ads will also may not show during children's or original programming. Netflix hopes to have a variety of ads to show.
Netflix's Current Subscription Plans
Currently, Netflix's subscription model offers three different rates: basic, standard, and premium. Here's how the tiers break down:
Basic
Currently the cheapest model, the basic subscription costs $9.99 per month. Subscribers can only watch content on one device—TV, computer, phone, or tablet—at a time. Netflix calls its video quality "good" with 480p resolution.
Standard
The middle price point, standard costs $15.49 per month. As the middle child the video quality is better than in the basic plan, with 1080p resolution. (But it pales in comparison to the premium plan.) Plus, subscribers can watch content on two devices—TV, computer, phone, or tablet—at a time.
Premium
Currently Netflix's top subscription package, this tier costs $19.99 per month. And with a 4K and HDR resolution, it features the best video quality the streaming platform offers. And with its heftier price, more people can watch at once. Subscribers can watch content on four devices—TV, computer, phone, or tablet—at a time.
Ad-Supported Tier
The streamer notes that its existing tiers will remain ad-free and an ad-supported tier will act as a complement to these options. According to Deadline, Netflix notes, "its existing tiers will remain ad-free, should an ad-supported tier roll out… it makes sense now to give consumers a choice for a lower priced option with advertisements if they desire it."
How Netflix's Password Sharing Crackdown Factors in
Talk of an ad-supported tier comes as Netflix continues to test a plan to crack down on password sharing in Costa Rica, Peru, and Chile. The streaming service is rolling out ways to cut off sharing passwords between households. In doing so, Netflix is testing ways to offload extra users accessing an account in a home they don't live in. According to The New York Times, this crackdown strategy will go into effect globally around the same time the new subscription tier launches.
In the Earnings Interview, Peters made it quite clear that this strategy will eventually go global in the next year or so. It certainly would make sense to have an even cheaper model design underway as Netflix looks to finally offload the person using their neighbor's sister's ex-boyfriend's account. And by adding another model–one hopefully in a shiny, feasible price range—the streaming platform could retain users but actually, bring in the revenue. Still, there's a lot for the platform to work out in the meantime. But as long as Netflix's ads aren't overwhelmingly loud, people may just accept them and an ad-supported tier.
Originally published on April 20, 2022.